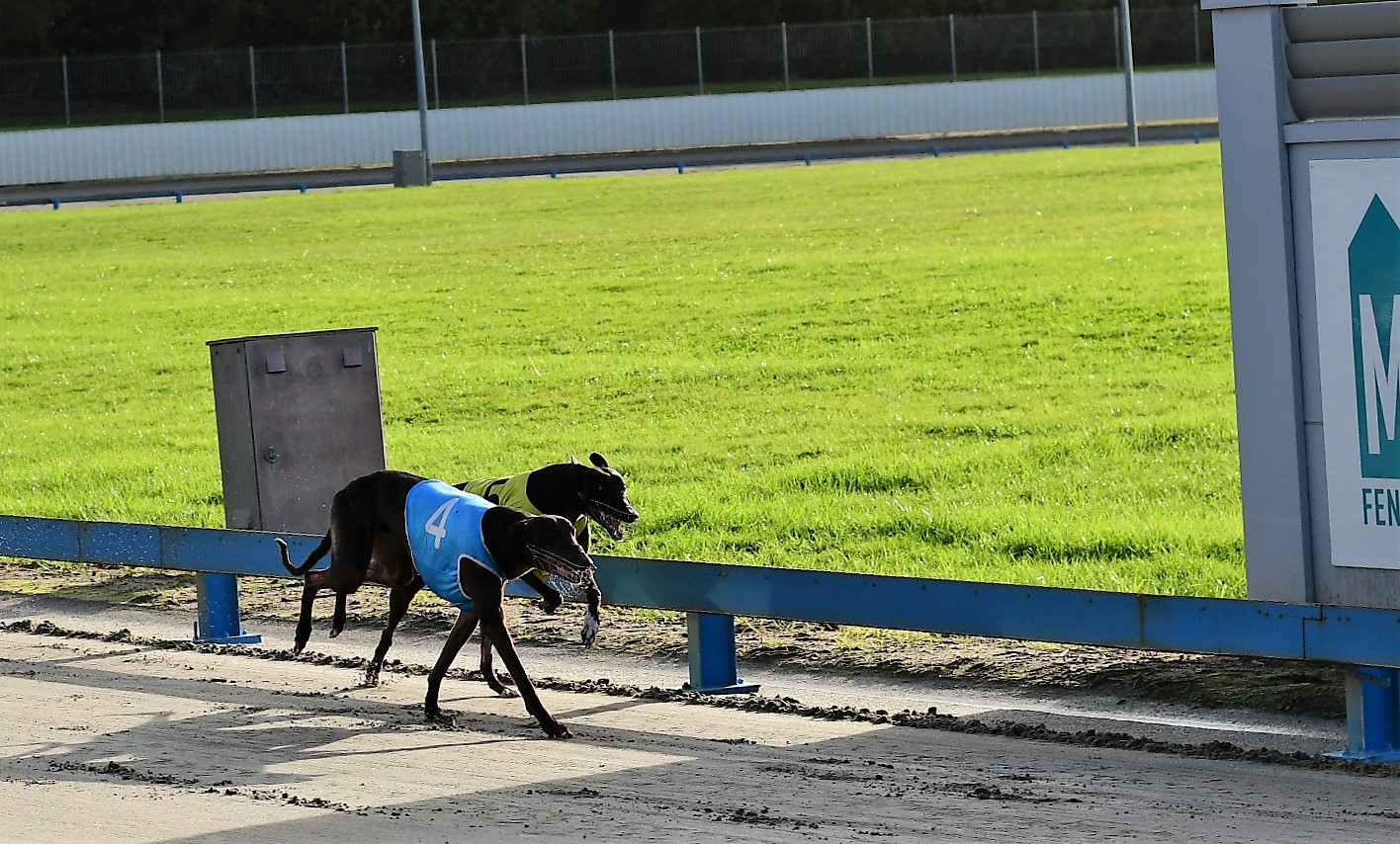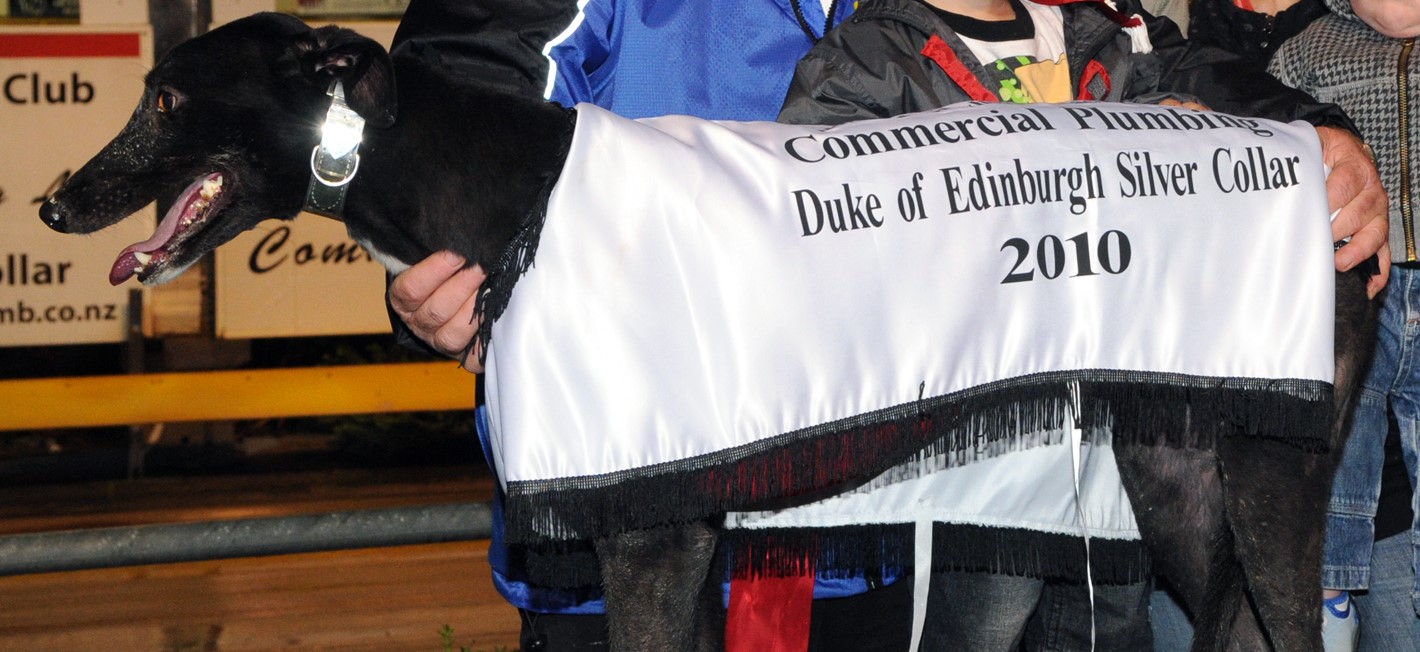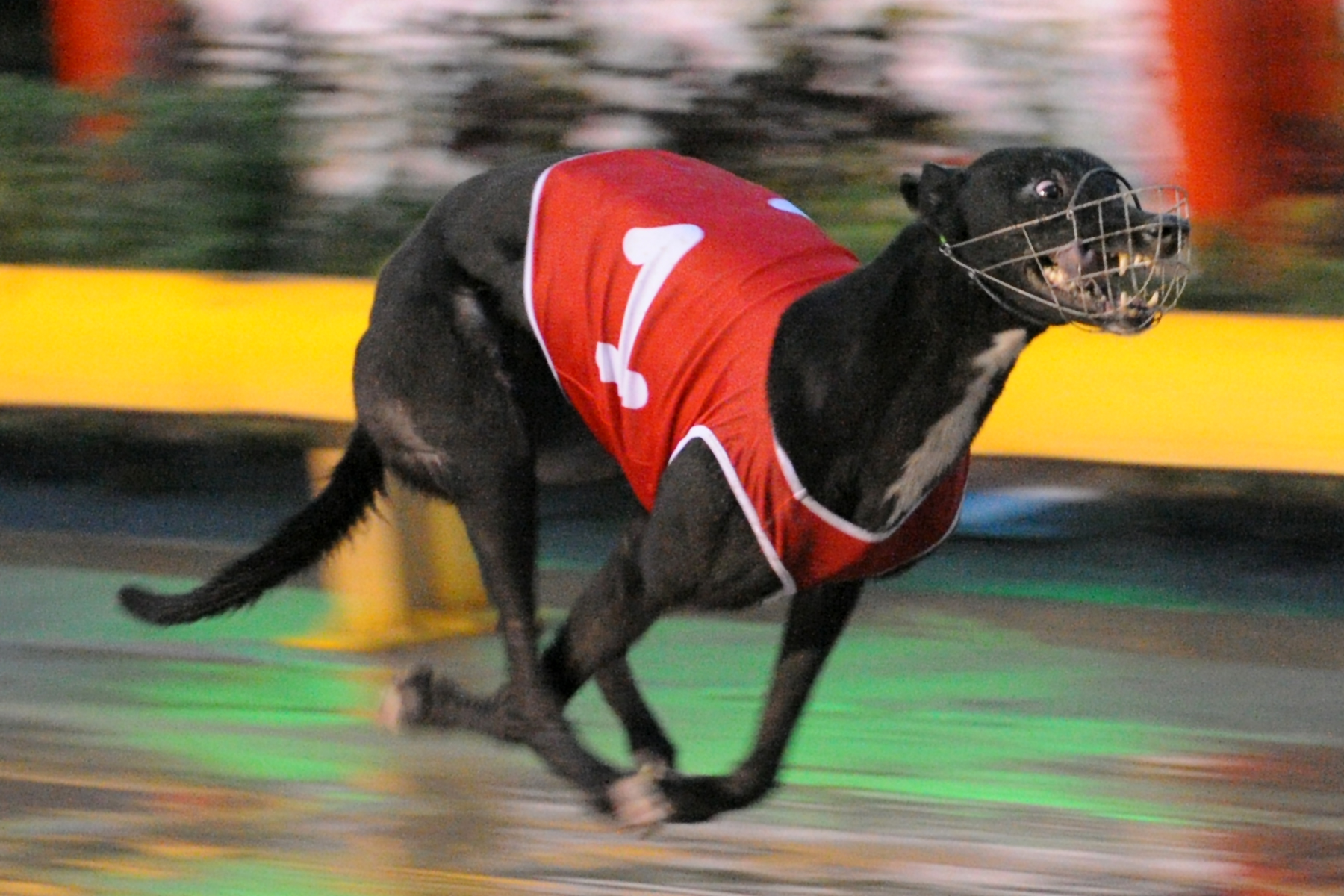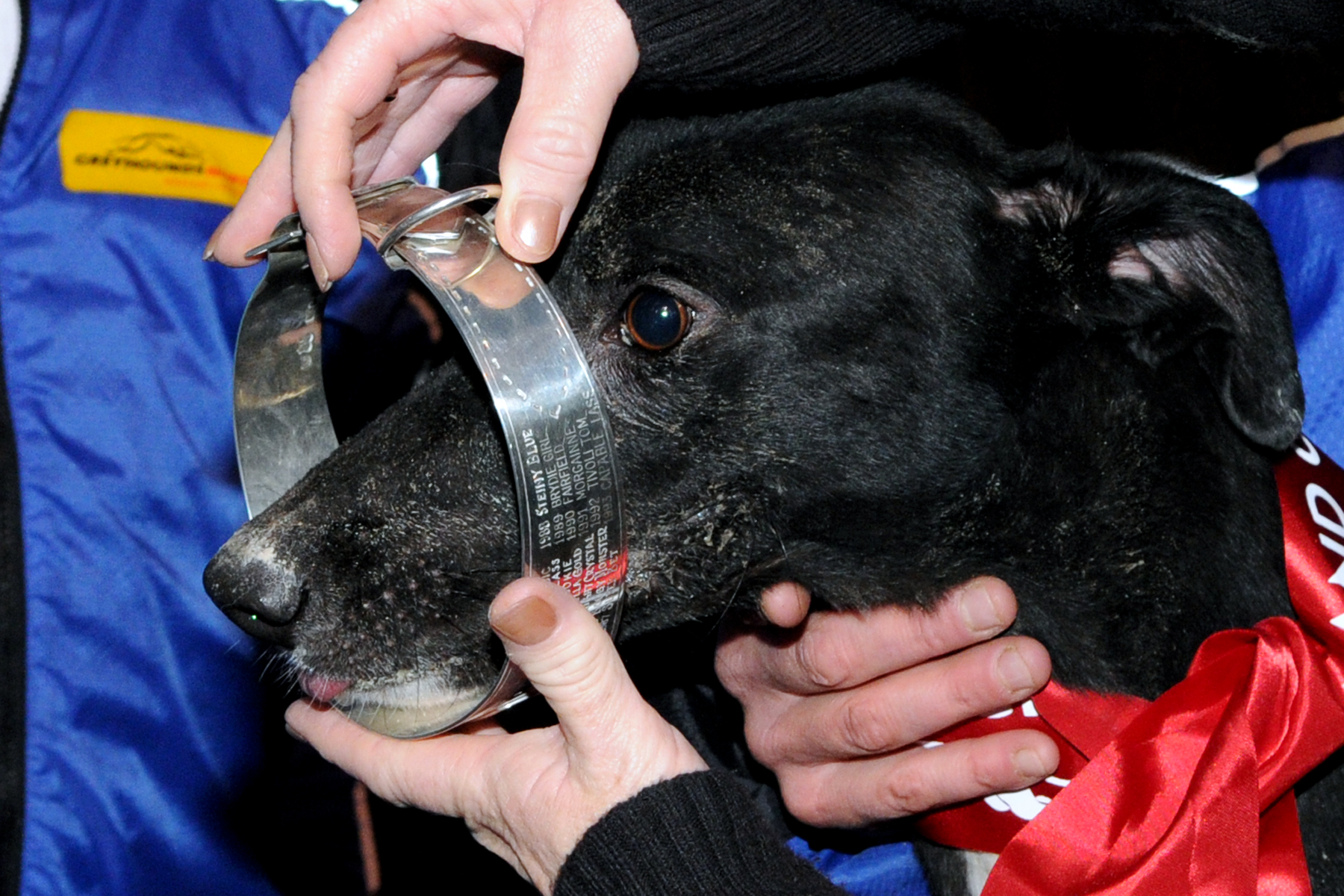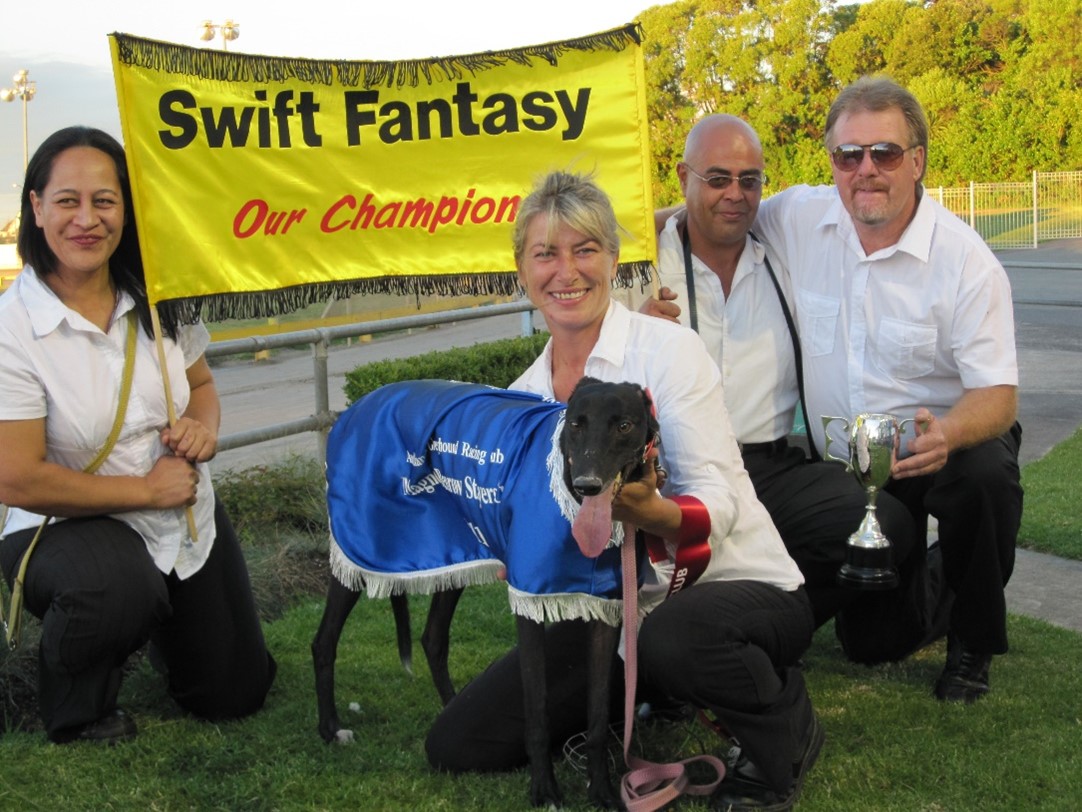 VALE – Swift Fantasy  – (Aka Lady Bug)
Earlier today (14th July), just 12 days after her 15th birthday, Swift Fantasy crossed the Rainbow Bridge, peacefully lying on the bed of her devoted carer in recent years, Steve Codlin.
The daughter of the Irish sire Premier Fantasy and Swift Fantasy, she was bred in 2007 by prominent Victorian stud master and breeder, Geoff Collins. Beginning her racing career from the Wayne Vassallo kennels she notched her first win over 600m at Geelong at her 4th start, (in fact all her 14 wins during her 36 career starts were at 600m and beyond).
From her very first race, her racing style was to drop out behind rest of the field and power home. This somewhat extreme racing style drew the displeasure of the Victoria Race Stewards who in December 2009 issued her with a Fail to Chase certificate.  Geoff Collins who had a developed successful relationship with the late Steve Clark was the driving force behind her crossing the Tasman to join his small kennel.
Winning her first start at Whanganui over the 715m in April 2010, her racing style that caused the displeasure of the Aussie stewards became simply a pleasure for greyhound followers here.
That race was a heat of the Grp.2 Wanganui Stayers. A week later in the final she was victorious again coming from a lonely last mid race to slice through a quality field and win decisively. Her next three starts saw three spectacular wins over the 779m trip, including the Grp.1 Duke of Edinburgh Silver Collar Final and The Top Dog Invitation Challenge. A selected 4 dog field that saw her race against an Australian visitor and near relative Nellie Noodles, Silver Collar runner up Rasmah and another smart staying bitch Bonny Bouchea.
The excitement of her racing style not only bought large crowds to the track (including many for the first time) she delivered our code with invaluable mainstream television coverage. Swift Fantasy, Steve Clark and Kathy Wilson and her loyal band of close supporters did greyhound racing proud.
Needing the longer staying races to show her best, she didn't have as many opportunities as those greyhounds who over the shorter distances. Travelling to Christchurch, on her first trip she flashed home for third to Awesome Bender in the Grp. 2 2010 NZ Stayers Cup. Returning in 2011 to win the event in her amazing trade mark style.
Contesting her second Silver Collar Final in 2011, she flashed home to finish second to Nina's Girl. (This race is remembered as "The Girls" race as the bitches; Nina's Girl, Swift Fantasy, Thrilling Quest, Opawa Patty and Thrilling Reign, took the five top placings from the boys).
The last race of her breathtaking career was the 2012 Silver Collar Final, finishing a gallant third behind Mr. Chino and Thrilling Brat, therefore in three consecutive years she took all three podium positions. A testament to her ability and Steve's understanding of her needs and his training prowess
 Video footage of her spectacular winning performances have been viewed on Youtube over 150,000 times. Her name to the fore on greyhound internet chat sites when discussion centres around some of the most astonishing performers ever. There will no doubt be remembered for decades to come. For those of us who watched her race live it was something never to be forgotten.
There was a special bond between Lady and Clarkie, retiring to spend her days with him as a special house pet, before his passing just over two years ago. During her final years she has been shared a couch and a bed with Steve Codlin, who has cherished his time with this amazing little chaser know around the house as Lady Bug.
RIP – Swift Fantasy 2007 – 2022.
HOOP LURE
Attached is a photo of the hoop lure, adapted to function at Manukau Stadium. This was tested after the trials on Wednesday 22/06/2022
It was easily quick enough through a post-to-post trial, in fact was fully two seconds under our existing lure. The problem that we had with the Christchurch hoop was speed. It was too slow around Manukau to function adequately.
Wayne Lisle, our lure expert has advised he has a couple of other adjustments to make, and if he is happy, we will use this lure for the trials on Wednesday 29/06/22.
It is important that we get your feedback from this trial session, so please give your comments either to Robert, John Roberts, or Dave Byrn.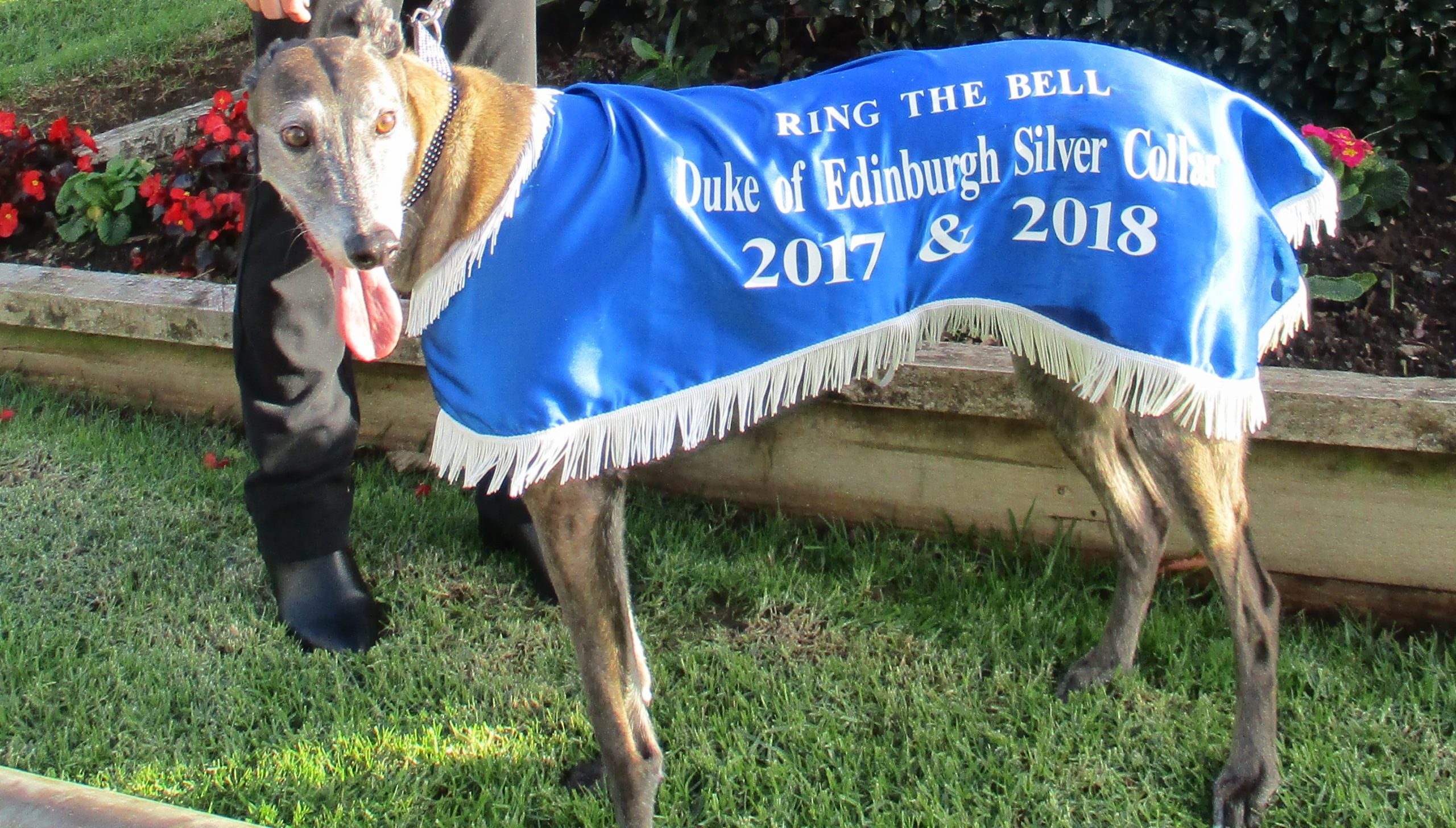 THE CHAMP IS BACK
It is with great pleasure that we welcome back to Manukau the champion stayer Ring the Bell (Disco to his mates, hoomans and hounds). He will have the honour of leading Sunday's contestants on to the track. He is the only back to back winner of the Duke of Edinburgh Silver Collar, victorious in 2017 and 2018, in a career that saw him win 37 races in both Australia and here. His career earnings were a whisker away from $450k.
Our thanks to Jenny Bartlett with whom he enjoys a 'Five Star' retirement.
"Give 'em a Taste of K1W1"
'Give 'em a taste of Kiwi', was a sporting anthem used in videos and TV commercials by Lion Breweries when sponsoring the NZ 1984 Los Angles Olympics Team and the All Blacks in 2012 . Yesterday it was the turn of the Patton family's breeding and racing K1W1 Syndicate to shine and "Give 'em a Taste of K1W1".
Breaking through for her maiden win at just her third start was Blue on Black, scoring by a near eleven length margin, stopping the clock at a very creditable 18.69secs. on a dead track. The merit of this performance became more obvious as the day went on, for only the C4 and C5 sprinters bettered her mark.
She was not the only daughter from the Thrilling Boris-Tres Vite litter to shine yesterday. Lethal Angel qualified in impressive style for the Jared Udy/Neisy Cottam partnership. Tres Vite is a 13 race winning daughter of quality sire Fabregas and descends from top Australian breeder Steve Kavanagh's highly successful 'Rumble' dam line.
Although not winning, the performance of another K1W1 homebred would have made the trip home to Ohaupo an even more satistifying one. The lightly raced Soldier Blue stepped up to the 600m trip for the first time, with a strong finishing second to Thrilling Fern. This long striding 35kg son of Zinzan Brooke has just turned two years of age and indications are he will be a force to reckon with over the longer distances as he matures.
It will be a busy time for the K1W1 team at home over the next few weeks as they have another litter due. This time it's the first litter from another of their brood bitches, Burning Rain, the 8 race winning daughter of US bred sire Kinloch Brae. She too comes from an absolute class Australian dam line that in recent seasons has produced many group race winners, including her litter brother, Get It Gizmo, the 2019 Group 1 Top Gun winner. She is in pup to Benali, a 24 race winning son of Barcia Bale who performed with merit over the 500-600-700m trips, including a blistering 520m 29.29secs. at Wentworth Park. If you are looking to purchase a quality pup there will be some for sale.
Well done to Tom and the team.
Celebrity Guest
Lochinvar Brando (Bo)
whelped 23 March 2011
Sire Where's Pedro
Dam: Smart Betsy
We were delighted to have Bo (Lochinvar Brando) as our honorable celebrity guest at our Auckland Greyhound race meeting (22nd May)
During Bo's racing career he had 22 wins.
Winner of the 2014 Silver Collar, trained by D. Schofield.
Bo is having a wonderful retirement with Deidre and family
Wishing him all the best.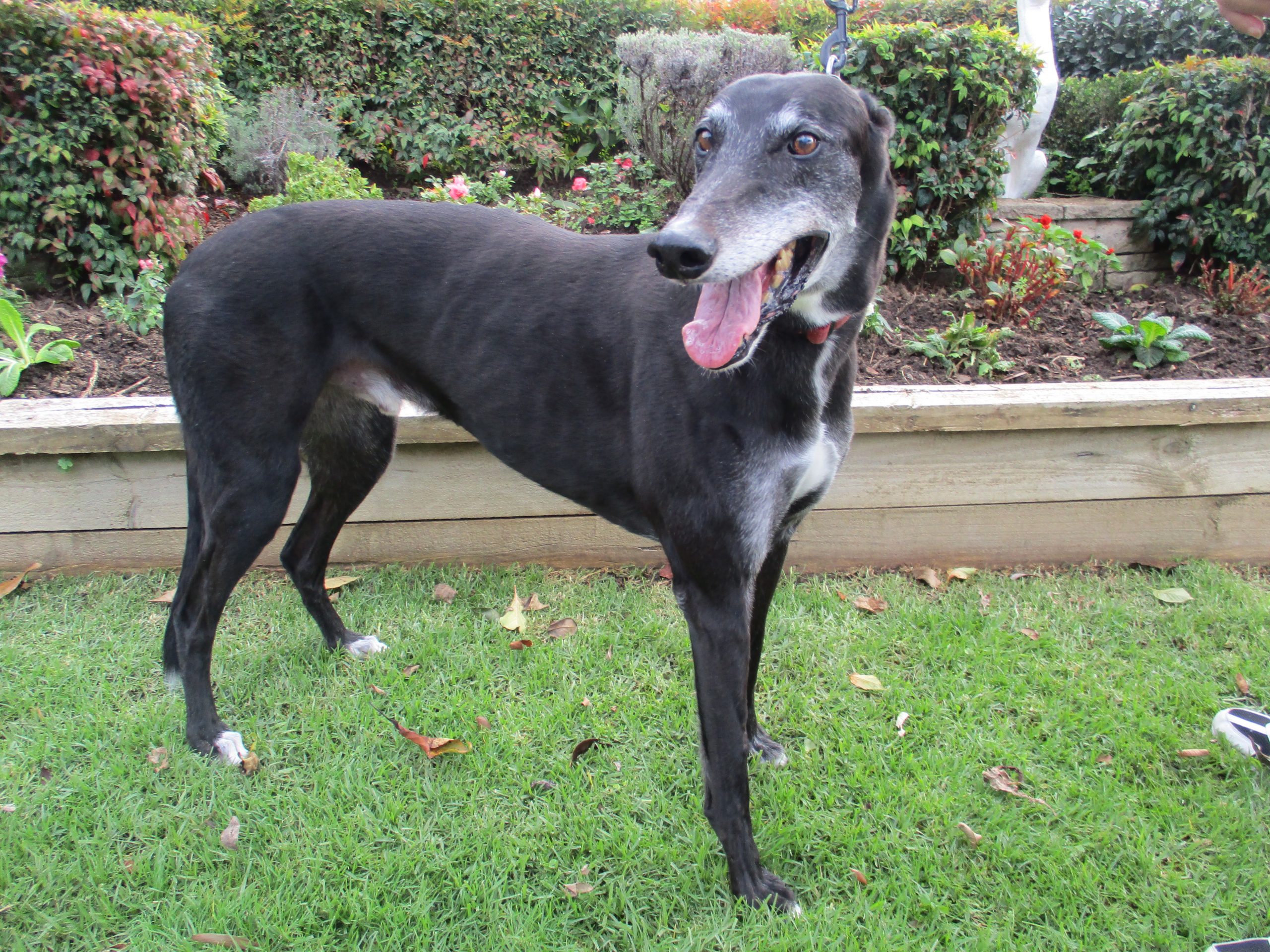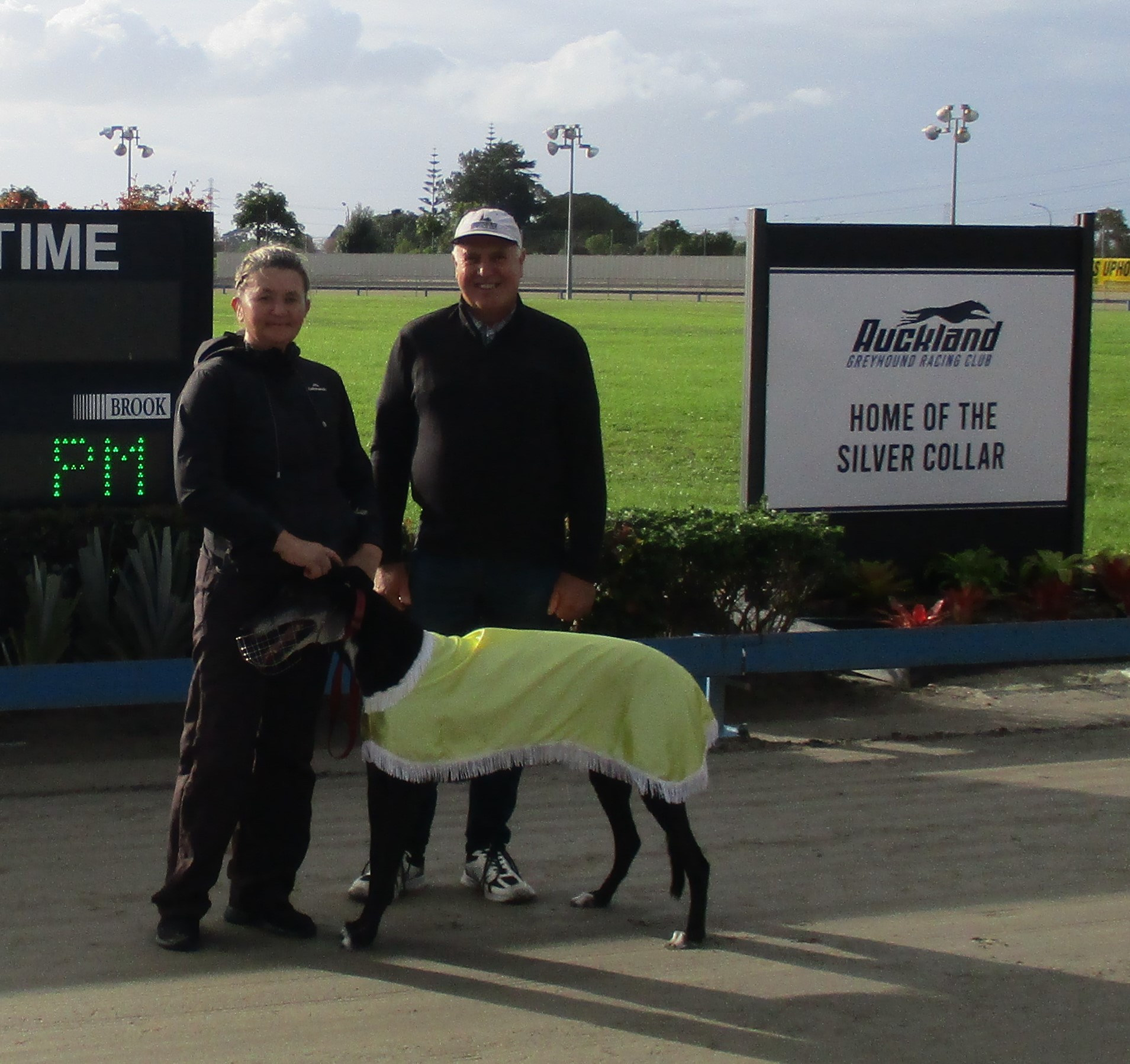 Numbers, Numbers, Numbers.
Saturday 16th April, 2022
It was very apt the winner our second race on 16th April's card should have two numerals included in his name.
Ten After Four's victory was the 100th for the season for trainers Tracey and Lisa Caik, the partnership after recording five winners at our last two meetings went one higher yesterday with six wins.
Remarkably, Ten After Four's win was also the 500th win part owner Selwyn Loader has enjoyed with the Craik family. His first winner with Ben and Barbara was way back in 1997 with a dog named All Grit, although Selwyn recalls Ben giving him another not so endearing moniker, All Shxt due to his behaviour off the track. Selwyn has meticulously kept a record of his greyhounds, right from his entry into the sport. Also, for many years he has been a valued "hands on" member of the kennel team, both on race and trial days and has a genuine affection for the breed both on and off the track, sharing a couch with his retired mate Harvey (Harvey Nicholls).
The winners for the partnership's rich vein of April success are; Lachlan's Girl 3 wins, Barney Parrot 2 wins, Portland Blonde 2 wins, Portland Wonder 2 wins, Otaki River, Portland Ethan, Portland Art, Portland Timmy, Wheels On Fire, For Your Page and Ten After Four each recording a win.
With the exception of Lachlan's Girl, who was purchased a young pup from her Canterbury breeder Jean Fahey, all are home bred, meaning the many months of the "hard yards" of whelping, rearing and pretraining have been done by Tracey and Lisa. The outstanding results a testament to both their skill and dedication to the canines in their care.
Most of us have a lucky number of just one or two digits. Perhaps for the Tracey and Lisa theirs has three digits as all 16 race wins have been over 318m.
An Every Day Story.
At last Sunday's (27th March 2022) meeting a race was named in memory of longtime breeder/trainer Gordon Wilson, the 'Jetsun' man.
With the month of April being the international, "Adopt a Greyhound Month", it's fitting that a story on one of Gordon's hounds is featured in Channel, a monthly lifestyle magazine published and distributed throughout Auckland's North Shore area.
Dolly, AKA Jetsun Swan, is a daughter of Banjo Boy and Jetsun Flame, whelped in February 2016, was reared and raced by Gordon before retiring in May 2019.
A greyhound's life journey has three stages, rearing, racing and retirement. The three R's.
At each stage there is a different routine to their day. Routines built around the special bond that develops between humans and hounds.
Throughout Dolly's life there has been that established bond, the essence of which is the daily dedicated care and attention received. Be it rearing and racing with Gordon and Margaret Wilson, preparation for retirement with Great Mates, Carolyn and Malin Henley (a young Carolyn would often help Gordon with handing duties on Mt. Smart race days), rehoming and support from GAP's Abbie Douglas and now in her 'Forever Home' with Mary-Anne Smith.
What's in a Name.
Naming a greyhound can sometimes be a pleasure and at other times a frustration, due to the fact that all on your well thought out list of possible names for one reason or another are not accepted.
The name submitted at the top of the list for a blue daughter of Banjo Boy and Just One Smile, winner of one yesterday's maiden winners, Queen Nancy has a nice back story to it.
The two senior citizen members of The Katcha Jordana Syndicate and their wives, pre covid days took an annual cruise holiday together. It was on these cruises that the Kiwi quartet met and enjoyed the company of a lovely lady named Nancy, who hails from San Francisco. At dinner one night she asked the boys what hobbies they have. Their reply was; "racing greyhounds".
Nancy was keen to hear more so they explained to her their many years of enjoyment and friendships made from being involved in our sport.
Fast forward two years and to keep their connection with Nancy, they decided to name a pup after her; Queen Nancy.
Through the great communication tool that is the internet, Nancy was able to watch a replay of her namesake winning on debut. With the early dash that she displayed, Nancy will for sure be able to watch more wins to come from this little canine Queen. All be it watching from afar in sunny California.
The Railway Sprint.
With 'young gun' Master Porthos recording the fastest heat time in the past five year's Railway heats, he despite his tricky box draw in Sunday's final has certainly laid down the gauntlet to his rivals that includes another 'young gun' Wheels On Fire.
Last year's final saw two decorated chasers at later stages of the careers provide the closest of finishes. They were greyhounds whose breeding credentials could not be further apart.
One a son of champion Australian based sire Fernando Bale from a 19 race winning daughter of another champion sire Collision. The other a son of a NZ bred sprinter and a unraced dam. Some would harshly say he was ' backyard bred', however he had a cleverly crafted pedigree. Both to perform at such a high level would have been expertly reared and educated.
They of course were Trojan Hoarse and Buddy Boom, two sprinting greats of recent seasons.
Please take a moment, to again witness this epic contest between these two great rivals of just twelve months ago.
The Wheeler Influence in the 2022 Auckland Cup Final Field.
Seven of the eight greyhounds going to the traps on Sunday are by the late Paul Wheeler bred sires. Paul passed away suddenly at the age of 66 in October last year.
The champion sire Fernando Bale is represented by Opawa Superstar and Opawa Wayne. His other champion sire Barcia Bale has Opawa Albert and Thrilling Risk.
The intensely bred David Bale's runners are; Raja Bale and Talbingo Bale, while Bahati Bale is a daughter of Dyna Villa, the 2014 Melbourne Cup winner and million dollar earning bitch, Fanta Bale. All three are owned by Paul's son Brendan, who together with his mother Jan are continuing to operate the family's extensive, well appointed, breeding establishment in NSW.
This is not the first time they have been represented by seven of eight finalists in a Group 1 race as the 2011 Melbourne Cup saw progeny owned and bred by the Wheeler family be the first seven to cross the finish line.
This result and countless others are a testament to the depth of bloodlines and often innovative approach he took to produce excellence. (Paul was the first to extensively use frozen semen from USA and Ireland to enhance his bloodlines, many who trace back to a bitch named Gail's Beauty, who was very successful producer for his parents, Allen and June).
Paw Note.
The other finalist in the field is Garry Cleeve's, Know Keeper. Garry's decision making and involvement in Know Keeper's bloodlines is immense. His sire Know Class, is a son of Blue Fern, a noted staying bitch bred by Garry. He was a strong talented race dog who won group races here and was Grp 1 placed in Australia. Dam, Know Which and grand dam Know Jinx, were very successful race bitches and producers for the Cleeve Team.
Garry and partner Gaylene breed and rear just two or three litters a year. Their successful results are due an understanding of their bloodlines and dedication they put into the care of their brood bitches and young stock.
The $80.000.00 final is scheduled to start at 4.29pm. All the Best to connections.
TAB Betting Promotions:
Auckland Cup Day
The AGRC acknowledges the NZERB in providing the following betting promotions for the race meeting on Sunday 6th March 2022
* Bonus back on the first 4 races
* $5k guaranteed First 4s on all races
* $10k guaranteed terminating Pick 6
Family History in the Railway Final.
Interestingly, three of Sunday's field have strong family connections to this race.
Master Porthos's dam Rosa Tee, was victorious in the 2018 final for the Arthur/Adcock partnership. The following year Wheels On Fire's dam, Just One Smile saluted the judge for trainer Ben Craik and the Katcha Jordana Syndicate.
Portland Wonder's dam, Simple and Plain in 2017, after being hampered at box rise, finished a meritorious third to the prolific winning, champion sprinter Swimming Goat.
This family history makes Sunday's three finalists a "must take" combination for trifecta players
Paw Note
Swimming Goat was one of the few NZ raced greyhounds to bring our code to mainstream media by winning 22 consecutive races over the 295m trip at Addington between May to December 2916.
Something Special – GRADE RECORD.
Georgia's Girl
Our last new grade record over the 318m trip was broken six years ago, highlighting the fact that establishing a new grade record is a real achievement.
After coming close to this feat at Thursday's meeting Georgia's Girl took advantage of her bonus C2 race when breaking the class record jointly held by Yeboah and Bright Conquest. Her time a flying 18.16secs. (second fastest time of the day).
Georgia's Girl does not turn two until April. This 29.00kgs. fluent striding speedster has a huge future ahead.
Congratulations to her trainers Tracey and Lisa Craik, owners the Craik Syndicate, Rex Potter and John Roberts, and to breeder Jean Fahy
WINSOME ASHLEY TROPHY
One of the supporting feature races of the forthcoming Auckland Cup and Railway Sprint Finals will honour our long standing 527m track record holder.
The Winsome Ashley Trophy is a 527m invitational race restricted to bitches accessed C1 and faster, the field to be selected by panel selected by the AGRC Board.
It is fitting that we hold this race at this meeting as Winsome Ashley completed her track record breaking run in the 2009 Cup Final.
Below is a story saluting Winsome Ashley posted prior to last year's Cup Meeting and the interesting back story given by Glen Goodwin, taken from a recent Dapto Greyhound Club's FB page.
Winsome Ashley – A track record breaking, champion race bitch.
Come Saturday 6th March, Winsome Ashley's, Manukau's, 527m track record of 29.77secs., will be unbroken for 13 years.
The record was achieved in the 2008 Grp. 1 Auckland Cup Final, in which she defeated her nearest opponent by nearly 8 lengths. In fact, it was the second time she had lowered the time standard as the week before in her heat of the Cup, she lowered the existing track record by a quarter of a second, recording a 29.81secs. (still the 2nd fastest recorded time).
I was privileged to witness live, both runs. It was her heat run that was a spell binding watch. She jumped and led the field to the first mark, and then as if she was on her own 'magic carpet of sand', continuing to extend away from the field, to cross the line with a staggering, 15.5 length winning margin.
Her breeder John Finn, was and still is based on the outskirts of Sydney. He also bred and trained, her dam, Winsome Dollars and grand dam, Winsome Blue. Winsome Dollars, was a winner of 23 races including group races. Winsome Ashley's sire, Hallucinate, was a dual Group 1 winner, including a Melbourne Cup.
Winsome Ashley began her career winning her heat of a feature maiden race series in Sydney, however was unplaced in her semi-final. Her next run was a placed effort at Richmond, before her purchase by the Pave the Way Syndicate, crossing to the Tasman to the Dave Fahey kennels.
Her success was immediate, cruising through the grades, winning 9, straight. Defeat came at her Cambridge debut, when sadly denied racing room.
2008 began with 10 consecutive wins, commencing with the feature Ladies Bracelet at her home track, Addington. Included was a Wellington Cup, the track record breaking Auckland Cup, a Sister City Cup, contested at Adelaide's Angle Park and a NZ Oaks. Winsome Ashley's average winning margin in these 10 races at four different tracks, was a convincing 6 lengths.
Her overall race record; 32 starts, 23 wins, 3 seconds and 2 thirds. It's the longevity of her Manukau track record that demonstrates her champion qualities.
Few other race bitches have matched the longevity of her track record.
We are lucky that here in NZ we another, the unforgettable champion, Little Mother. Her Hattrick 520m record of a breath taking 29.28secs., remains intact for nearly 11 years now.
In Australia, the Hall of Fame bitch, Flying Amy, held the 520m Albion Park record for over 9 years before Surf Lorian matched it. A year later Pororoca, broke her record.
The outstanding bitch, Punch One Out, has held the Richmond 530m track record for nearly 8 years.
A track record that has really stood the test of time, belongs to the champion race dog and sire, Brett Lee. His magical 28.88secs., over Adelaide's Angle Park 515m, has now stood for 20 years.
We hope the Auckland's ever changing of Covid-19 levels ends soon, seeing this year's Auckland Cup and Railway Sprint, contested by the best of best from throughout the country. They are time honoured races.
Whatever happens it is an opportune time to salute our 527m track record holder, the champion Winsome Ashley.
* Got any great greyhound yarns?
I once had a dog by the name of Lady D'Arbanville that had run a few times for us and won a couple of races. I put her up for sale for $1500 and a bloke from New Zealand named David Fahey rang me and asked if the price was $1500 or $15,000. Considering she could barely run out the 300m at Moss Vale I said she was $1500 and he said "I'll take her". It began one of the greatest friendships we've ever had. We would have sent Dave and Jean Fahey 30 odd dogs over the years, including perhaps the greatest to ever run in New Zealand – Winsome Ashley.
I remember watching Winsome Ashley trial for the Finn's and I rang Dave and said "you've got to buy this one". We paid about $16,000 which was a lot of money all those years ago and she's gone on to win just about everything they have to offer. Group races, Greyhound Of The Year awards, track records, she's in the Hall Of Fame now and to think it all started when a bloke from New Zealand called me out of the blue about Lady D'Arbanville.
GROUP ONE GLORY – 2021 Grp. 1 Auckland Cup.
It's been almost a year from our 2021 Auckland Cup and Railway Sprint Finals. It's certainly been a year of challenges, the shutdown of racing at our track for 8 weeks, 17 weeks of Auckland Border Restrictions were a couple of the biggies and there were others.
With the heats of the Cup and the Railway just days away it's timely to look back that the great performances of last year's events.
Sunday 21stMarch saw four very competitive heats of the Cup provide the final field of;
Box 1 – Drink Shoeys *29.88
Box 2 – La Rochelle *30.25
Box 3 – Opawa Travis
Box 4 – Rivalries
Box 5 – Zipping Sheldon
Box 6 – Leonard Bale * 30.22
Box 7 – Know Keeper
Box 8 – Federal Morgan * 29.98
*Heat winning times.
Making an explosive beginning from box 8, Federal Morgan a son of champion sire Barcia Bale, lead the classy field from box rise for trainer Lisa Cole and NSW based owner Scott Eaton, recording the brilliant sectionals of 4.61secs, 15.37secs. with an overall time of 29.96secs. and a near 7 length victory. With his sub 30.00 secs. time both in the heat and the final he joined champion bitch Winsome Ashley's 29.81secs and track record 29.77 secs in 2007 as only the second chaser to complete this magnificent double.
Podium placings; Federal Morgan 1st, Know Keeper 2nd, Drink Shoey's 3rd.
Federal Morgan began his race career began his race career in NSW and Queensland winning on 17 occasions including an Ipswich Young Guns Final (defeating Grp1 winner Oh Micky) before arriving here to add another 14 wins including the Grp 1. Hattrick Classic and setting a new Manawatu 457m track record of 25.25secs. All performances that cemented his true class.
From a breeding front it's apt that he should win an Auckland Cup as his dam Absolut Stunna is a blood sister to Ringside, who finished runner in in the 2019 Cup, she a sister to champion stayer Ring the Bell, the winner of both the 2017 and 2018 Duke of Edinburgh Silver Collar Finals.
Federal Morgan's brilliant race career was curtailed by injury in the 2021 Amazing Chase however after a period of recuperation with Hayley Mullane and Emma Potts, he has been registered as stud dog and was made available to NZ breeders before recently returning to his owner Scott Eaton in NSW where he will continue his stud career and enjoy retirement. He currently has 3 young litters whelped here to quality bitches with others to come. Will there be "Little Morgs" contesting an Auckland Cup Final in the coming seasons? Based on the affinity he and his close relatives; Ring The Bell and Ringside had with our Manukau track, it's just possible and wouldn't that be great.
He has a FB page; Federal Morgan at Stud, for all wishing more on this class canine athlete and to follow the future of his pups.
Congratulations    –   LINDA LAING
On 14/02/2022
Full of Secrets gave Linda her first training success in our code. She is however no stranger to training success by achieving victories at the most prestigious levels with her small team of horses both locally and at the fiercely competitive Australian Carnivals.
Currently, Linda's day are "full on", dedicated not only preparing both horses and hounds for the track. Together with much valued help of family members she is catering to the needs involved in rearing a large litter of greyhound pups.
Well done, Linda
AGRC's 527m Grade 4 Record 
A matter of Debate
From April 2009 Johnny Midnight's name and time of 30.24secs. has been the published grade record for the C4 527m trip.
Moments after Opawa Kirk shaved the barest of margins off that time the debate began over who actually held the record with the suggestion that as Thrilling Izzy's C3 class record of 30.11secs. set in combined C3/4 Nov 2020, should in fact also be the C4 record.
In fact, the fastest ever winning time of a C4 assessed dog was Prophecy's flying 30.09secs. recorded in April 2015. At the time he was not given the accolade of grade record holder as he was racing in a combined C4/5 race. Consideration since Sunday between club officials past and present, the decision has now been reached that Prophecy is our fastest C4 winner in a graded race therefore the grade record is rightfully his.
Prophecy's back story is an interesting one. His dam Osti's Ruby was a handy chaser for Team Farrell winning 10 races, 9 over the middle distance and a 650m event at Cambridge. By a leading sire Hallucinate out of Special Osti she had a real depth of pedigree. On retirement her breeding career was placed in the safe hands of Canterbury breeder Bruce Dann with the agreement that pup from her litters would come back north. It was agreed that as Glennis was not able to get down and see the young pups she would simply choose a number from the ear brands. Bruce selected Terra Keroma for her first mating and subsequently reared and undertook the early education of the pup. Early in his education Glennis has a phone call advising her pup had some real promise. Bruce's glowing prediction was certainly vindicated with that stunning run. Sadly, injuries were to dampen his overall career however on the 19th April 2019 we saw a glimpse of his huge raw talent.
Prophecy's kennel name was Cody and retired to the couch, a much loved member of the Farrell family until his passing last year. Onya Cody, posthumously your name is now rightfully in our race book as the C4 Manukau 527m grade record holder.
THE KILTY LAD – JUST ONE SMILE LITTER – REACH THE BIG FIVE-O.
In Sunday's 16th January, racing Wrap using the excellent Greyhound Recorder's website data base I reported that the win by Marcus was the litter's 49th. This number of wins does match the records kept by the Craik kennel's number one handler or the cumulative win numbers of the litter on the GRNZ website.
After investigation by DCI Selwyn, it has been established that the Greyhound Recorder website's statistics do not include the performances of all runners who raced at our meeting that was postponed on Sunday 14th November due to a rain event then successfully completed the next day.
An email has been sent to the Greyhound Recorder respectfully asking if this discrepancy can be rectified.
Congratulations to their breeders/rearers/trainers and owners Tracey and Lisa Craik and the Katcha Jordana Syndicate. They are a litter to be justly proud of.
Paw Note
Just One Smile's next litter by the under rated sire Banjo Boy are currently completing their education trials. Look out for them to hit the tracks in the coming months.
Tamantha Celebrates in Style
A special performance at AGRC meeting 23rd January. Tamantha's win at start one hundred for veteran owner/trainer Bob Bond. Her win just the 5th of her career however the daughter of Blitzing Mayhem and Big Sam's Girl has been an honest little chaser for Bob and Audrey by adding another 43 placed efforts.
Congratulations Team Tamantha
Clarification re misinformation distributed by SAFE
Greyhound Racing New Zealand publicly released its 2021 Annual Report on Monday 13 December.
On the morning of Tuesday 14 December, SAFE issued a press release, which claimed that 232 greyhounds "were killed" during the 2020/21 racing season, and further claimed that the Annual Report "shows that the greyhound racing industry is clearly not addressing animal welfare concerns."
These claims are factually inaccurate.
The 2021 Annual Report discloses that 187 greyhounds died or were euthanised during the 2020/21 racing season for reasons unrelated to racing.
Of these, 117 greyhounds were euthanised for various medical reasons on advice of vets and 60 died of old age, illness or accident.
There were 15 puppies that died after birth and three were euthanised on vet advice. Research on the mortality rates for puppies in the general dog population indicates a range of 11-13 per cent is expected. The greyhound puppy mortality rate in New Zealand for the past season was two per cent, so a factor of five times less than all other breeds.
The number of euthanised dogs related to racing activity was 27 – not 232 as SAFE appears to claim. This represents a significant reduction from all previous seasons, with no dogs euthanised in the last six months of the racing season.
Various initiatives developed and implemented by Greyhound Racing New Zealand have led to this marked improvement. Such initiatives have included track refurbishments, the introduction of a raceday injury rehabilitation programme and increased rehoming opportunities for retired greyhounds.
The greyhound racing industry has undertaken major reforms in recent years following both the Hansen and Robertson reviews to improve the safety of racing and ensure a reduction in injuries.
The figures from the last season demonstrate that these initiatives are proving successful, particularly with no dogs being euthanised due to racing activity in the last half of the year.
Greyhound Racing New Zealand accepts that there are people who are anti-racing, but we do feel it is important that the true facts and figures in context are released and published.
Posted on 14 December 2021
Live Streaming
December 12th 2021
Live Streaming wins on debut for Thayne Green & Danielle Elder his sire Zinzan Brooke is an Australian group one winner. Dam Zipping Lucy won races in Queensland before crossing the Tasman. He is the first of litter bred by the K1W1 Syndicate to race.
Congratulations Peter Heterick,  
December 5th, 2021
Zoe Star leads from the box to post giving Peter his first win as an owner and trainer. Her winning time of 18.59 seconds is a new personal best.
GARY DONOVAN MEMORIAL SPRINT
The C5 sprint on Sunday is named after Gary who passed away on November 17th 2010.
A former AGRC member, he was a real greyhound enthusiast who rarely missed a meeting enjoying the company of other members of "Mafia Table", (a group of likeminded characters/friends who shared his passion).
Gary's family stage this race in his memory every year and usually the entire family meet in the Greyhound Lounge on race day to both remember and celebrate his life. Unfortunately, this year due to current Covid restrictions this could not happen.
Now winning eight straight, Wheels On Fire, joins the Gary Donovan Memorial Stakes honours roll.
Congratulations Team Craik.
2021 winner: Wheels On Fire - Trained by Tracey & Lisa Craik