RACING WRAP – Sunday 29th May.
We raced under an overcast sky that saw the track lighting system come into play after race 8. A gusting easterly breeze and a temperature drop made for a chilly afternoon for all those on track. It was a day of winning braces as four kennels shared the honours.
Tracey and Lisa Craik's Queen Nancy took out our opening event, with Otaki River victorious in the open grade sprint later in the programme. Exiting from box 1 for the first time of his 33 race career, he turned on a BOD 18.39 performance.
The aptly named Dublin Express (he is a son of the Irish champion sire Larkhill Jo) scored at generous odd for Jared Udy and Neisy Cottam, winning the C4/5 527m Varvatos Stakes. Their other winner on the programme was the impressive debuting young chaser Lethal Angel, winning by a 4 length margin. She is a member of the Thrilling Boris- Tres Vite litter who had other pup Mint As qualify in spectacular fashion earlier in the day. The mail is that there are more talented litter members to come.
The up and coming, Minerva Mink ran a new PB of 18.56 when extending away from her rivals by a wide margin for the Hayley Mullane/Emma Potts training duo. Their brace came with Big Time Andy, topping the podium in the Mayhounds Greyhound Rehoming Group Sprint.
The successful relationship between Corey Steele and Opawa Racing continued on their winning way with Opawa Luke and Opawa Lucy saluting the judge. For his parents Wayne and Tracy, they enjoyed success with another Opawa product Go Clifford.
Another kennel with a successful association with Opawa Racing is Glennis Farrell. Although not successful with an Opawa chaser on Sunday it was Zipping Saint, bred and raced by NSW based, Camo Hallinan. The Hallinan family operate a large highly successful rearing establishment in central NSW. Recently chasers reared and educated on their property have been successful in numerous Australian Group 1 races.
After his promising 603m run last week, Tom Patton's home bred Soldier Blue, turned on the Performance of the Day with a powerful BOD win in the 527m Winsome Dosh Stakes. He will be one to follow as he climbs the grades.
The wait to race in the last of the day was rewarding for Linda Laing as Full Of Secrets dashed clear of her rivals from box rise and maintained command to the finish in a new PB of 18.73.
The importance of the presence of chasers bred and owned by the bigger breeding establishments in both the South and lower North Island can't be understated. A couple of years ago for a variety of reasons there was a lack of breeding in the north. Thankfully in past twelve months there has been a resurgence of breeding in our region. Perhaps the major reason for this welcome increase is the availability and affordability of three quality NZ Group 1 chasers; Thrilling Boris (now well proven as a sire), Pinny Mack and Federal Morgan, before his return to Australia. Many of the litters by these sires have been bred by some of our younger breeders. This is a real positive for our racing in the north going forward.
Our next two meetings are not to be missed as they climax in the finals of our Group 1 Duke of Edinburgh Silver Collar and the Waterloo Cup. Our Australian visitor Here's Tears is here for the Silver Collar arriving from Melbourne last week. He had a promising hit out on Sunday prior to next Sunday's heats. Also on show will be Garry Cleeve's star stayer Know Keeper, he is unbeaten in his 600m+ races.
Congratulations to all Sunday's winners. A vote of thanks to participants, staff, officials and patrons.
RACING WRAP
– Sunday 22nd May.
Over recent weeks the Hayley Mullane/Emma Potts team have steadily been on the rise. Yesterday they rose to the top with a winning treble. Emily's Perfect achieved her first open class win with a dazzling display of speed when reaching the first mark in 4.54 and an overall 18.43secs., easily the BOD. The manner of the win suggests this young daughter of Spring Gun the goods to take on the best.
Minerva Mink turned on a PB 18.70 when at C1 level and taking her track and distance stats to; 2 wins and 2 placings from 5 starts. The partnership had 3 runners in the 527m C1 Cuties Sister Stakes, producing the trifecta with Scobie Blue, About To Do and Soda Split fulling the podium.
A special congratulations to Hayley and Emma as it was their first winning triple.
There was real merit in the A J Christiansen trained Uno Me Now's win in the Lochinvar Brando Stakes as she overcame a couple of bumps in the running before powering home to win. With now back to back track and trip wins, I am sure she will be a real contender if she takes her place in a Waterloo Cup heat to gain entry in the $30,000.00 final at Group 1 level on Silver Collar Day.
(This time-honoured race was previously contested every September, with the winner, due to the relationship developed between the two clubs, being offered a spot by the Sandown Greyhound Racing Club in a heat of the Melbourne Cup contested in November. Prior to Covid a representative from the Sandown Club and the Melbourne Cup itself were on course at Manukau, to promote the race and meet with winning connections).
With AJ's Electric Shock. scoring later on the programme it was a top day out for him. Uno Me Now and Electric Shock were two of their sire Fernando Bale's six winners on the card.
The progeny of successful local sire Thrilling Boris took out the first two races of the day with daughters Black on Blue and You're A Rebel victorious, the latter a member of the Udy/Cottam team. Ross and Lynne Udy also took home a winning stake with Boot Camp Tiara going one better than her previous second placing when scoring over the 318m trip.
It is always great to see a visiting trainer top the podium and yesterday it was Marcie Flipp travelling up from Foxton with kennel newcomer Opawa Lightning.
The Corey Steele team were to the fore again with another of the Opawa breed. The win by Opawa Boys Get Paid was his first at Manukau.
It was a kennel quinella for Glennis Farrell with Zipping Saint leading home her litter sister Zipping Spook in the C3 sprint event. The highly successful Team Craik had to wait until our final race to taste success. Portland Opal swooped from the eight box to continue their successful run.
As we edge closer to the Duke of Edinburgh Silver Collar the focus on distance racing intensifies. Yesterday, Thrilling Fern took out our Performance of the Day with a determined win.
Last Thursday at Waikato in the AGRC Tivoli Tom Distance over the longer 650m trip, just two lengths covered the winner Shanmaria, Shelly Pom and the dead heating Shayanna and Portia. There is a deep interest in the numbers planning to make their quest for next month's Silver Collar that's for sure.
Congratulations to all winning connections and an appreciation to all participants and the "small village" it takes to hold a successful race meeting. Hope to see you all again at Manukau next Sunday arvo.
Racing Wrap – Sunday 15th May
Our weekly racing wraps are rightfully centred around the track performances as our canines are the stars of the show. The importance of those who enjoy a flutter on their performances can not be understated. Their investments translate into stakes, the life blood of our code.
In recent months punters, both on and off course have from a relatively small investments have collected healthy sums from; Pick 6, Quaddies, Trifectas and First Fours. Yesterday, despite seven favourites winning, the payout for Pick 6 was on just 5 legs, the late Quaddie was not struck and the double on Races 10 and 11, paid out on two concessions. Ups and downs like these are part of the fun when having a punt.
For young trainer Sean Codlin, the manner of the 527m win of Sweet Potential added to the gloss of Thrilling Watson's PB and Performance of the Day. Both Sean's winners are progeny of NZ bred sires; Winsome Opawa and Thrilling Boris respectively.
His involvement in our code is not only restricted to training as he stands Pinny Mack, winner of both the Grp.1 NZ Cup and Waterloo Cup at stud. The oldest of his progeny are just over a year old and are impressive, leggy types. Watch out for many winning "Mack Attacks" when these youngsters hit our tracks next season. Their sire certainly has both the race record and bloodlines to be a stud success.
Keeping up their tempo of success were Tracey and Lisa Craik with three winners; Kettle Pot delivering his bonus maiden win and Portland Pearl and For Your Page progressing through the grades.
Two other kennels scored a brace of wins.
For Karen Walsh, Thrilling Rogue showing great determination in our 603m race, overcoming a back straight check to catch the valiant pace making Opawa Kirk, in the shadows of the winning post. Youngster, Thrilling Eva broke her maiden at her third start.
The Te Awamutu kennels of Wayne and Tracy Steele have endured a tough time in recent weeks, therefore it was heart-warming to see both Born Katie and Go Clifford top the podium for them.
The C5 Carol's TAB Taipa Tavern Sprint saw Phil Green's Up Your Quota shaving his PB to 18.32secs. when powering away to a 3 margin over his rivals. Bouncing off the reserves bench the Glennis Farrell trained Zipping Spook, scored a popular win for his connections who cheered him home.
Bandit Billy after two placed efforts over the 318m trip scored his first Manukau win, continuing the run of success for the Hayley Mullane/Emma Potts partnership.
Backing up from her sprint win at Cambridge, Jam Packed delivered her first win over the 527m trip for Jared Udy/Neisy Cottam. This daughter of My Bro Fabio- Little Bit Funny is enjoying her racing.
We are just four weeks away from a super Premier Day's racing, featuring two Group 1's the 779m Duke of Edinburgh Silver Collar and the 527m Waterloo Cup Final. Races that bring the best performers over the race distances to Manukau. A day at the track not to be missed.
Racing Wrap – Sunday 8th May
To celebrate Mother's Day, we acknowledged ten of the brood bitches current and past whose progeny have showcased their talents at Manukau and other tracks country wide.
A quality broodbitch is a "Jewel in the Crown' for a greyhound breeder.
Over recent months Sean Codlin has put in the hours thoroughly educating some youngsters. Yesterday, his efforts were rewarded with victories in both maiden races. Steve's Shout capped off recent placed efforts when winning our opening event. His owners the Steve Clark Syndicate, are a group of friends of popular trainer, the late Steve Clark, who sadly passed away suddenly June 2020.
His other winner was the Opawa Racing bred and owned, Sweet Potential. She is certainly well named as in her pre-race trials, winning race day debut earlier in the week at Palmerston North and yesterday's emphatic bonus maiden win, in a very smart 18.49secs, she displayed huge potential. I am sure under Sean's guidance we will witness it blossom throughout this current season and next. For breeding buffs, she has a pedigree design that is simply captivating.
With races named after brood bitches it was pleasing to see some links in the results.
The Just One Smile Sprint was taken out by her son Ten After Four (Roy to his mates), this 36kg. youngster now has a four from four track and trip wins for Tracey and Lisa Craik. They also had success yesterday with Simple And Plain's son, Portland Jake. For Your Page's win, (a son of Katcha Fire who currently shares a couch with other kennel retirees) made it a trio of wins for the partnership.
The Winsome Ashley Stakes was taken out in dashing style by her great grand daughter Jelly Fish for the Hayley Mullane/Emma Potts partnership. Their second winner on the programme was Emily's Perfect, her low flying 18.32secs. earned her the Performance of the Day.
The La Cigale Sprint was taken out You're A Rebel, for the Jared Udy/Neisy Cottam and Dinny Syndicate. They were the trainer/owner connections of her brilliant son Buddy Boom, the 2020 NZ Greyhound of the Year.
(On a personal note, it was great to catch up with La Cigale's litter brother, Belcroft Banker at the Open Day. Amongst his race day achievements is our CO 318m Grade Record of 18.26secs. set back in 2015. His breeder/trainers the late Leo and Henny Laagland, were great friends of mine).
A very competitive field went to the boxes in our c4/5 527m race. A J Christiansen's Uno Me Know took command from box rise to run a PB of 30.46secs. She has superb stats when drawn close to the rail.
Our other 527m race on the card saw the long striding Soldier Blue topping the podium. He received the 'clear air' that he needed to take out the C1 Teegan Stakes for Ohaupo trainer Tom Patton and owners, the K One W One Syndicate.
Our C5 sprint saw Wild Kiwi score his 23rd win in his 96th career start. A son of another super producer Kiwi Gal, he has been a Manukau favourite for the past two seasons.
Breaking through for his first Manukau win on his track debut was the Phil Green trained Cryptic Puzzle. He is another South Island chaser who has made is way north.
Rounding out the day's winners was Zenstar Racing's bonny sprinter Zoe Star. Trainer Peter Heterick and partner Tanya Dixon race their chasers under the Zenstar banner. Peter, I am sure would be the first to acknowledge the 'hands on' help together with the support he receives from Tanya and their daughter Zoe. Like many other greyhound kennels, it's truly a family operation.
With plenty of activity in the stadium it was another enjoyable Manukau Sunday afternoon for participants and patrons. Congratulations to all winners and a thank you to our valued staff, catering team and race day officials.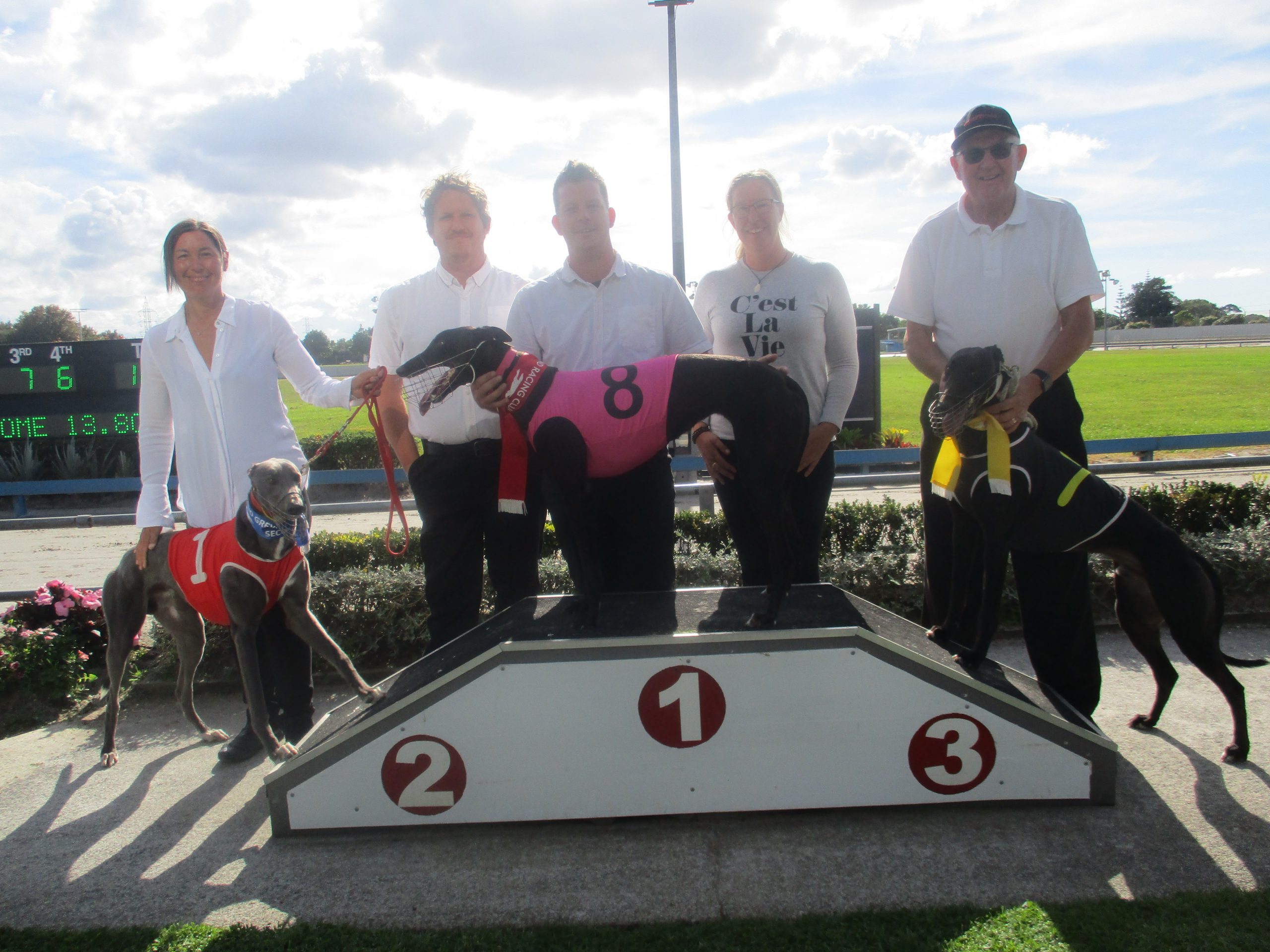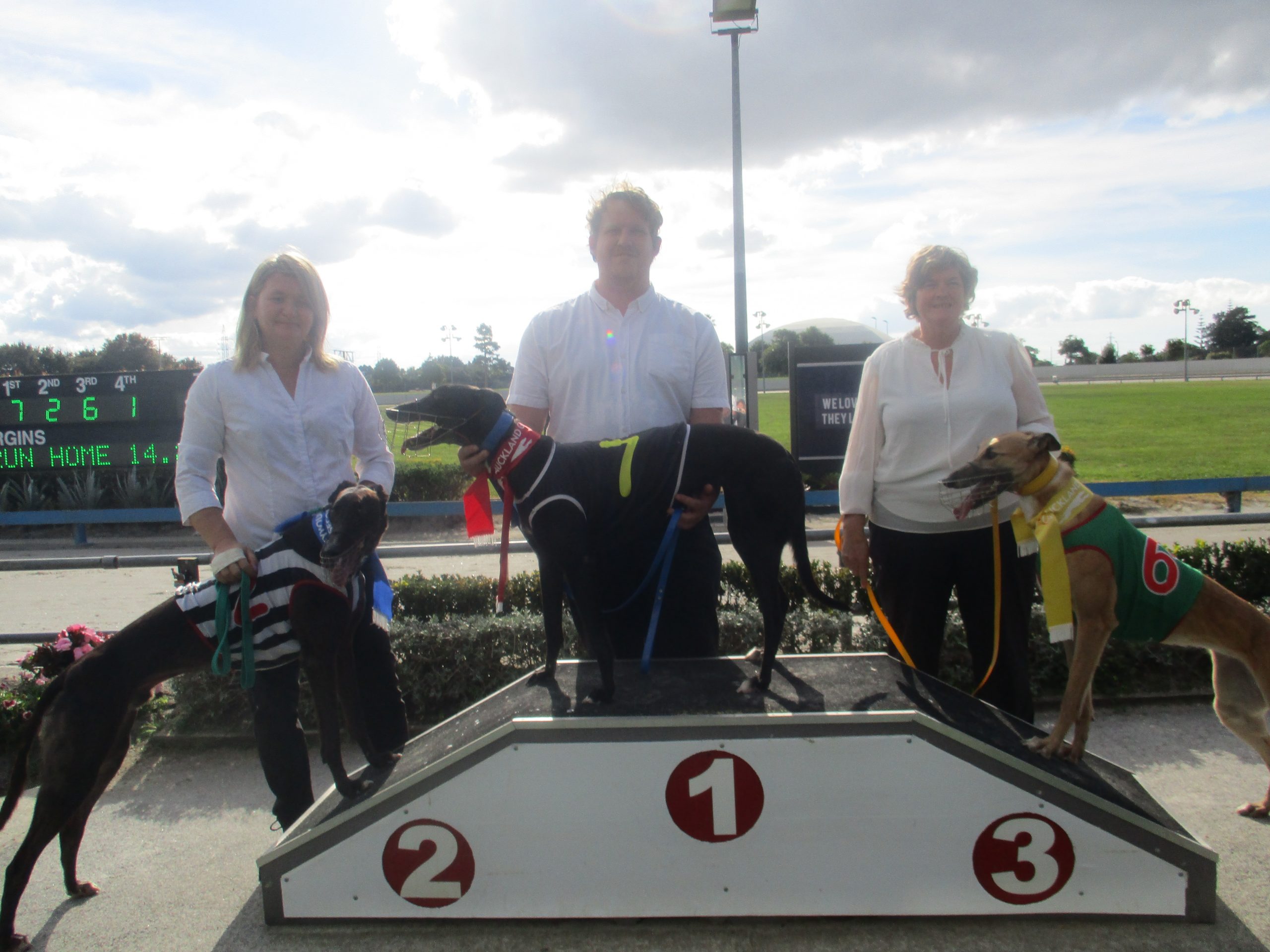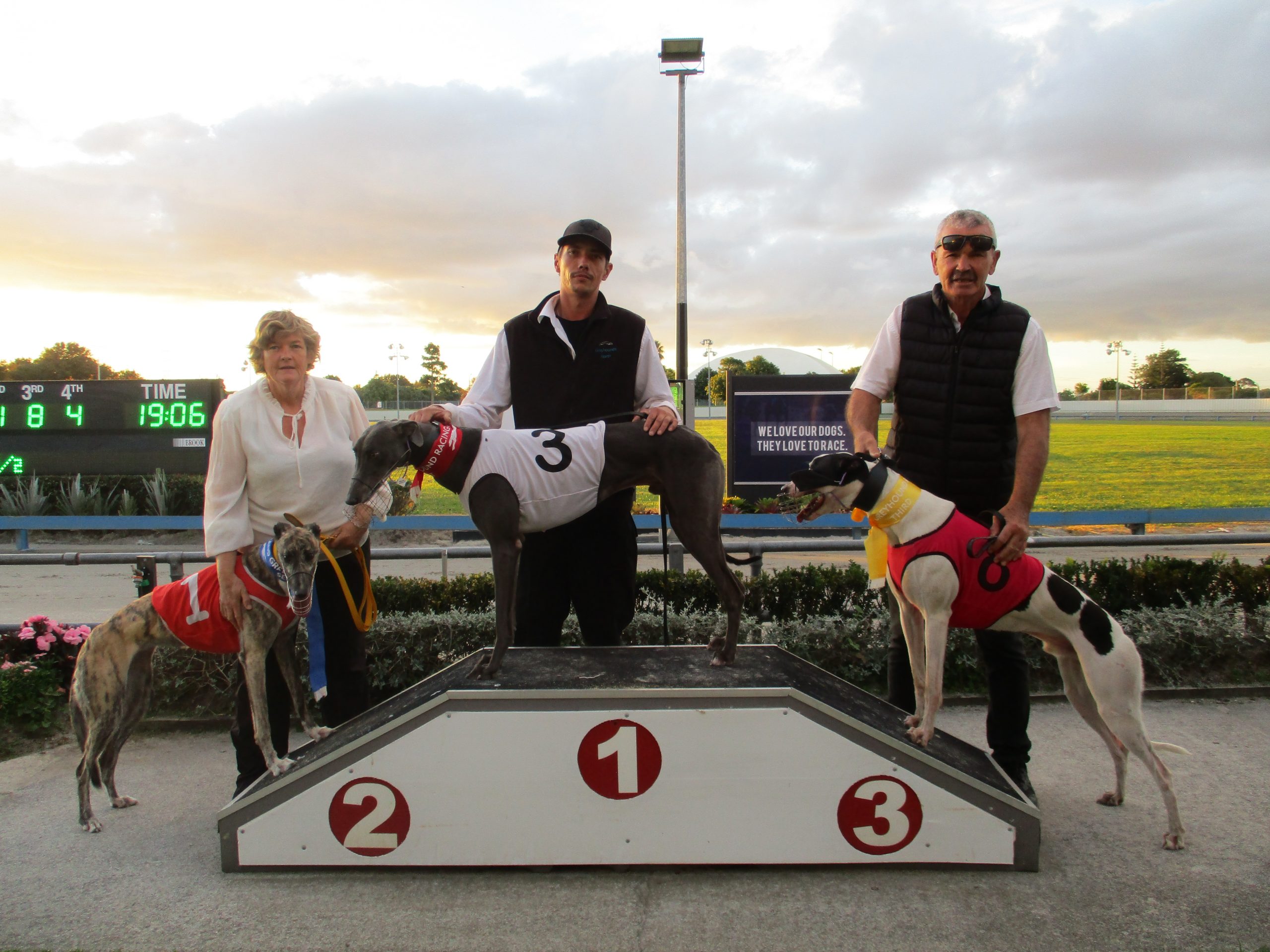 Racing Wrap – Sunday 1st May
Our racing was again conducted on an almost summer's day, clear skies, a light breeze with temperatures above 20 degrees.
As it has been the case in recent weeks the in form Tracey and Lisa Craik kennel runners were victorious on multiple occasions. Their day began with debutant runner Portland Pearl saluting the judge ahead of kennel mate Kettle Pot, who had to settle for another second placing. His turn will come.
Pearl's litter mate Portland Timmy was successful at C1 level, while their consistent chaser Go Ahead Caller was successful in the C2 grade winning the Hewlett Electrical Sprint. With four runners in the C4/5 race the kennel had a very strong hand. It was Portland Blonde winning by a near three length margin. Each of Portland Blonde's now 11 wins are special to Tracey and Lisa has she suffered a leg fracture as a young playful pup, making it a special journey to get her to the race track.
Their fifth winner Opawa Rowan a is relative new comer to the kennel. He bucked the trend of recent weeks by scoring a decisive win in the C1/2 537m event. On the bunny throughout the trip, he held a near 9 length margin from his nearest rival at the post, in a competitive 30.62secs.
With yet another youngster winning a qualifying trial, there is a strong signal that their high success rate will continue.
The other maiden 318m event was taken out in a smart 18.71 by the well bred, Scooby Blue. A son of Fernando Bale – Thrilling Flo, scored a bonus maiden win as he was also successful at Cambridge on Thursday. This win plus the upset victory of Flappable in a sparkling 18.59 gave the Hayley Mullane/ Emma Potts partnership a deserved brace of wins. There are signs that their team is ready to fire in the coming weeks ahead.
A race win on a birthday is a special and that was the case for Yani Castro as she led Big Time Storm back top the podium for partner Rob Roper to enjoy the moment as a family. The win was the first for Big Time Storm at our track.
Te Kauwhata is greyhound heartland and yesterday saw a quarter of our twelve race programme won by chasers from the area. The Jared Udy/ Neisy Cottam partnership scored a brace with Dublin Express successful in the C3 527m MPS Fencing Stakes at odds of $23/1. In our final event it was Thrilling Violet pouring on the pace from the outside box to head home her litter mate Thrilling Raven who is a member of the Mullane/Potts team.
Ross and Lynne Udy chimed in with another of their homebred chasers, Ginger Mascara, showing her rivals a clean pair of heals throughout when winning earlier in the day.
His winning debut as a C5 accessed chaser saw Glennis Farrell's Opawa Albert take out our Performance of the Day, with a bold front running display in a BOD 30.51. He appears to be a tough customer to get past when he gains control of a race.
Congratulations to all winning connections and an appreciation to all involved in a successful day's racing.
The week ahead is a busy one as we prepare for the club's annual Open Day for retired greyhounds, their owners and friends is commencing at 10.00am on Saturday morning at the stadium. If you know of anyone considering adopting one of our graceful greyhounds, please bring them along. It's a fun day out for all.
We will also have some addition activity in the stadium on Sunday as it is Mother's Day. A special welcome to all the Mums who come along.