Racing Wraps – July, 2022
RACING WRAP – Sunday 24th July.
The last of this season's five group races held on our track, the Grp.2 NZ Sires Produce Stakes was the headline race on the card. The race is a restricted age event with Thrilling Freddy and litter mate Thrilling Watson whelped in Aug 2019 being the eldest, while Opawa Conan whelped in June 2020, was the baby of the field.
Being a proven performer on our track, Thrilling Freddy was race favourite and did not let his supporters down with a 30.54 win over the southern visitors, Calculated Risk, a son of Eminent Reality, who was bred/owned and trained by Ashley Bradshaw. Third place getter was the American Warrior youngster, Opawa Conan for Opawa Racing and trainer Bruce Dann.
Freddy's win capped off a great season for his sire Thrilling Boris, who with just a handful of meetings to go has progeny earnings on the cusp of $300k. Eminent Reality's 20 starters have season's earnings of $227k. American Warrior's stock earnings are $157k, with his eldest litter just 28 months old. The statistics of these three sires are proof for all to see that given opportunity local sires when matched with quality bitches can more than hold their own against the semen of many of the Australian based sires.
A club feature race supporting the Sires Produce was the Bright Star Sprint, named in honour of the prolific sprinting daughter of another NZ based sire Star Conquest. Jumping to a narrow lead, the oldest chaser in the race the Matt Robert's trained Miss Adobe holding off challenges from both her inside and outside, forging a clear through the bend as chasing pack raced in close quarters behind her. She maintained the margin to finish ahead of another southern visitor Alhambra, with the local youngster Sweet Potential third. Her sire, Cawbourne Brick was a gritty performer on the track and Miss Adobe certainly displayed the same grit going into the bend.
Cawbourne Brick produced another winner on the programme with Boot Camp Tiara winning close to her PB for Lyn and Ross Udy.
Just a fortnight ago, Mint As matched You Ready Boots season's best time of 18.44 for a C1 graded sprinter. On Sunday, You Ready Boots younger half brother Smile A While joined them when equally the time in the Allegro Gun PBD Sprint. A great effort because the afore mentioned You Ready Boots took BOD honours amongst the five winners for Team Craik, recording an 18.41.
The powerful Palmerston North based Lisa Cole kennels team of chasers took out races with Big Time Lovely winning over the 318m with Manila Raw and Allegro Mars both saluting over the 527m trip.
Kay's Last ran second for Corey Steele on her Manukau and debut the prior week and went one better topping the podium at her second Manukau run. For another former southerner Opawa Arlo a brother to Opawa Conan, gave his sire American Warrior a winner on the day. He is enjoying racing his racing from the Glennis Farrell kennels, with Sunday's win taking his track stats to; 6 starts 2 wins and 4 placings.
Although passing showers dampened the day at times. it was another good day's racing. There was a happy atmosphere inside the stadium and for one lucky patron his afternoon was a beauty as his runner in our popular Legs Eleven Contest won, seeing him take home the $300 prize.
From the AGRC Board a sincere thank you to all who contributed to the day's proceedings. We look forward to seeing you all again for our final race meeting of the current season next Sunday.
Next Scheduled Trials; Wednesday 27th July, commencing at 10.00am.
Next Scheduled Race Meeting; Sunday 31stJuly, first race 1.02pm.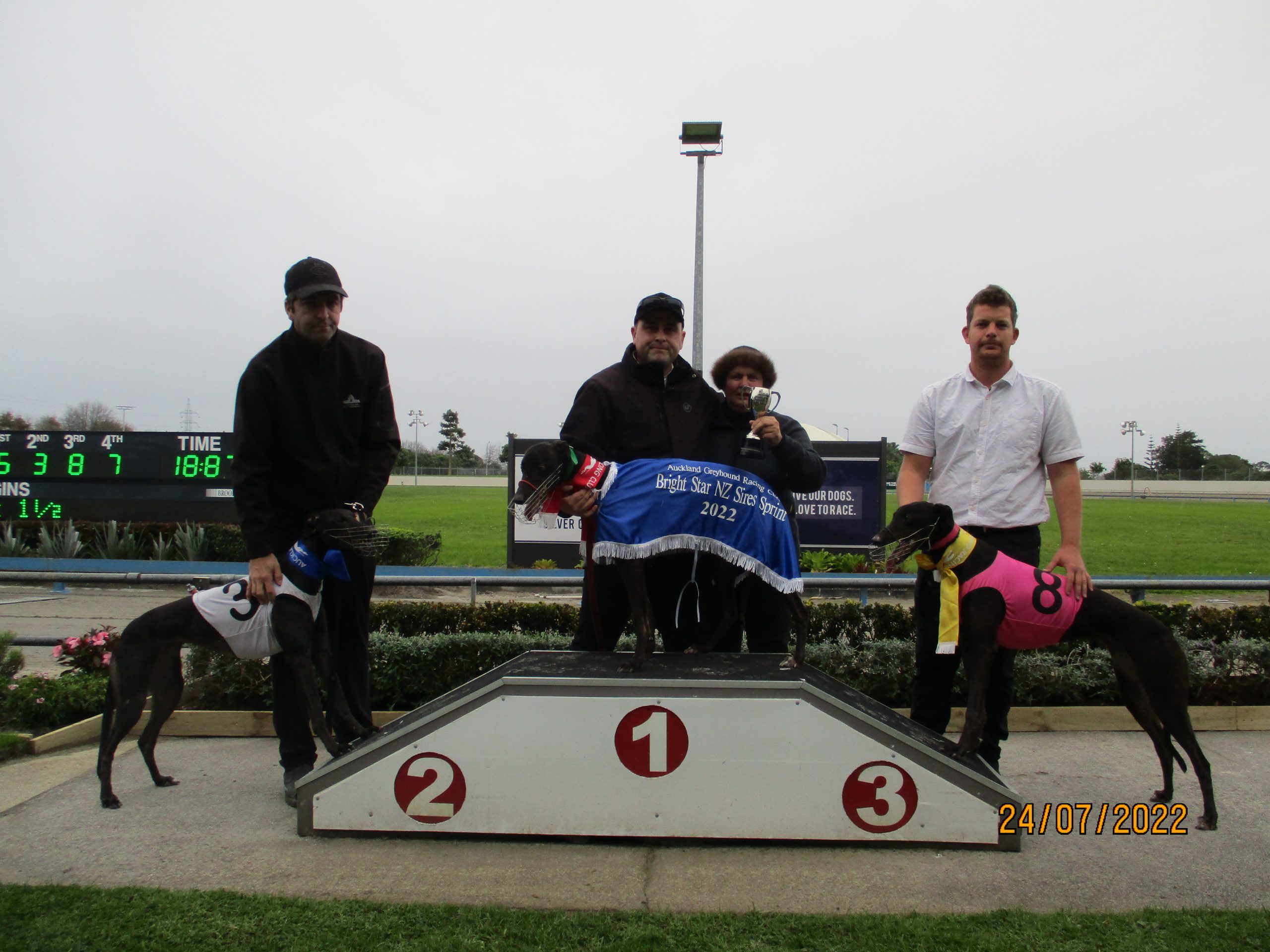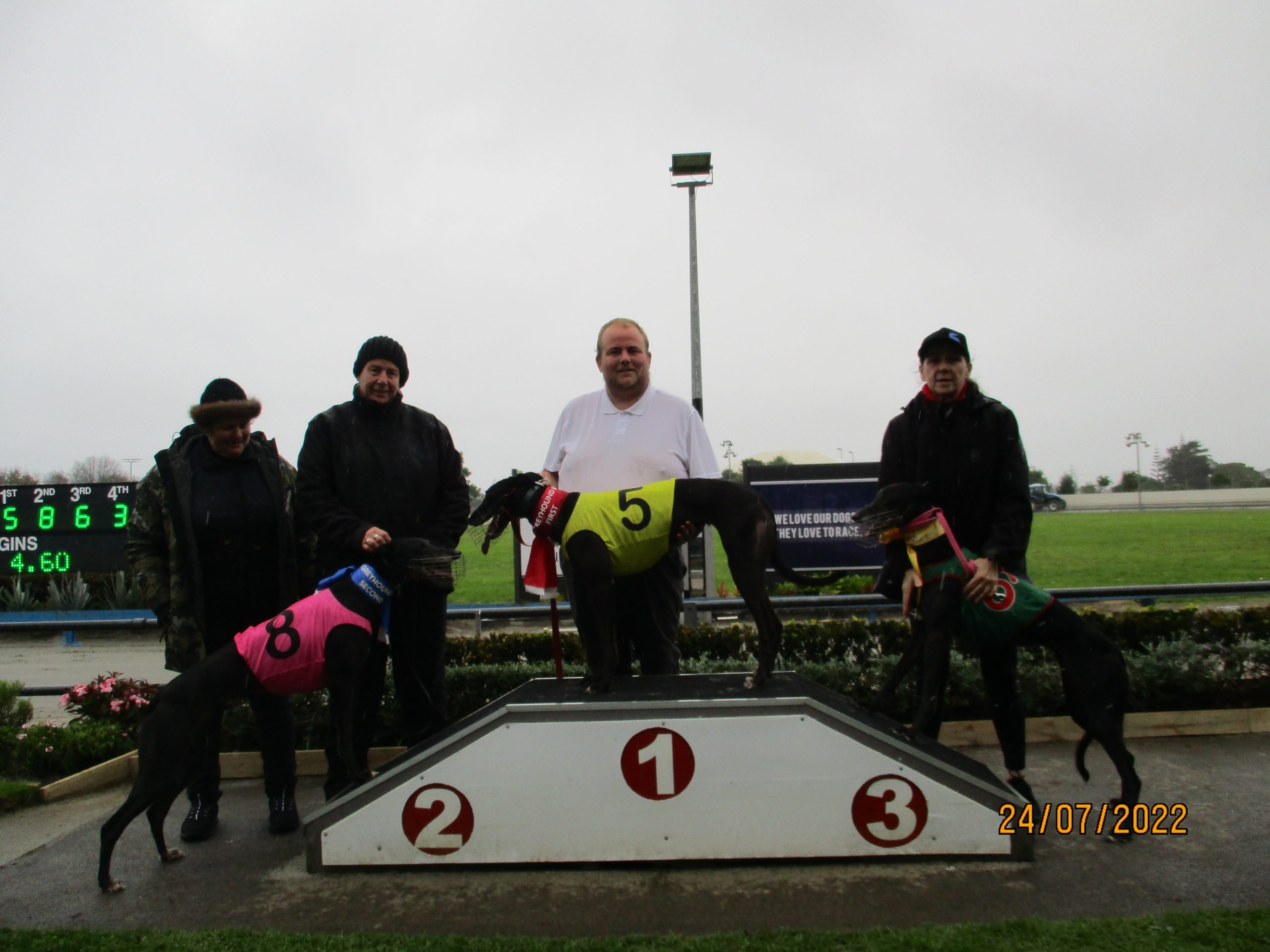 RACING WRAP – Sunday 17th July.
Coming into yesterday's meeting the powerful Tracey and Lisa Craik kennel chasers had 127 Manukau wins for the season. They added another six to that impressive total with; Queen Nancy, Major Margaret, Smile A While, Kettle Pot and Otaki River outright winners, while Danish Delight shared the winning honours when dead heating with Rob Roper's Big Time Storm.
Otaki River was super impressive, powering four wide around the bend to finish over the top of another strong sprinter Up Your Quota, the gallant pace making Zoe Star, with kennel mate Wheels On Fire also in close attendance. This victory his fifth successive in open grade.
A brace of wins for the Clevedon based Hayley Mullane/ Emma Potts partnership, with Minerva Mink taking the Performance of the Day, producing a nippy PB OF 18.41. Earlier in the day Soda Split opened her Manukau winning account with a stylish win in the C1 527m Know Peace Stakes. Both chasers are owned by Daryl McLachlan, who is a strong supporter of the successful operation. Another of the 'Clevedon Clan' saluted the judge with Chloe Watson's Teeing Off scoring his third win from four box 8 starts. Chloe is producing super stats early in her training career. Currently; 2 runners, 9 starts, 2 wins, 1 second and 2 thirds.
The consistent Rocked It used his rails draw to perfection with a win in the C4 assessed Dog Speed Sprint. The Wayne and Tracey Steele chaser now adds his quality to our group of open grade sprinters.
Another consistent chaser to be rewarded yesterday was the Glennis Farrell trained Opawa Albert, who downed kennel mate Opawa Slick and Ramblin' Andre in the C4/5 grade 527m event.
Staying on the consistency theme, there no more deserving a winner than Blue Bomber, who recorded his maiden win after five second placings in his previous 6 career starts. Mark down this Phil Green trained chaser to win another couple at very short notice.
Yesterday we were treated with a calm sunny winter's day, making conditions for racing ideal. We trust all who participated or attended enjoyed their afternoon.
Next Trial Session; Wednesday 20th July, commencing at 10.00am.
Next Race Meeting; Sunday 24th July, featuring the Grp. 2
NZ Sires Final and the feature Bright Star Sprint. Check guides later in the week for first race time.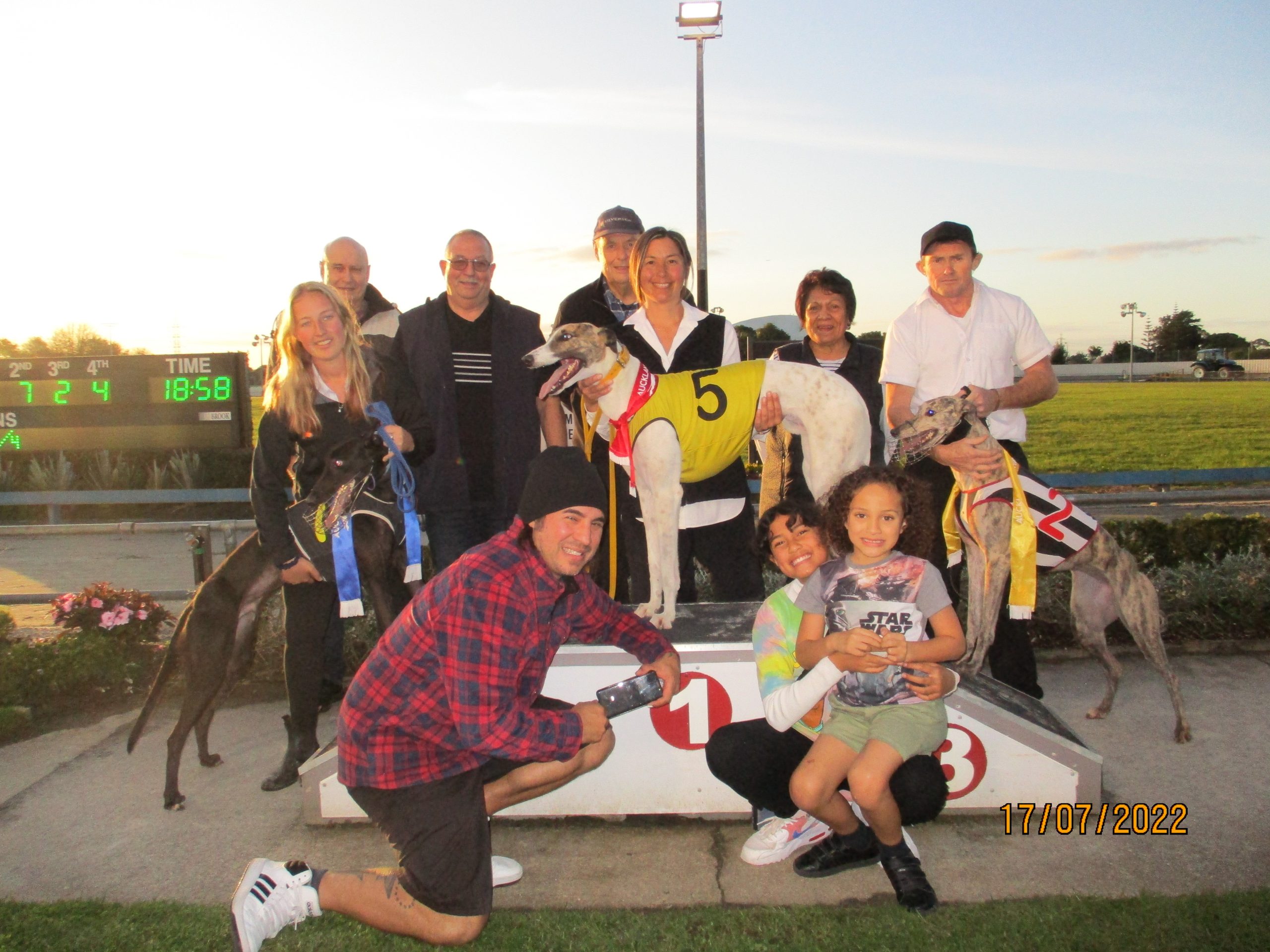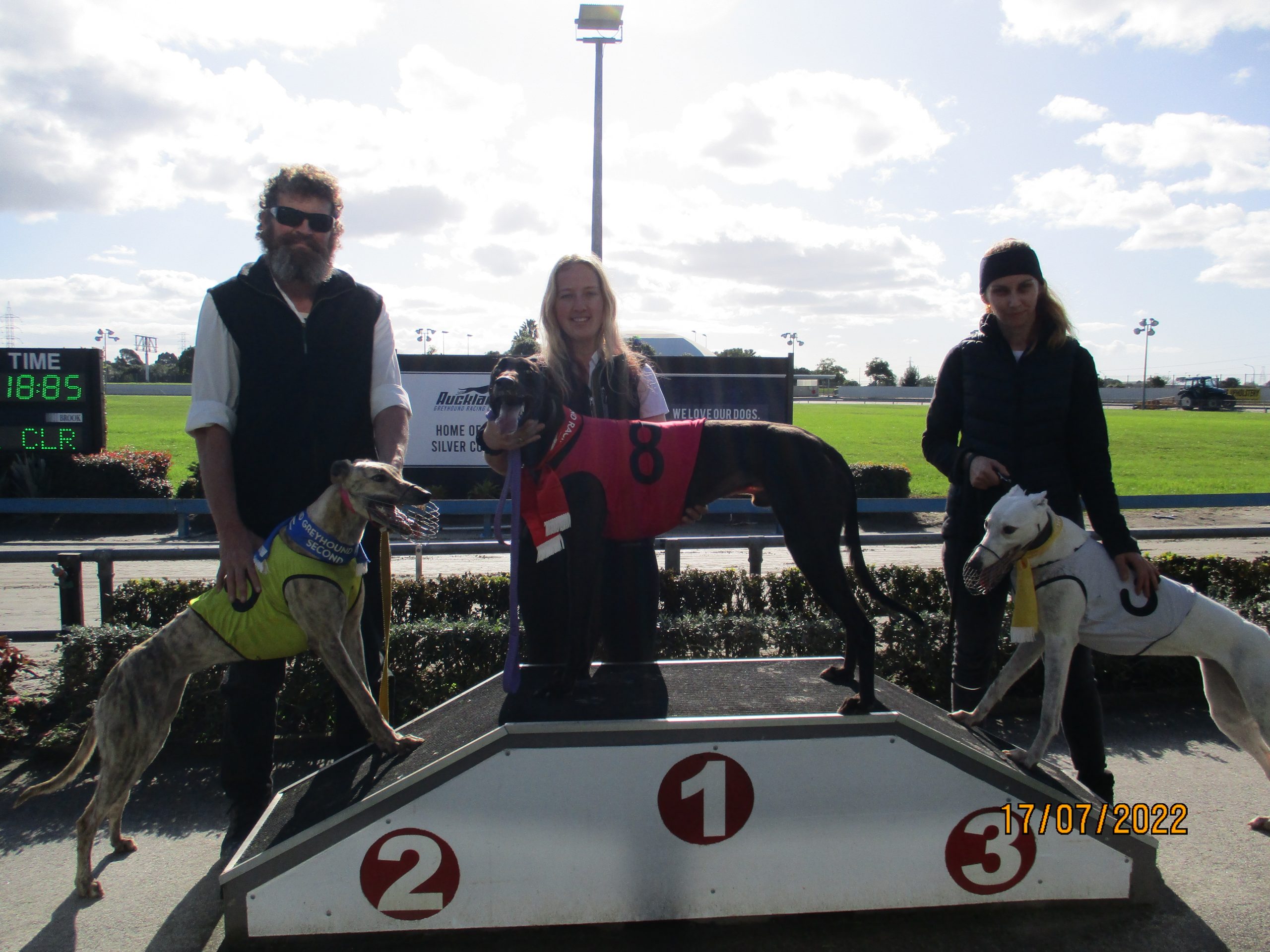 RACING WRAP – Sunday 10th July.
The weather gods smiled on us as yesterday's race meeting as we raced under high cloud with no rainfall throughout the day. This was our first meeting using the new hoop arm lure.
It was a day of doubles and triples. For Tracey and Lisa Craik, the day produced another trio of winners. You Ready Boots delivering the BOD time of 18.39, when taking out the C3/4 Pump & Engineering Stakes. Her younger half brother Kettle Pot stylishly took out the last in a PB of 18.65. Close relative Otaki River took the honours when defeating kennel mate Wheels On Fire in the C5 sprint.
Marie Prangley's chasers were to the fore, Thrilling Freddy continuing on his winning way with a new PB of 30.57 in the C4/5 Mt Wellington TAB Stakes. Evergreen chaser Medusa Who posted her career win 14, earlier in the day.
On the breeding front, three of the progeny of Thrilling Boris added to his impressive season's statistics. (current record; 32 starters, 26 winners of 110 races). Thrilling Freddy recorded win 19 from just 37 starts. Young litter mates, Mint As and Daisy Clipper were also winners. Mint As taking out the POD with a flying 18.44, a time that matched the season's best for a C1 sprinter. Daisy Clipper's win for the Wayne & Tracy Steele training partnership at just her second start gave her owners the Three Old Ducks Syndicate their first win and without doubt plenty to quack about. Dam, the beautifully bred Tres Vite now has had three winners from three to race.
The other dam to produce a brace on the day was Sally. The Phil Green trained Barrel Maker had the Corona Sunday Syndicate on their feet cheering him home in our opening event. Later in the day, First Light gave Sally her second winner and a win for Shaun O'Neill, This capped off a great week for Sally and Shaun as Let Em Talk won at Cambridge last Thursday.
Two other events were raced over the 527m trip. Big Time Dory bounced back to winning form for Ron & Nyomi O'Regan, with a front running display in the C1 Kapai Bart Stakes. Rising star, Sweet Potential delivered a determined win, holding off the fast finishing, Soldier Blue in the C3 Know Jinx Stakes. The win pushing the stake earnings of Sean Codlin's team of chasers over the $100k mark for the season.
Rounding out the 318m winners were the newcomer to the Peter Heterick kennel Spring Forward, who bounced out of box 4, to lead throughout delivering her first Manukau win in a tidy 18.66. While the successful Hayley Mullane/Emma Potts partnership's Starlight Ria, led home kennel mate Thrilling Raven in the C3 MPS Fencing Sprint.
All in all, a great afternoon of chasing actions. Congratulations to all winning connections and a thank you to all who participated or attended our meeting.
RACING WRAP – Sunday 3rd July
The big news during the week throughout the greyhound world was the fact the stake earnings of the progeny of super sire Fernando Bale surpassed the one hundred million dollars. Therefore, it was only fitting that two of his offspring would top the podium yesterday. The Rob Roper trained Allegro Rory, came off the ballot to win the MPS Fencing Sprint, while later in the day Minerva Mink was victorious in the Dog Speed Sprint for Hayley and Emma.
Staying on the subject of sires, three NZ based sires also saw their progeny excel. Jake Bell had the added pleasure of lifting Commissar, a son of his sire Allegro Gun to the top of the podium. The Glennis Farrell trained Opawa Arlo, a son of Ascot Park 457m track record holder American Warrior, scored his first Manukau win with a stylish performance over the 527m trip. After the three wins by the Ramblin' boys at Cambridge on Thursday, Jared and Neisy's smart youngster Mint As and in form Marie Prangley kennel star Thrilling Freddy, gave Thrilling Boris five winners from the past two northern meetings. For the progeny of our local sires, we will have the Restricted Age NZ Sires Produce Stakes, over 527m and the Bright Star Stakes over the 318m, a race open to all ages later in the month.
Rocked It's, BOD 18.38, earned the son of Barcia Bale the Performance of the Day Award. It has been a satisfying week for his trainers Wayne and Tracy Steele as they also enjoyed the success of their homebred litter mates; the Ramblin's – Hardy, Kane and Andre on Thursday.
Tracey and Lisa Craik once again had a quartet of winners. Serbian Ace produced a powerful finish to head Blue on Black over the 527m. Smile Away impressively won his maiden over the 318m in a nippy 18.56. Sprinters Portland Sailor and Otaki River were also victorious, with Otaki River's win give him a hat trick of C5 318m sprints. To carry on his winning way next Sunday, he will have to contend with his kennel mate Wheels On Fire, who has been trialing well in preparation for his race day return.
Loyal Redeemer, a grand son of Fernando Bale stepped up to C4 and scored back to back wins for Thayne Green. He now joins the C5 the current group of very smart C5 sprinters who race at Manukau. His sire My Redeemer is a Melbourne Cup winner.
Rounding out the card's winners was the lightly raced Cool Faces for AJ Christiansen, successfully stepping up to C1 after last Sunday's maiden win.
Congratulations to all our winners and hoping that all participants and patrons had an enjoyable afternoon. A sincere vote of thanks from the club's board to all club and catering staff for a job well done.