Racing Wraps – January 2021
Racing Wrap – Sunday 30th January.
Auckland Anniversary Weekend is celebrated by the club with two feature races. One taken out by a chaser graduating to the open class ranks for first time and the other a relative new arrival to the open grade.
The Anniversary Day Cup over 527m saw the bonny Zipping Barty using her known early pace to cross from the 8 box to lead the classy field. Stalking her from his rails box was her up and coming young kennel mate and race favourite, Opawa Kirk, with the latter hauling her in to score a one and a half length win. Both chasers ran new PB's, Kirk a flying 30.16secs. and Barty a 30.25secs. A great one/two for Team Farrell.
Proven sprinters, Zipping Hewitt and Wild Kiwi were expected to dominate the finish of the City of Sails Sprint, however lack of racing room early in the race extinguished their chances. Exploding from box 4 and holding a centre track line for the entire journey was the Udy/Cottam trained My Mate Speight, saluting the judge in a nippy 18.53secs.
Owned by the Ownagreyhound Syndicate, he was soon a rock star on the syndicate's Facebook page "rocking his new threads" after arriving home. An opportunity to join syndicate that is well managed by offering great communication and real integrity, is the ideal way to become involved in our code for a modest outlay. Maui has taken his team on an exciting ride, with his now; 9 wins, 6 seconds and 8 thirds from 45 starts and stake earnings of $19,594.00. Surely syndicate celebrations must include a medium/rare tomahawk steak and beer battered fries dinner for Maui.
Wins to litter mates Coolibah Kid and Dynamic Empire, capped off a very successful day for Jared and Denise. I'm sure their breeder the late Gordon Wilson, will be 'smiling up in the kennel in the sky'. Gordon was a longtime club member, racing his dogs with the Jetsun prefix from as far back as the club's Mt. Smart days.
The Akatarawa Ropata Memorial Sprint honoured the memory of Aka, who was a valued member of our kennel staff team. It was heart-warming to see family representatives participating in the dais presentation. The race taken out by one of the Team Craik runners, the consistent Mirko.
BOD honours over the 318m went to the Wayne and Tracy Steele trained Opawa Oliver with a new PB of 18.49secs. The win gives him a picket fence form line with now 5 consecutive wins. Onya Oliver.
Other winners over the 318m were the Corey Steele trained Opawa Rhino, scoring a bonus maiden win at winning at Cambridge on Thursday. Team O'Regan's Big Time Lad, victorious at $20/1, the longest odds of the day. Stones on his third race back from a long break winning nicely for Phil Green, while Zipping Aubry cleared his rivals by 6 lengths to give Team Farrell a brace of winners on the day.
Two well-bred bitches racing over the 527m trip put on sparkling chasing displays. Thrilling Gem matched her PB with a 30.56secs. victory for the Codlin kennels. Steve and Sean certainly have a quality bitch for the breeding pen when her time comes. After winning a sprint earlier in the month Thrilling Fern stepped up in distance to score decisively in a smart 30.38secs. for Karen Walsh. She is yet another of the quality progeny of her dam, the well preformed My Girl Chloe.
All in all, a great summer's afternoon of racing successfully held under the Covid Red Light protocols. Congratulations to all winning connections and a sincere thank you from the club's management and board to all involved.
Next trials; Wednesday 2nd Feb. commencing at 10.00am.
Next Race Meeting; Sunday 6th Feb. scheduled 1st race 1.14pm.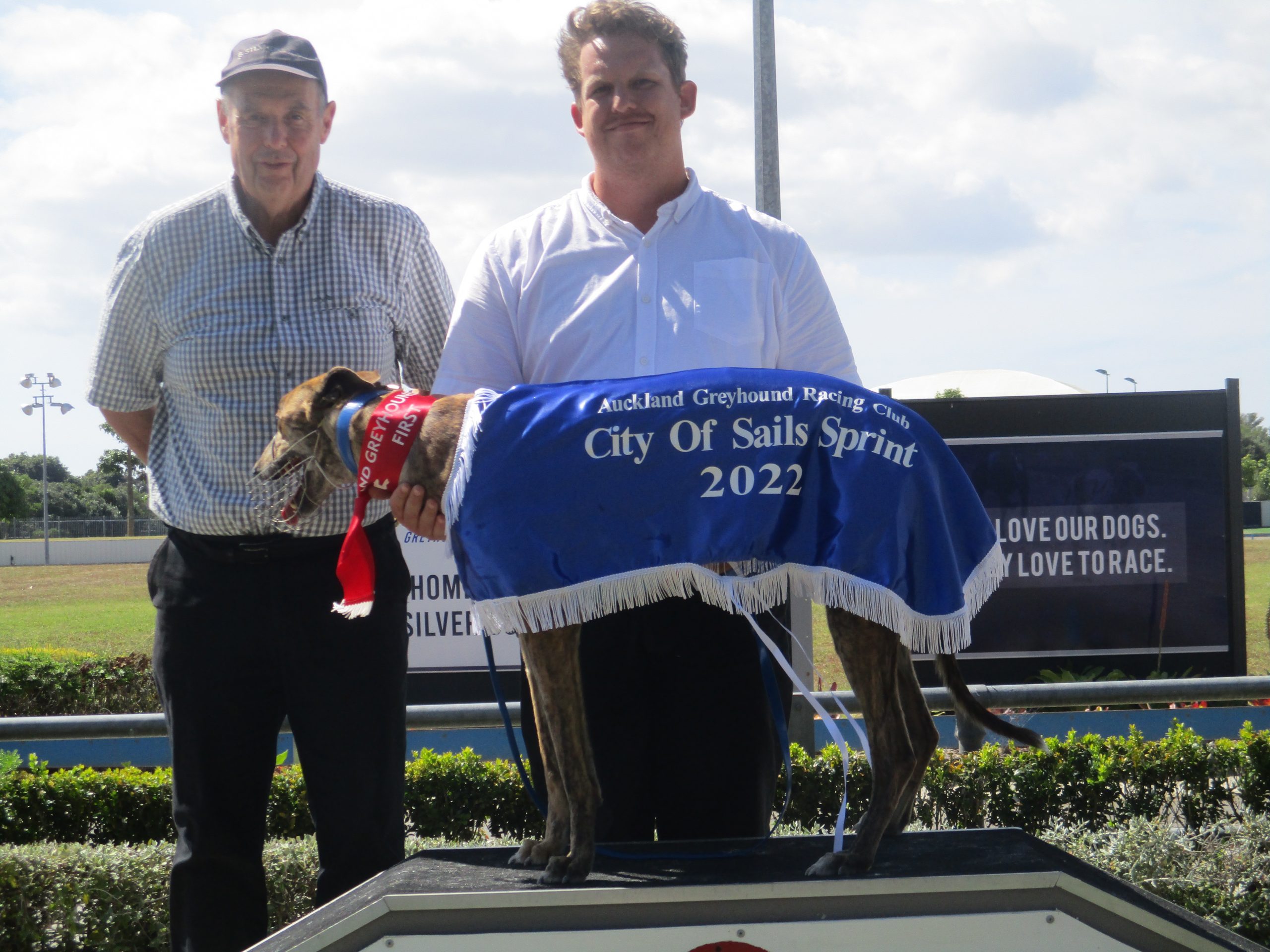 Racing Wrap – Sunday 16th January
Current weather conditions are great those who enjoy sun, sand and surf however for our sand track surface it has required extra hours of watering and conditioning. Yesterday, was no exception with Nigel and Darg using every possible moment between races applying the required water and conditioning. Thank you both. Our bore and new pumping system have been invaluable to the club during the current climate.
We had electrical issues prior to the meeting and rest assured we will undertake all checks required.
Victories were shared during the programme, with the trip home to Te Kauwhata a very satisfying one for both the Ross and Lynne Udy and Jared Udy and Neisy Cottam kennels, both scoring a brace of wins. For Ross and Lynne, Smash Misfit in a PB of 18.74secs. and Boot Camp Tiara saluted, while Thrilling Rapper after prior two placings at our track and the ever consistent, Wild Kiwi in our C4/5 sprint, saluted for Jared and Neisy. His win his 12th over the 318m trip.
Although with a smaller number of chasers that usual entered, Team Steele also enjoyed a brace of wins both over the 527m trip. Opawa Sandridge kicked their day off winning and later in the programme All Consuming led home kennel mates Triggered and Overtaking to give them the trifecta.
Again, Tracey and Lisa Craik produced a winning pair. Mirko in the C2/3 sprint and Marcus at C4 level. His win the 49th for the Kilty Lad – Just One Smile litter.
Our final brace of wins went to the Hayley Mullane/Emma Potts partnership, continuing their run of fine form with wins for Drifter Dodge and Big Time Andy. Both runners are in solid form.
Breaking through for her maiden at start four was the Karen Walsh trained Thrilling Fern, a litter sister to Thrilling Rapper who also won yesterday and the classy Thrilling Risk.
Once more the trip from Urenui to race was a worthwhile one for the Agent/Williams partnership, with Hardcore Jet backing up from last weeks win to score again in a PB of 18.70secs.
Whether it be over 318m, 375m or 527m the Glennis Farrell trained Zipping Hewitt remains unbeaten in 2022, winning three on the trot for owner Pam Schofield. His win the sixteenth of his career now matches the number of wins of sister Zipping Barty, both members of the highly successful Aussie Infrared – Zipping Lily litter.
Congratulations to all successful connections and an appreciation to all participants, patrons, officials, Trackside and club staff for efforts and involvement in the day's racing.
Next Trials – Wednesday 19th January.
Next Race Meeting – Sunday 23rd January.
Paw Note.
Very pleasing to see so many pups arriving on trial days to begin their education and chasing skills. Wishing all breeders, trainers and owners all the best with these youngsters.
RACING WRAP – Sunday 9th January.
As trainers and handlers arrive on course prior to kenneling, correspondingly there are a number of others who have already arrived or arriving to cover the essential roles of; stewarding, broadcasting, catering, office, totalizator, lure driving, judging, kennel and track management.
One of vital roles on race day is that of the registered starter, therefore a huge vote of thanks goes to Michael Schneider who stepped in to cover the role at very late notice yesterday morning. With 12 of the 14 races over the 318m trip Mike certainly covered some ground during the pre-race parades and subsequent return to the parade ring. With pre and post-race trials bookending his day's toil in the prevailing warm temperatures. Thanks again Mike.
A feature of the days racing were the braces of wins by a number of kennels.
For Wayne and Tracy Steele both Overtaking (527m) and Opawa Oliver scored their first Manukau wins.
Rocket Red and My Mate Speight saluted for Jared Udy and Neisy Cottam, the latter owned by the Ownagreyhound Syndicate a group of greyhound enthusiasts who have begun the year with their small team of chasers in fine form.
Tracey and Lisa Craik's home bred chasers Go Ahead Caller, producing a BOD personal best of 18.40secs. and Baseline were victorious.
With Hardcore Jet and Big Time Jarred topping the podium it would have made the 300km trip home to Urenui a very satisfying one for Trent Agent and Kimberley Williams. Our other recent Taranaki visitors the Ketterwell/Phillips partnership are knocking on the door with a number of race placings.
All eyes were on the Palmerston North based Cole kennels speedster Typhoon Tim, a prolific winner in Aussie before crossing the Tasman. His superb form line continues here, winning seven of his ten NZ starts. Making his Manukau debut he was mid field out of the boxes to power through to an impressive 18.45secs. win. He will be a major player when he returns for our rich Grp.1 Railway Sprint series.
Placed at his first attempt over track and distance the Glennis Farrell trained Opawa Albert took the day's time honours over the 527m with a nippy 30.39secs. He is another of the up and coming chasers to travel up from their Canterbury based owner/breeder Opawa Racing to enjoy success with Team Farrell.
Opening the day proceedings when scoring his maiden win was the Rob Roper trained Blitzing Star. With Ross and Lyn Udy's Grumpy Jock winning the last, it was dual success for sons of Blitzing Mayhem and Hallo Star.
Returning to form and running a PB of 18.41secs. for trainer Phil Green was Up Your Quota, the win sees him reach the open class ranks. Another back to his best was the Ron and Nyomi O'Regan now 4 year old chaser, Belmonts, the win the 12th of his 73 race career.
For punters it was a mixed bag with six of the winners paying near double figure odds and the day's quaddie dividend $2.2k.
Congratulations to all winning connections and a vote of thanks from the Board to all who contributed to the atmosphere and success of another sunny Sunday avro at the Manukau Sports Bowl.
Next trials – Wednesday 12th January commencing at 10.00am
Next Race Meeting – Sunday 16th January, first race scheduled time 1.26pm.
RACING WRAP – Monday 3rd Janurary
Our first meeting of 2022 catered for our lower graded chasers, with nearly 40% of the card giving opportunity to C1 sprinters. The forty starters engaged ranged in age between 1.9 years and 4.8 years, race day experience from 5 previous starts to 189 previous starts. Our winners victorious at their 12th, 20th, 24th, 40th and 107th starts. Statistics that show our grading system does give dogs although not as higher achievers than others an opportunity to enjoy a lasting race career. Congratulations to the connections of My Bro Bobby, Thrilling Tucker, Born Katie, Grumpy Jock and Barney Parrot.
After racing 20 times at Wanganui and Cambridge, Dynamic Empire scored her maiden win at only her second Manukau run, leading from box rise to score in 18.96secs., although placing at Cambridge recently she appreciated the shorter 318m trip.
In taking out the C2 sprint Big Time Jewel delivered her first win at Manukau at her 11th attempt in a tidy 18.72secs. 130 start veteran Call Me Leo reeled off 18.88secs to win the C3 event, the win the second of his last three starts. Now over 4 years of age he is still enjoying his racing.
At C4 level Portland Ecklund appreciated the drop back from the open grade when overcoming a midfield jump from box 4 to power through to win.
After two excellent placings in strong fields at Waikato's premier meetings, Zipping Hewitt delivered again over 318m in a three- way driving finish with kennel mate Gotcha Murphy and Mirko.
With just three races over the 527m trip the promising Opawa Kirk recorded the BOD performance of 30.63secs. improving his PB time. At 35kgs Dublin Express had 10kgs of body weight over the runner up Opawa Delight in the C1-2 MPS Fencing Stakes, the win coming at just his second Manukau appearance. His time of 30.73secs. indicating he can be followed with confidence.
Continuing her good run of form was About To Do in the C1 event. Her winning margin ever increasing in the final stages of the race.
Our meeting at the later time of 3.39pm with temperatures in the mid to high 20's so it was a relief to race into the early evening as temperatures became cooler for participants. The conditions meant that our valued track team of Nigel and Deyne used every minute possible to apply water to the track and condition the surface between races. A special mention and vote of thanks to Luke Hore, the short intervals between races meant he was non-stop undertaking his starting duties.
Inside the stadium it was pleasing to welcome back are larger number of patrons under the Covid Orange Traffic Light protocols. Our popular Last One Standing team punting competition again defeated all players with the last live teams failing in leg 4. The format of having a team of 5 people and an investment of just $10.00 each generates a ton of fun and interest.
As always, an appreciation to all participants, patrons, staff and caterers for making the day a success. May 2022 be a good year for us all.
Our next race meeting; Sunday 9th January, scheduled first race time 1.05pm.