Racing Wraps – March, 2022
Racing Wrap – Sunday 27th March.
The C3/4 527m Gordon Wilson Memorial Stakes, honoured the memory of Gordon, a longtime breeder/studmaster/trainer and AGRC member. Until his passing nearly two years ago he successfully campaigned his dogs when the club raced at the Kumeu, Mt. Smart and Claudelands tracks prior to our move to Manukau over 30 years ago. In fact, he won the first full TAB race the club staged back in the Mt. Smart days with a dog named Jetsun Steel. On race days, he was always smartly dressed, including his black Stetson hat or a Jetsun Kennels embroidered baseball cap.
Like so many other breeder/trainers he was passionate about the breed, always willing to share his vast knowledge to those starting out in our code.
It was fitting that during the programme , Dubstep a member of the last litter Gordon bred saluting the judge for the Udy/Cottam team . His dam, Jetsun Flame, a daughter of Mogambo, won 15 races including the 2013 Auckland Oaks Final.
The race winner Opawa Slick, who has now graduated to Class 5, running a PB of 30.43secs. He is trained by another longtime club member Glenis Farrell, who regularly has 3 generations of her family involved in on track duties.
The Ron & Nyomi O'Regan partnership continued their vein of winning form. On Sunday with Big Time Dory successful in the C2 accessed 527m Mt. Wellington TAB Stakes. The Hayley Mullane owned and bred Knuckles Nugget, rounded out the day's winners over the 527m trip when nailing the pace making Overtaking in the shadows of the winning post.
Just pushing the scales to a tick over 23kgs the diminutive Shardae Hunt trained Agent Amy went one better than her last performance to score her second 318m race win. She gave up to 7kgs in body weight to her rivals.
Just 17 minutes later it was an over 10kg. heavier Bugsy Brown leading his race rivals home over the same trip when scoring in an 18.96secs. The win his first Manukau success after 4 previous attempts for the Te Mawhai based Wayne & Tracy Steele kennels.
Successful at last Sunday's meeting the Thayne Green trained Hurricane Bob, repeated the dose when recording a new PB of 18.96ces.
Our final event the Sportsbowl Function Centre Sprint saw the speedy Georgia's Girl make it win 4 from her last 5 starts. The 18.53secs. victory gave the Tracey & Lisa Craik partnership an afternoon's winning brace.
With the easing of restrictions, it was great to see more familiar and new faces enjoying the atmosphere within the stadium. As always, congratulations to all winning connections and a sincere appreciation from the AGRC Board to all who contributed to the afternoon's programme, including those who watch from afar, through the televised or online coverage.
Next Trial Day; Wednesday 30th March, commencing at 10.00am.
Next Race Meeting; Sunday 3rd April, 1st race scheduled at 1.10pm.
Group One Mum's. – 27th March 2022
Sunday's two maiden winners can boast the fact that their dams are Grp. 1 race winners.
Thrilling Brodie's dam is the 2017 Grp. 1 NZ Breeders Stakes Final (520m) winner Thrilling Flo.
Also included in her 18 race winning career was success in the 2017 Theresa McDonald Memorial Cup Final (747m) at Grp.2 level.
Thrilling Flo's litter brother Thrilling Boris, was dual Grp 1 winner, successful in the 2016 Waterloo Cup and 2017 Hatrick Classic Finals. He is now proving to be a successful sire.
Retired to the breeding pen, Thrilling Flo now has three litters to race.
Her first by Fernando Bale produced 4 pups, all winners, headed by Thrilling Izzy , 19 wins, including a fabulous 29.99sec. Manukau 527m win.
Her second by Barcia Bale, produced 9 pups, all winners, including Thrilling Vera and Thrilling Gray.
Thrilling Brodie is from her third litter, a repeat mating to Fernando Bale, 7 pups, currently 2 pups have commenced their careers, Thrilling's Wyatt & Brodie both winners.
Winning on debut was the near 36kg. Ten After Four, a strapping blue son of Just One Smile, the winner of the 2019 Grp.1 Railway Sprint Final (318m). She was the winner of 33 races. excelling over the 318m and 375m sprint trips. A daughter of 2010 Melbourne Cup winner El Grand Senor, she was the leading light in a litter of 6 to race, all winners.
Retired to the breeding pen, Just One Smile now has two litters to race.
Her first litter by dual Australian Grp. 1 winner Kilty Lad, produced 8 named pups, 7 winners, currently of over 50 races is headed by the classy sprinter Wheels On Fire (17 wins).
The Kilty Lad litter like their dam perform well over the sprint trips.
Ten After Four, is from her second litter by Banjo Boy, the winner of the Grp.2 2014 Cranbourne Cup (520m) who has produced some very capable performers over the 500 – 600m trips in Australia.
Three of this Banjo Boy litter have just commenced their race careers, with Queen Nancy who was also successful on debut and now the winner of 3 races from 4 starts. There are others who will make their race day debuts in the coming weeks.
Paw Note.
When considering the purchase of a greyhound for the first time whatever the size of your budget, it is important that you use the excellent online data resources available, such as the GRNZ's greyhound profile, GRV's Fasttrack and The Greyhound Recorder websites, to evaluate the bloodlines you are buying into.
In my humble opinion the level of success of the direct dam line is of the upmost importance as the percentage of success will reveal much about the line's temperament and soundness.
There is an old saying; "by looking back at the past you see the future" and it is so true in greyhound breeding as the superior dam lines keep producing generation after generation.
RACING WRAP – Sunday 20th March.
Participants had to deal throughout the programme with a strong gusting easterly wind. Conditions that effected race times as runners ran directly into it in the home straight.
The winners from the eleven race card came from eight individual kennels with the well represented Tracey & Lisa Craik team recording triple victories and the Pokeno based Phil Green kennel bagging a brace.
Phil's day kicked off the right foot with Bundee Bomber going one place better than last week, the son Of Blazin' Bomber recording his first win at start seven. Chipper's Choice used his rails box to hold the rail and lead throughout in the C2 contest later in the day.
For Team Craik, it was home breds from three different litters. Queen Nancy last week's debutant winner, successful again on Thursday at Cambridge and made it three in a row saluting again when stepping up to C1 company. Mirko graduated to open class with a strong performance in the 318m C4 Hewlett Electrical Sprint. Rounding out their day was the so consistent Portland Wonder, recording her 20thtrack and trip win. Her overall win tally now stands at 22 from 54 starts.
The trip up from Tokoroa was a successful one for Sam Lozell, with the 38.6kg Brickman using the early room to move due to an empty box on each side to steadily work his way through the field to record his first Manukau win in the 527m MPS Fencing Stakes.
For Shaun O'Neill and family, First Light delivered an emotion charged win when holding the lead throughout the 527m C1 Pump & Engineering Stakes. Sometimes wins come along at just the right moment in time.
Zipping Hewitt provided the Performance of the Day when taking out the 527m open grade event. Hewitt's kennel mates, Opawa Kirk and Opawa Slick filled the minor placings.
'Hewie now moves one win ahead of litter and kennel mate Barty, 18 to her 17.'
Thayne Green's small kennel has provided a winner for each of our March meetings to date. This time it was Hurricane Bob, who took advantage of trouble between the leading trio on the bend to pick a path through and salute the judge.
For Marie Prangley's Who I Am, it was an encore performance. Last week home bred this daughter of Tomac Bale and O'Neill Monelli broke her maiden from box 8 and again yesterday from box 8, she made it back to back wins. Liquidator took out the last at the outside odds of $29/1 for the Hayley Mullane/Emma Potts partnership. This successful duo experiencing a very busy time of late with the arrival of recent litters.
All in all, a good afternoon's racing and a thank you from the AGRC Board to all involved.
This time of year, we have a one week's Manukau hiatus due to Polyfest. Due to the fact that that our in field will not be used we race again at Manukau next Sunday. Entry conditions will be the same as yesterday.
We look forward to seeing you all again.
PLEASE NOTE; Trials are Tuesday 22nd March, commencing at 10.00am.
Next Race Meeting; Sunday 27th March, 1st race scheduled for 1.25pm.
RACING WRAP Sunday 13th March.
The path to the top of the podium continued yesterday for the Paeroa based partnership of Ron and Nyomi O'Regan, with both Allegro Ella (with a PB of 18.60secs.) and In The Clinch, scoring his first Manukau win. Victories that took their 2022 Manukau tally to eleven wins. The partnership and not forgetting another important cog in their wheel, Ron's wife Kiri, judging on results certainly have a kennel full of happy hounds at present.
A brace of wins also for the Glennis Farrell, with Gotcha Murphy improving his PB by 5 lengths with a nippy 18.43secs. In the programme's club feature race the 527m Sunline Trophy Stakes, Opawa Slick caught a game front running Nana Molly in the shadows of the post. Slick is one of the kennel favourites of grand daughter Rhian, who boxed the fawn son of Fernando Bale before meeting his catcher, Rhian's mum Shelley at the dais for the winner's photograph.
A brace of wins also for Team Craik, with the debutant Queen Nancy and Portland Wonder's performance of the day win.
As was the case last Thursday the two respective Steele teams matched their win count. Corey scored first with Opawa Bailey, while Wayne and Tracy took out the last with Rocked It. For both former Canterbury based chasers it was their first wins at Manukau.
Some maiden chasers come to hand quickly and break through for their first wins in a handful of starts, there are others who need time to produce improved performances. Marie Prangley's, Who I Am showed with a third placing last start he was approaching winning form. With room to move from his box 8 draw he delivered for connections at his 14th start.
Thayne Green's kennel newcomer Loyal Redeemer, made it two wins from three Manukau appearances with a powerful over 4 length victory, in a new PB of 18.61secs. Matching that decisive 4 length margin was Phil Green's Chipper's Choice. He is a member of the Kilty Lad – Botany Downs litter that includes kennel mate Calf King, a winner of 14 races to date.
It would not be a Manukau race meeting without a winner's cheque heading home to one of our Te Kauwhata based kennels. Yesterday was no exception with the Jared Udy/Denise Cottam partnership's Our Hotrod scoring his 12th win at start 101. Add in 37 placings and this honest now four year old chaser has put $36k in the bin for his owners the Ownagreyhound Syndicate.
Congratulations to all winning connections.
As always, an appreciation from the AGRC Board to all involved in yesterday's meeting. With Omicron swirling around in the country at this point in time we thank you all for willing abiding by the guidelines that allow us to continue racing.
Next trials; Wednesday 16th March, commencing at 10.00am.
Next Race Meeting; Sunday 20th March, first race scheduled for 1.17pm.
RAILWAY SPRINT  &  AUCKLAND CUP  –  MARCH 6TH 2022
Group 1 – $30,000.00 RAILWAY SPRINT FINAL.
GOLDEN FERN
Our season's premier sprint final is always a hotly contested race where both box draw and the courage to mix it in close quarter racing comes to the fore.
Yesterday's final was no exception, with the leader the local sprinter Wild Kiwi reaching the first sectional mark in a nippy 4.56secs. With other race rivals in hot pursuit, it was another local Golden Fern shouldering his way through to challenge the leader, then extend to score in a PB of 18.45secs. The win pleasing the local punters who took the long odds on offer.
His trainer and club Life Member Thayne Green, has had great success in racing both greyhounds and thoroughbreds, including the great mare Sunline, however this was his first Railway Final victory.
Thayne, shares in the ownership of Golden Fern with other syndicate members; John Smith, Greg Pomeroy, and Ken McLeod, all long standing members of the AGRC. It was great to see Greg's wife Jenny, back at Manukau again after battling through her health issues.
For Greg, it was his second Railway Final success as he trained the winner 2003 winner Stanton Bale.
Finally, a shout out to his race day handler Mark Smith who has such a calm manner with his charges on race day. He, together with Danielle Elder are also involved in the kennel's operations.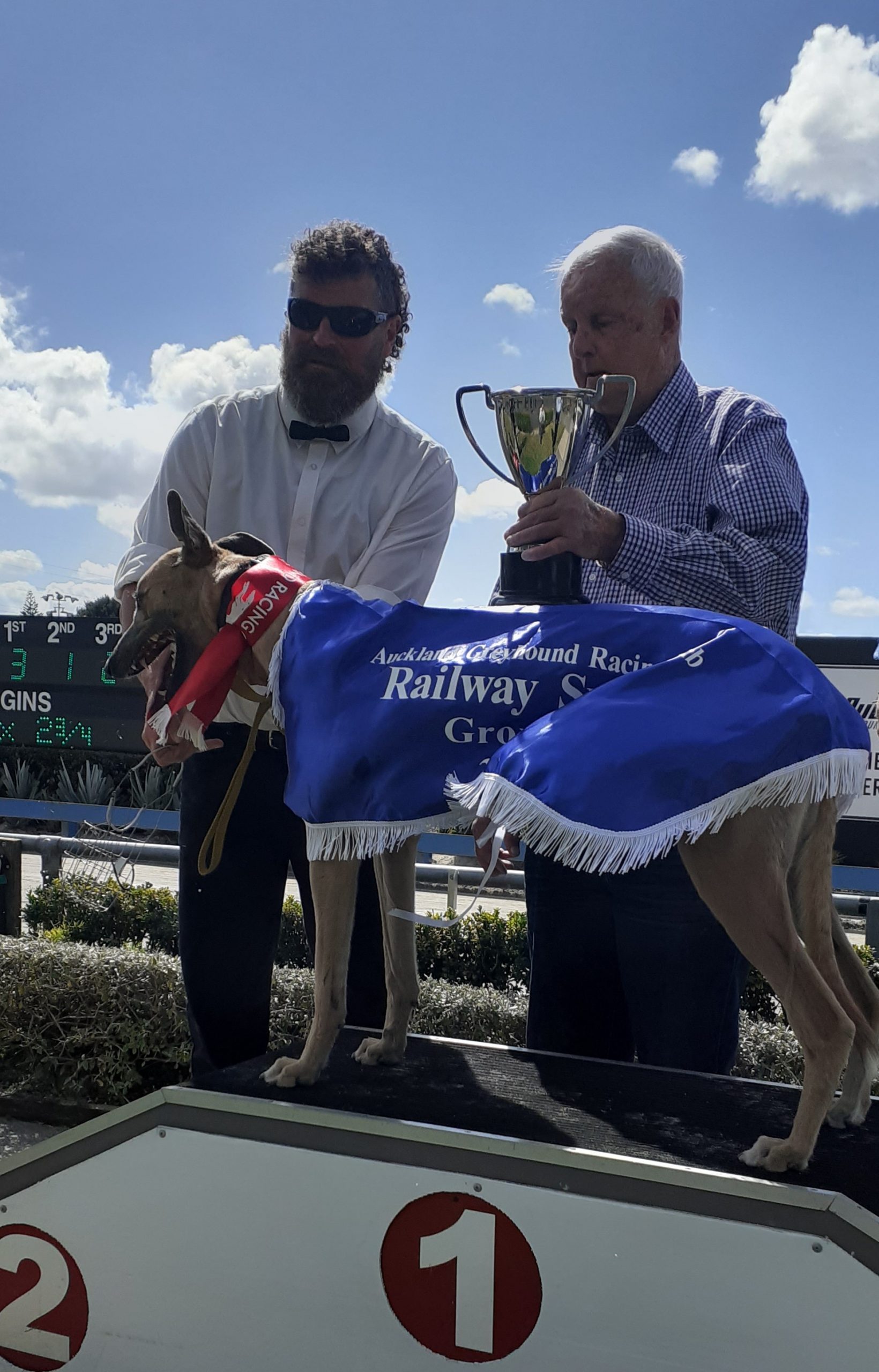 Performance of the Day – OPAWA SUPERSTAR
AUCKLAND CUP
Declared the pre post favourite when markets opened, Qpawa Superstar certainly delivered for his connections and many supporters. Yesterday's all the way win was his 19th from just 25 starts.
At just 29kgs. he is similar in size and stature to his champion sire Fernando Bale, who retired from the Australian tracks with a record of 35 wins from 44 starts and $1,299mil. in stakes.
Congratulations to owners Opawa Racing and Allen Davidson and trainers Jean & Dave Fahey. The Opawa Racing/ Fahey combination also provided the runner up Opawa Wayne. (Another son of Fernando Bale).
Superstar's decisive four length victory saw a locally bred greyhound top the podium in the Cup for the first time in eight years.
An emotional win for Fay.
The win of Victoria Lu was a very emotional one for Fay Lockhart. Fay is a respected club member with a generous heart. She has supplied abundant hampers for the club to raffle in the weeks leading up to Christmas for many years and is a great supporter of other club members.
She also had a special friendship with the late Ray Adcock, racing dogs together including Ringside, runner up in the 2019 Auckland Cup and a finalist in the 2020 edition. Victoria Lu's second placing saw her first emergency in the Railway Final and gain entry into another of our feature races, the Silver Bracelet Invitation, a race over 318m, restricted to bitches.
With Fay sitting alone in the grandstand on a slight angle to the finishing line, she was soon on her feet, excitedly cheering Victoria Lu as she was in a strong contest for the early lead. Into the bend she accelerated to clear her rivals into the home straight. Close to the line, You Ready Boots challenged wider on the track and from Fay's angle she thought Victoria Lu had been just pipped at the post.
She sat quietly waiting for placings to be posted on the semaphore board. When the bonny little chaser that she shares in ownership with Ray's estate prevailed by a nose, she was on her feet again with both a tear and a smile, grasping her race book and a photo of Ray. The photo she took to the dais to greet Victoria Lu, her current Canterbury based trainer Tony Hart and regular handler Dylan Voyce.
With Victoria Lu based in the South Island this was one of the rare opportunities for Fay to see her race. Congratulations, a race that I'm sure will always be a treasured memory for all concerned.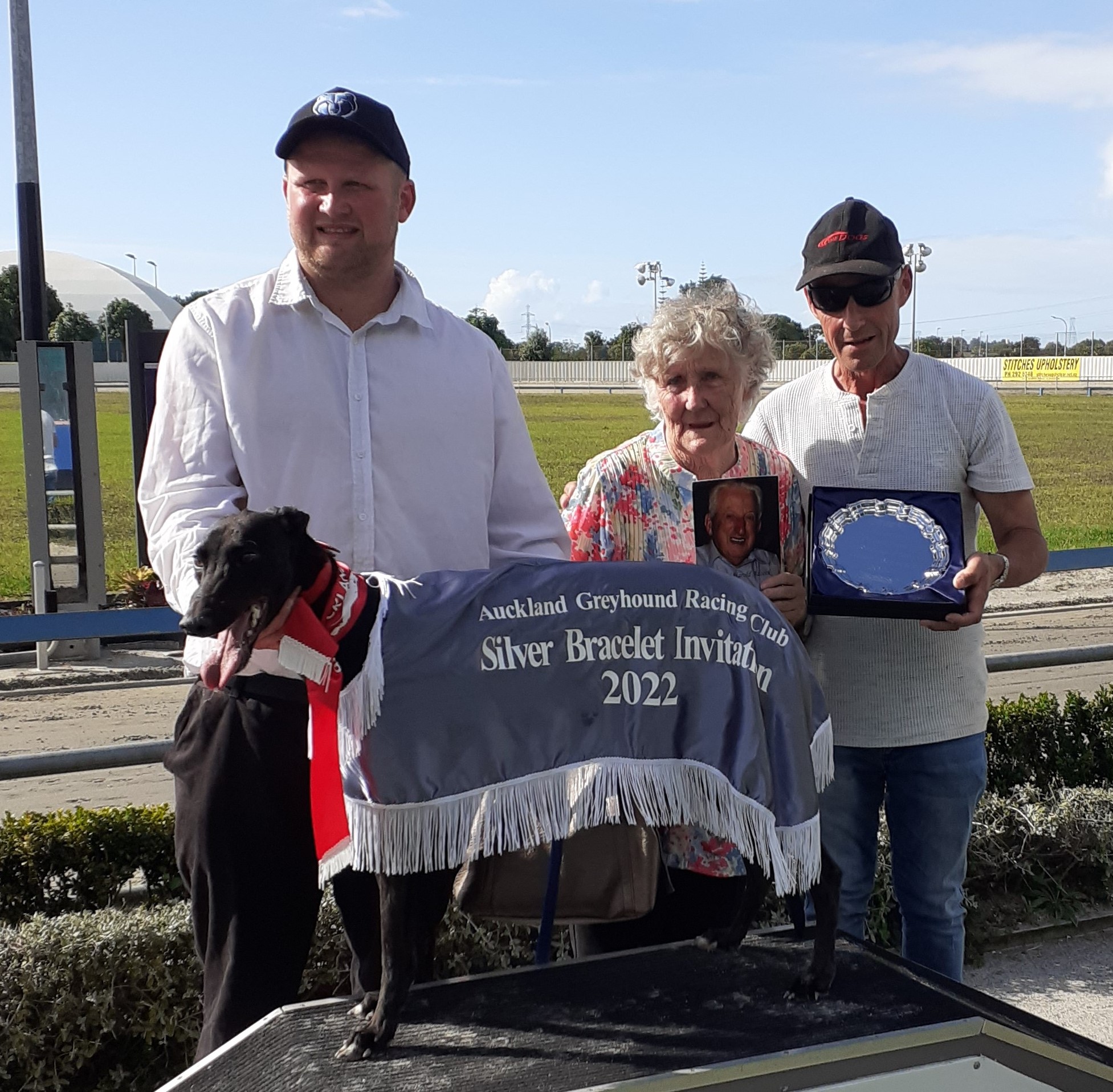 The Quiet Achievers.
Bubbling successfully away from the spotlight have been two quiet achievers. One a training partnership, the other a chaser who does not play a leading role in her kennel.
The training partnership are the Paeroa based Ron and Nyomi O'Regan, who have prepared eight Manukau winners during the first two months of the year. At Sunday's premier day they added to that total with Honey Lantree, topping the podium in the C4 Carol's TAB Taipa Tavern Sprint.
The four year old daughter of Canterbury based sire Fast Archer is in a purple patch of form as in her four her starts under the care of Ron and Nyomi she has won twice and placed second.
It was great to see race sponsor Carol Delamore come down from the sunshine of Doubtless Bay, to enjoy a day's chasing and present the winning sash to Ron at the podium. Carol and Dely have been truly valued sponsors and supporters of the AGRC for many, many years.
The quiet achieving chaser is Tracey and Lisa Craik's, Lucy Mirko, the winner of the C2 318m MPS Fencing Series Final. A homebred daughter of Shima Bar and Formation, owned by the Craik and Mangonui Hotel Partnership, she although not having the profile of the Craik bred Just One Smile and Simple and Plain litters, has quietly fashioned a 7 win and 8 placings record from just 23 starts.
With her earnings now standing at just over $13k, she is an example of the affordability of our code compared to the two equine codes.
A Quartet of Winners for Team Cole.
Premier race meetings throughout the country are targeted by the leviathan Cole breeding and training operation based near Palmerston North. To combine a successful breeding, rearing and training programme is a challenging and difficult task at any level. To achieve success at the size and scale of their operation takes a work ethic second to none.
On Cup and Railway heats day their team of chasers did not receive the luck in the running, On Sunday they bounced back, with a winning quartet and several placings, including the first four past the post in the Winsome Ashley Trophy, a 527m feature race for bitches only.
Opening the winning account was Big Time Joy, a daughter of the BBC's Syndicate's grand producer Kissing Gwyneth, whose progeny includes the Big Time's – Harley, Pluto, Baby, Gwyn and Kiss, all winners of over 20 races.
Not Even Owl, a son of Elle Packer, came off the reserves bench to score narrowly in the Delys Van Meeuwen Memorial Trophy for Lisa Cole and Craig Rendle partnership. She is also the dam of Big Time Panda, who was a finalist in the Cup.
Big Time Maple who led home her three kennel mates in the Winsome Ashley is a daughter of Fernando Bale and Sweet Rubyjane. A daughter of Cosmic Rumble, Sweet Rubyjane was a talented chaser with a PB of 30.24secs. over Manukau's 527m trip. Maple's litter includes the successful Big Times- Elsa, Issy, Ocean and Amie.
The success of the Cole kennel also attracts Australian owners who have fast chasers that on occasions are not entirely focused when chasing into a catching pen, a system that lacks the reward of our finish on lure. Typhoon Tim recorded brilliant times at Dapto and other NSW tracks over the sprint distance before crossing the Tasman. One of the pre post favourites for the Railway he had no luck in his heat however atoned in style, with the BOD time of 18.27secs when victorious in the AGRC Invitation Sprint.
The kennel successes on Cup Day were just reward for the thorough preparation put into the team.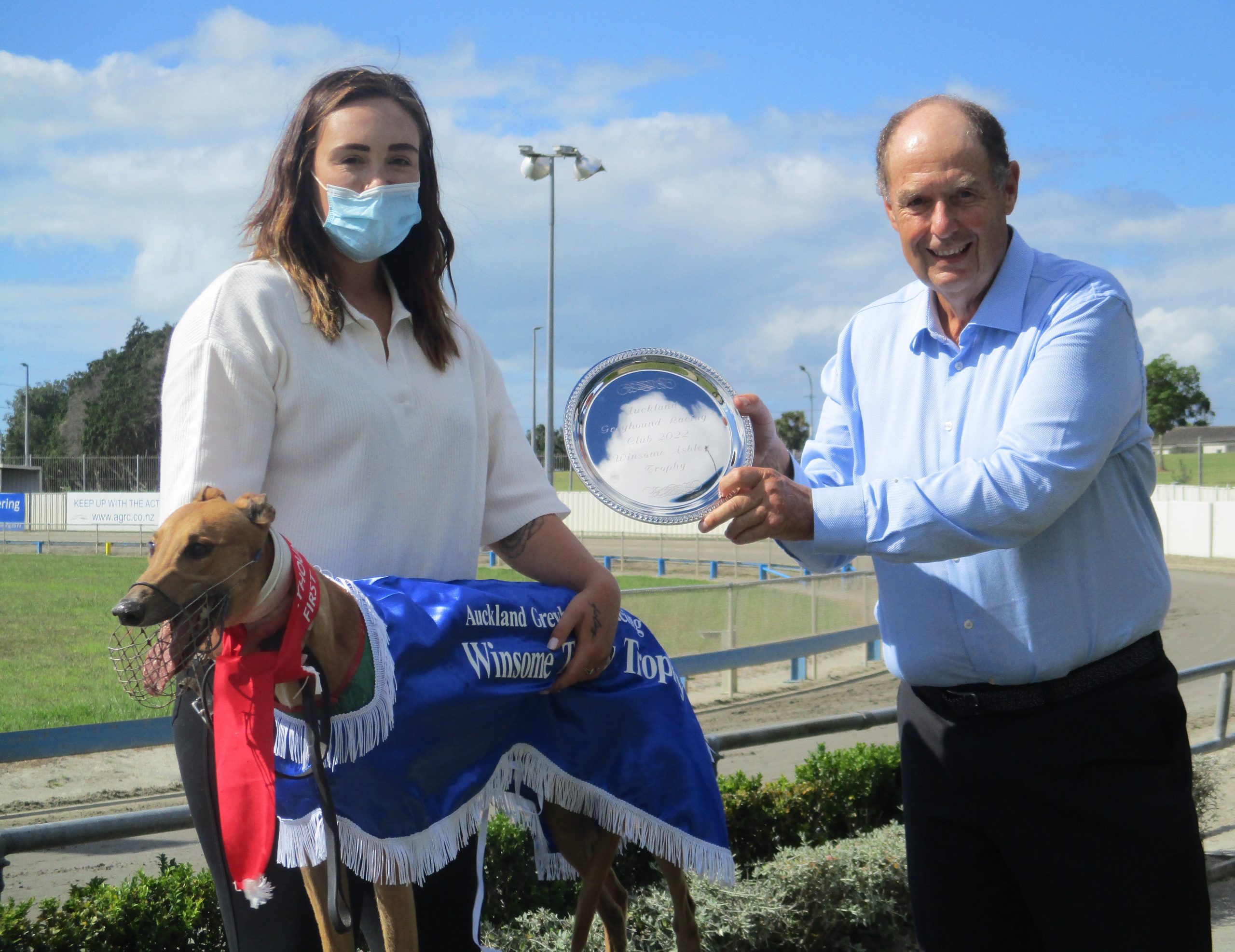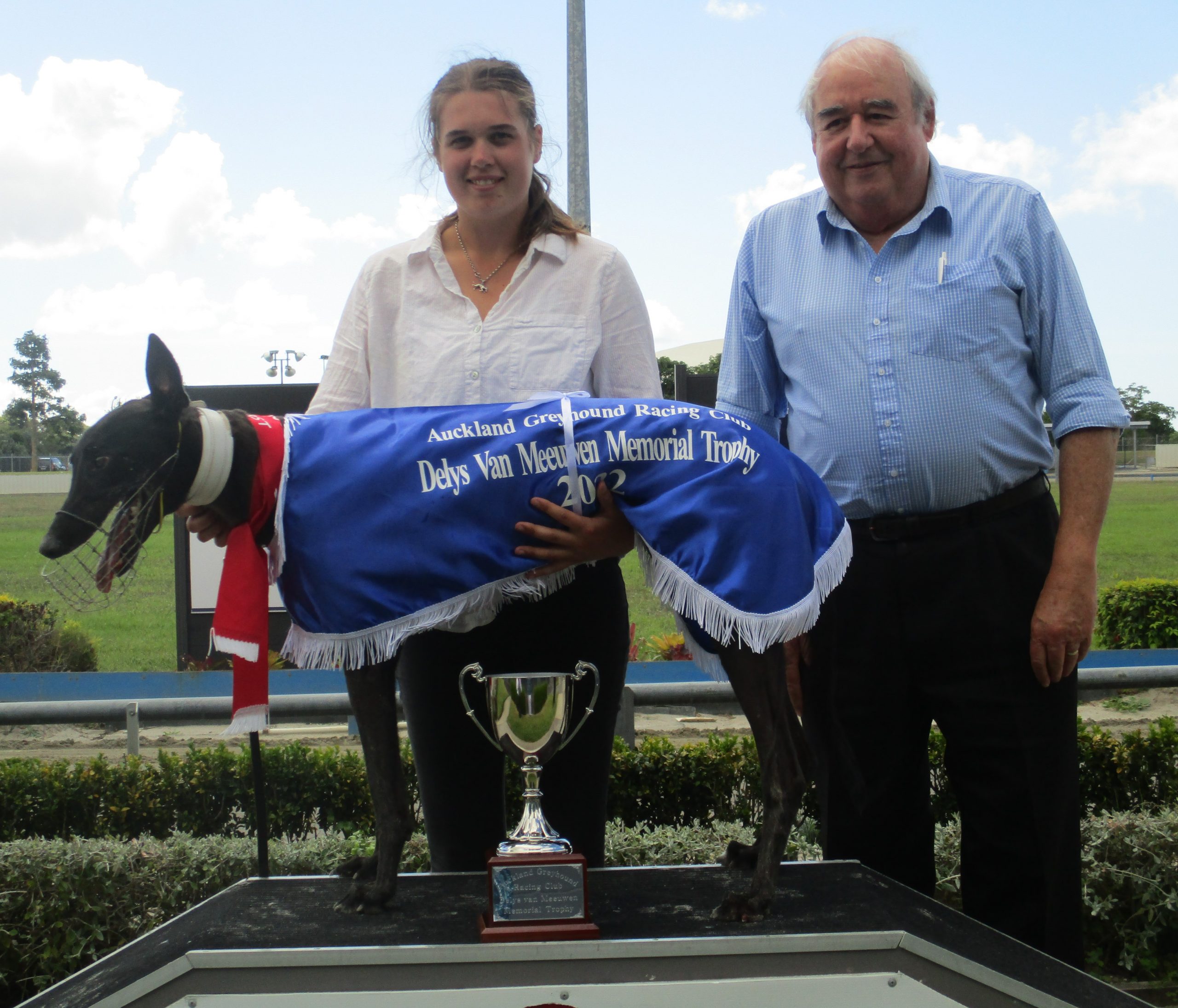 Staying to Survive.
In past decades we have a rich history in producing quality staying greyhounds. Bloodlines nurtured by the likes of Nancy Cobain, Ray Amer, John Goode, Pat Paterson and Max Matthews. (Max's dam line has superbly maintained through Arch Lawrence's breeding and training successes over the past decade).
It is thanks to the current NZGRA Board's decision to allow clubs to stage races with less than a full race field we were able to card the Auckland Stayers Cup over 779m. The stake money on offer of $15,000.00 was the third highest of the meeting.
It is probable that the 2022-23 season will see just four contests over the 779m. Sunday's race, two heats and the final of our prestigious Duke of Edinburgh Silver Collar. Looking back to just over a decade ago to 2009, seven races with full fields were held, three heats and final of the Collar and two heats and a final of the NZRS Distance series.
Stayers are bred from dam lines that have a history of staying success. Five of the six dams of Sunday's runners were victorious over the 600m trip and three successful over the 700m trip, although not a 700m winner, Know Jinx ran third in a strong Collar final field.
These canine athletes have a special blend of speed and strength as demonstrated on Sunday when Fine Intention led the field through the first 318m in 18.76ses., just a length off the C4 sprint time. She surrendered the lead to Hairpin Trigger at the 318m boxes, who then led to the finish, winning in a respectable time of 47.14secs. Congratulations to the Pave HQ Shirley Boys Syndicate and trainers Jean and Dave Fahey
Runner up, He's Ali was closing in on her nearing the shadows of the post. (Had He's Ali prevailed, super sire Fernando Bale would have sired the day's feature winners over the 318m, 527m and 779m trips).
There is hope that these great staying contests will continue in the future as we have a couple of young trainers in the northern region who have both the desire and patience to train stayers. We also have throughout the country, quality bitches descending from our proven staying bloodlines that can carry these lines on in the future.
You can count on your fingers of just one hand the NZ bred chasers who have made the podium in Australian Group 1 races in the past decade. Racing at the highest level worldwide. They include; Above All, winner of the Hobart 10,000 and the Silver Chief, Thrilling Brat, winner of the Super Stayers and Know Class, 2nd in the Albion Park Gold Cup. Two of these three chasers were stayers.
I am certain if connections of NZ's current staying star, Know Keeper can successfully navigate the current travel difficulties, he too would 'give them a taste of Kiwi' racing at Grp. 1 level in Australia.
The recent increases in both the number of staying feature races and stakes money on offer in Australia is mouth watering and not beyond the grasp of an NZ bred stayer.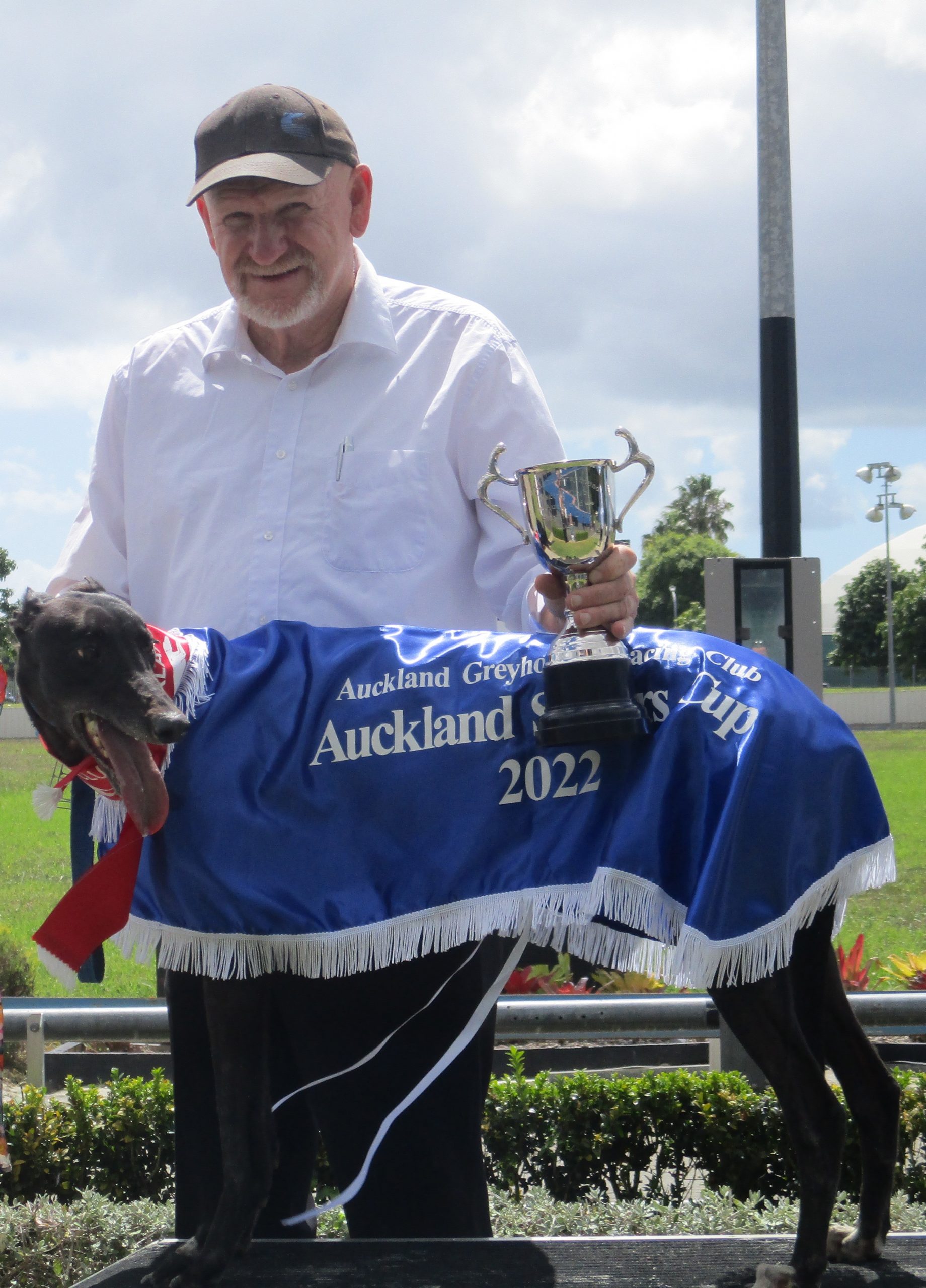 ABC – A Brace for Corey.
After spending a number of years working in various kennels in Canterbury, Corey Steele returned to the family property in Te Mawhai, just south of Te Awamutu late last year.
Coming home he generously received a serious hand up from his parents Wayne and Tracy, with the construction of a new kennel block and feed room on the property, therefore allowing Corey train in his own name.
After making arrangements with Opawa Racing supremo, Robin Wales, he headed south to collect a team of chasers to fulfil his passion to become a successful trainer.
There would be no doubt Corey is very appreciative of the opportunity given to him by his family and the support from Robin in getting established.
Corey's first winner from his new base was Opawa Andy at Cambridge on January 20th. Two races later Opawa Luke gave him another winner for the day. Prior to Sunday's meeting Corey's eight dog team had topped the podium on another eight occasions.
With Robin Wales attending the meeting to watch his two Cup runners, Corey started the day off for him in the best possible manner with Opawa Andy scoring in the C1 527m Pump & Engineering Final. With the Team Fahey trained Opawa Superstar and Opawa Wayne giving Robin the Cup quinella, Corey delivered 'the icing on the cake' preparing Opawa Luke to win our final event.
Corey's current training statistics are a pleasing, 12 wins and 8 placings from 50 race day starts.
Well done, Corey, you are on your way to fulfilling your dream.