BOUQUET OF THE DAY 
( June / July 2022 )
Sunday's Bouquet (31st July)  – MARSHA BLACK.
With her decision not to renew her trainer's license for the new season Marsha is reducing her involvement. Over recent seasons she has been a fabulous race day ambassador for our code, always taking time to introduce her greyhounds to families attending our race meetings. The smiles on the children's faces as they pat her dogs is well and truly matched by Marsha's smile as she sees the delight it brings.
Yesterday fellow trainer Corey Steele, on behalf of the Waikato and Auckland clubs thanked Marsha for her positivity and the race day help she generously gave to many fellow participants. From us all, thank you Marsha, you are one of a kind.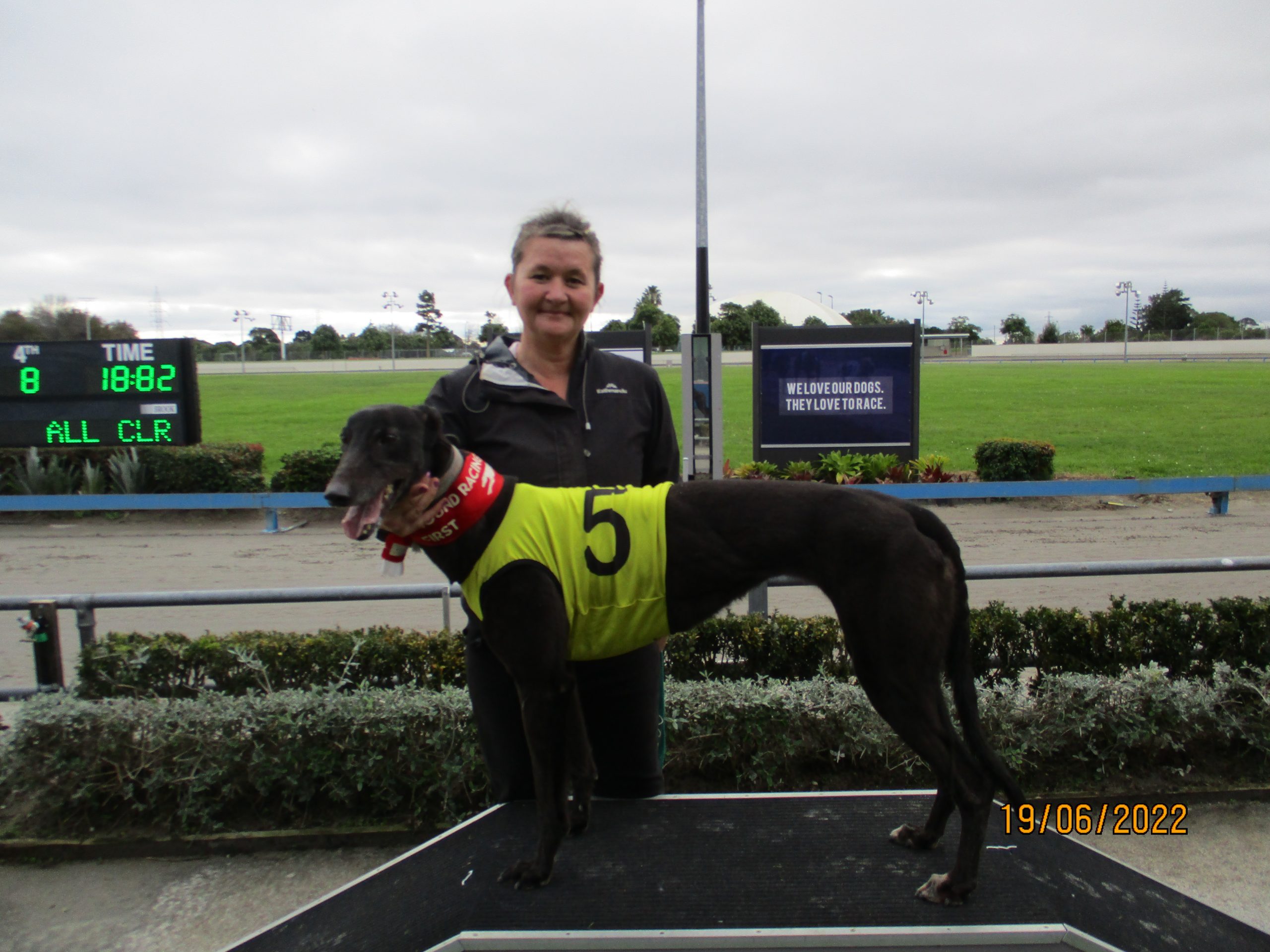 Sunday's Bouquet (24th July) – TRACEY & LISA CRAIK
The search for superlatives to adequately describe the current outstanding performance level of Tracey and Lisa's team of chasers is a difficult one.
During our past two meeting's they have competed in eighteen races, resulting in eleven wins. They are certainly riding the crest of the wave. An achievement level reached through excellence in their breeding selection decisions in tandem with a dedication to a rearing and training regime that produces canine athletes prepared to the minute, ready to give their best on race days.
Congratulations to you both and those who provide the valuable support around you.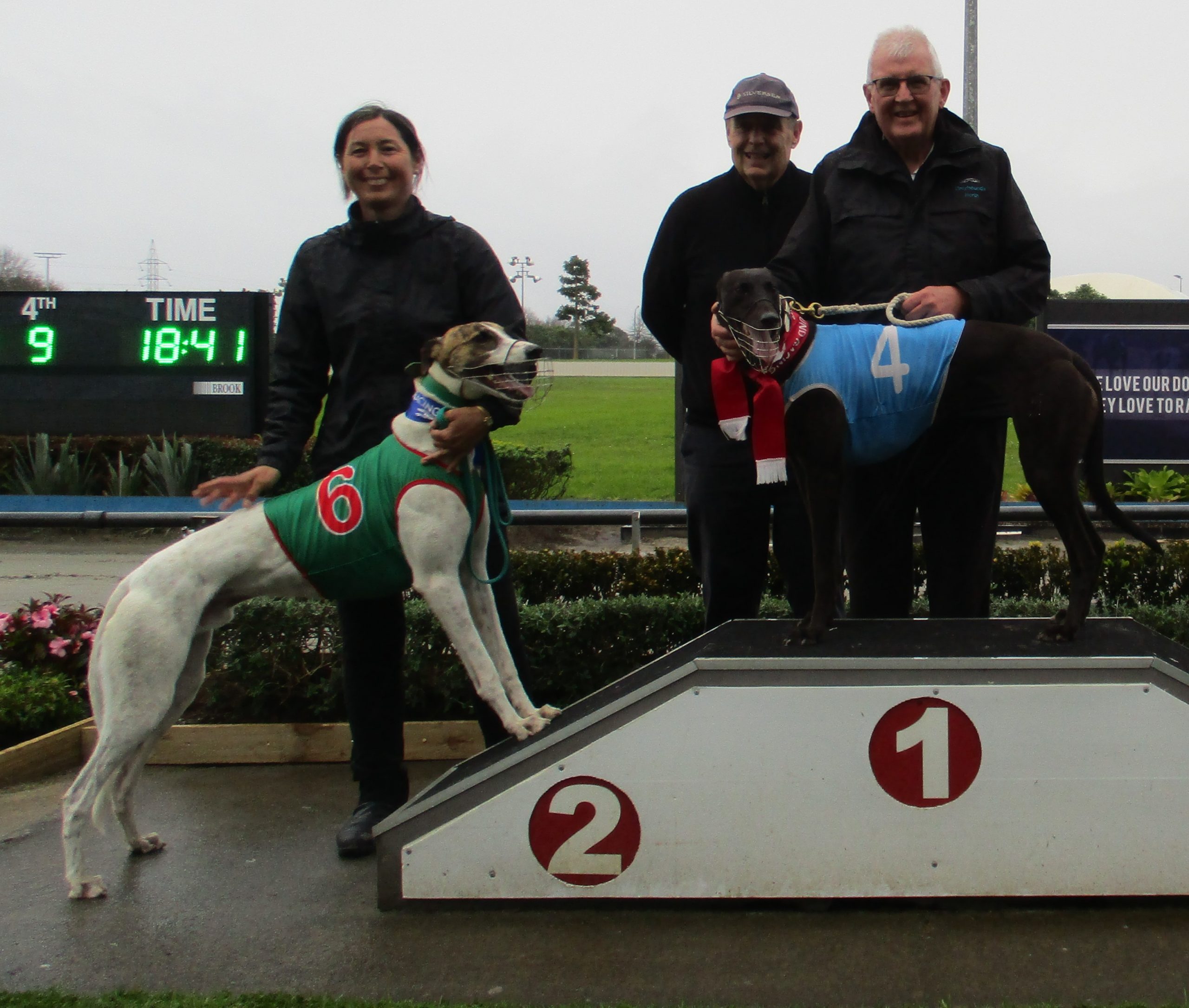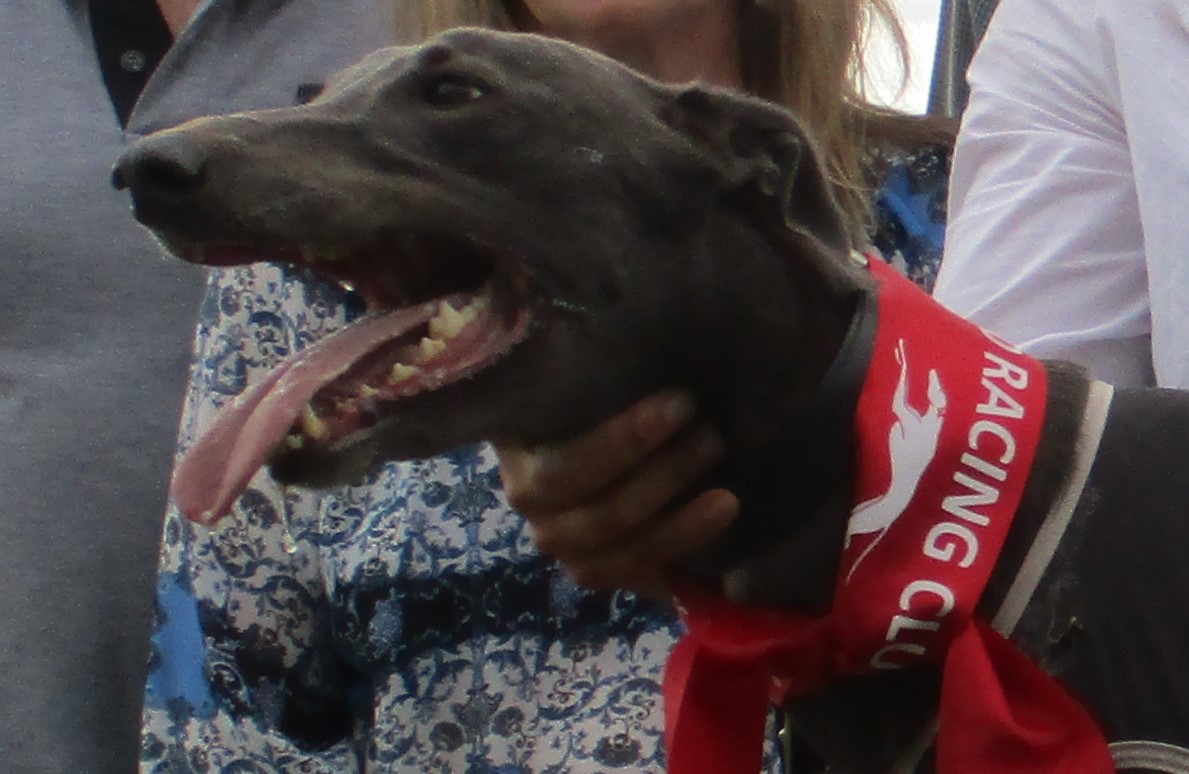 Sunday's Bouquet ( 17 July)  – JUST ONE SMILE
Close to two decades ago a highly successful Australian breeder introduced her two brood bitches to me as her; "Jewels in our Crown". Words that have stayed in my mind ever since.
No doubt there is a similar sentiment at Team Craik's kennels in regard to their outstanding producing broodies ,Simple and Plain and Just One Smile. Yesterday, it was the progeny of the latter to shine when producing the winning quartet of; Queen Nancy, Smile A While and Kettle Pot, progeny from her Sept. 2020 Banjo Boy litter and Major Margaret from her Oct. 2019 litter by Kilty Lad.
Just One Smile is a daughter of Just Jordana, who was also bred and reared at their Drury property. With now two litters racing the earnings of her pups are set to pass $200k by year's end.
Congratulations to the Craik family and the Katcha Jordana Syndicate.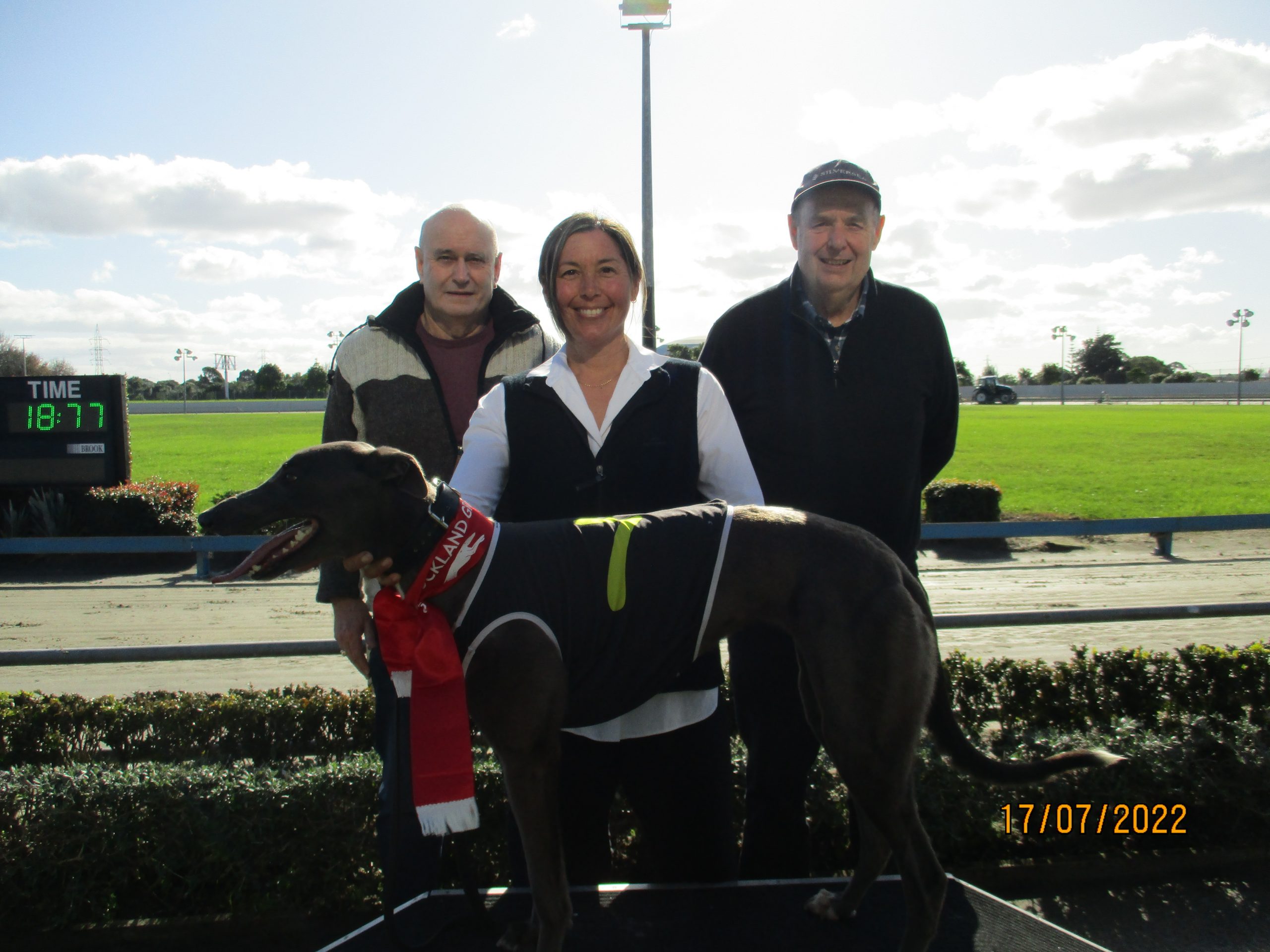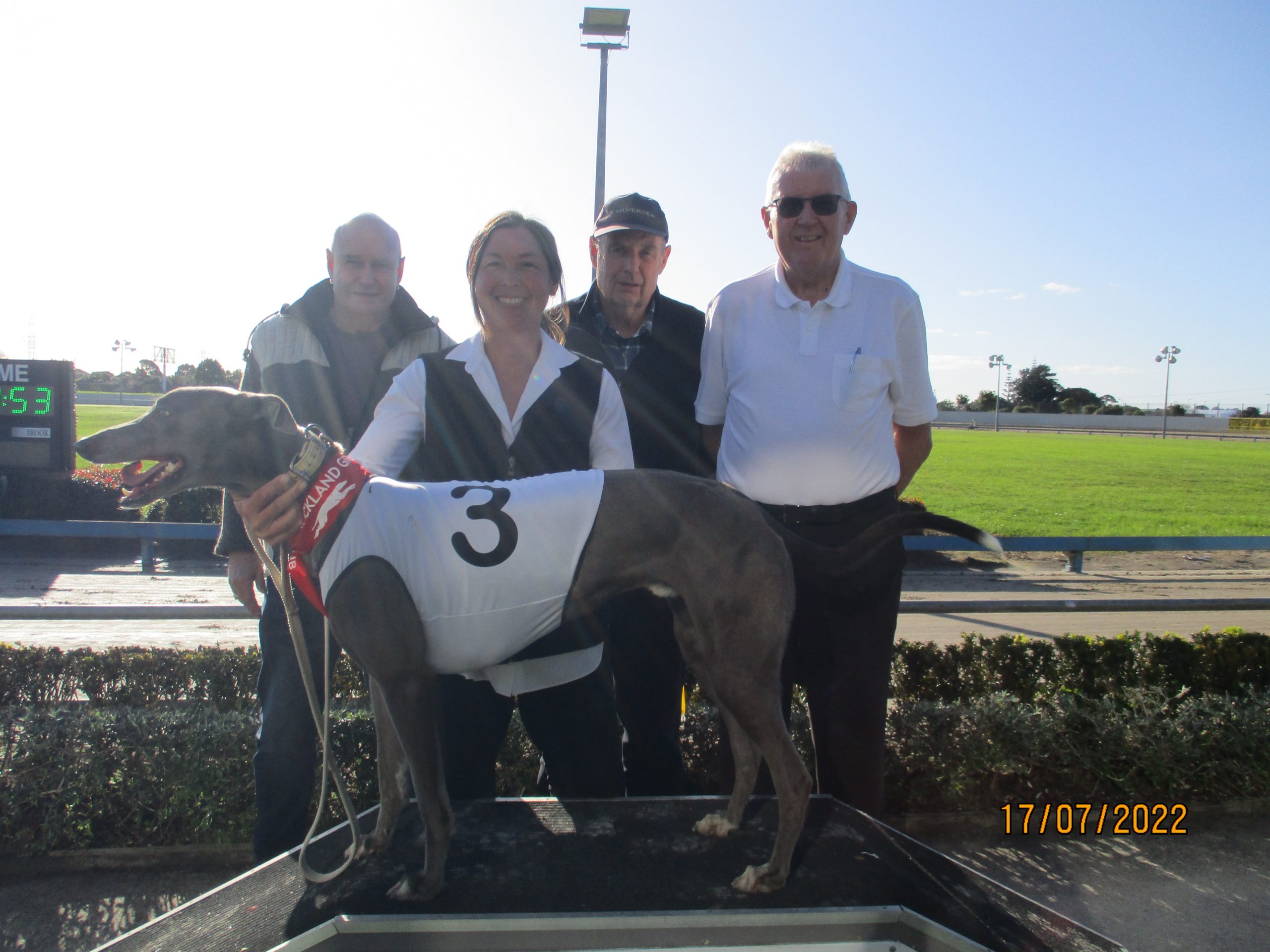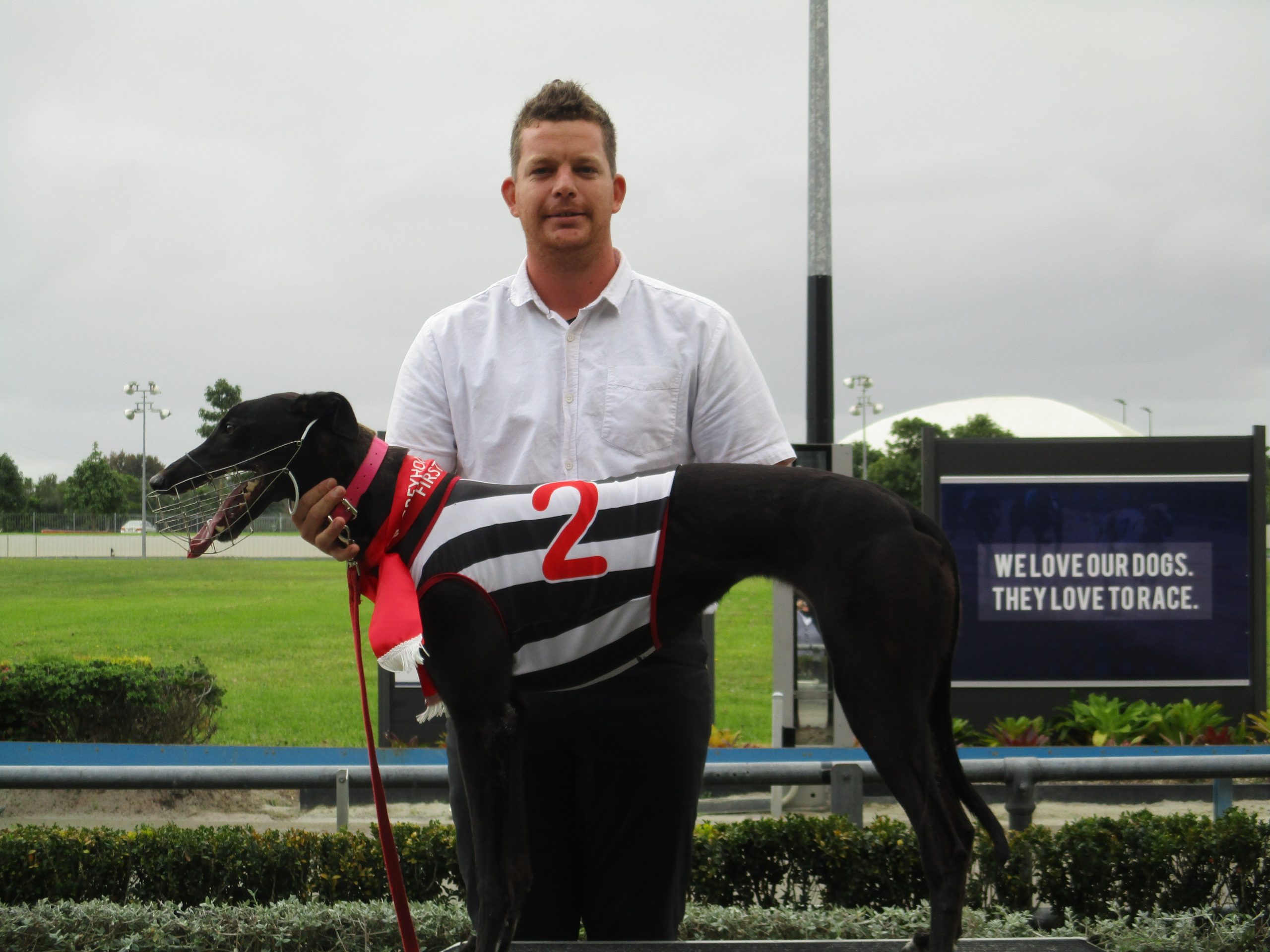 Sunday's Bouquet ( 10 July)  – SEAN CODLIN.
As the exciting young chaser Sweet Potential flashed past the post winning the C2/3 Know Jinx Stakes yesterday, it was not only season's win number thirty one for Sean Codlin, it also meant his team of chasers earned stake money of over $100,000.00 for the season. This is a significant first for Sean who as a young trainer has diligently learnt his craft in recent years.
Other notable contributors to his stake earnings tally this season include; Thrilling Gem, Thrilling Tessa, Railing Raccoon and Thrilling Watson, however a chaser without a win to her credit this season has a special place in his heart. I refer to the bonny Shelly Pom, who has achieved numerous placings in distance events, including a placing in a heat of the recent SENZ Duke of Edinburgh Silver Collar. This giving him his first finalist in a Grp. 1 race.
Congratulations Sean, not only have you have done yourself, your family, friends and supporters proud, you are proof to other young participants that by pushing through the challenges that training of greyhounds presents on occasions, you can achieve success.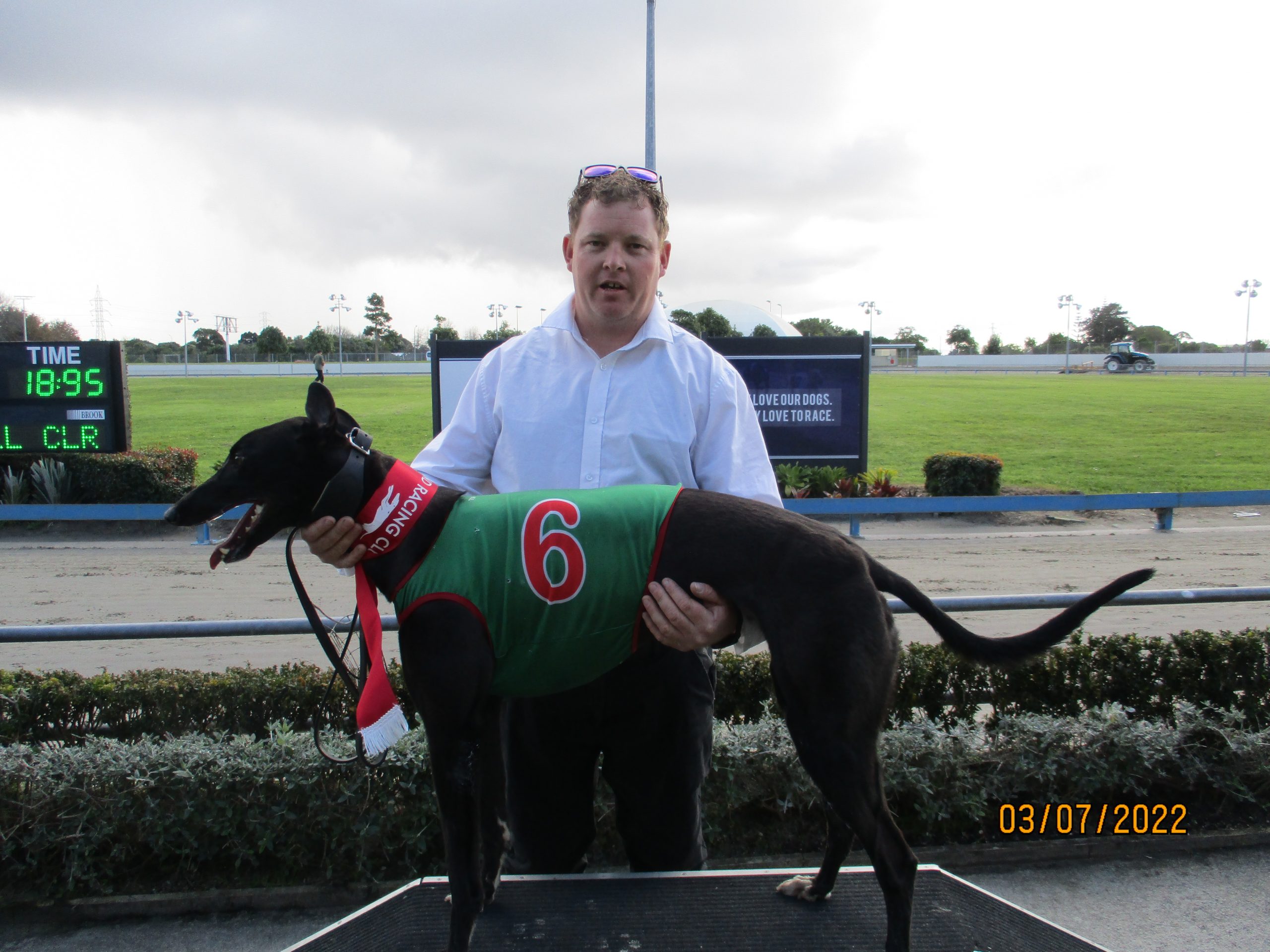 Sunday's Bouquet ( 3rd July) 
TEAM BELL
For sure there was a real sense of satisfaction for Dayze and Jake Bell as Commissar dug deep late in the contest to hold off the fast finishing favoured runner Blue Bomber yesterday.
From their Marton base they travelled north the previous Sunday to race Commissar, litter mate Bowler Bonfire and Kiosk to Manukau for the first time to race without success.
Jake returned yesterday with Commissar and with the benefit of last week's experience, he rewarded their plan to achieve victory with this homebred chaser on our two turn track.
Congratulations to you both, the win most certainly reward for effort.
This young couple are deeply immersed in our code, Dayze as a trainer, breeder and rearer, while Jake is a stud master, (standing Commissar's sire Allegro Gun) and in more recent times becoming the track curator at Palmerston North. Go Well guys, may we see you back again soon.
Sunday's Bouquet ( 26th June) 
CHLOE WATSON
In recent season's Chloe has been a young energetic handler assisting with race day duties of her family's chasers and always willing lending a hand to others when required.
Yesterday she headed to the boxes as an owner/trainer for the first time with the aptly named greyhound Teeing Off. After a moderate beginning Teeing Off swept around the field to give Chloe a dream start as an owner/trainer, winning by a near 4 length margin, at odds of $14/1. Just a special piece of "Manukau Magic' for this popular young lady."
From us all congratulations Chloe, looks likes the 'Clevedon Clan' now has another successful member with you adding to the successes of Marie, Hayley and Emma.
Sunday's Bouquet (20th June) – MEDUSA WHO
Catching the eye in Race 4's pre-race parade was a bonny blue bitch, confidently walking out on the end of her lead, alert, happy and keen to go, named Medusa Who. Having her 100th start she bounced from the boxes, increasing her leading margin throughout the race and winning for her trainer Marie Prangley and her family's Three Sisters Syndicate.
For this greyhound family Christmas Day 2017 was made even more special by the arrival of Medusa Who and her litter mates; Dobby Who, My Bro Bobby, Thea Who, Nana Molly and Rods Girl. All successful on the track and averaging 95 starts. This litter like so many others is a demonstration the special relationship that develops between our greyhounds and those who care for them on a daily basis.
For Medusa Who now 4.5 years that duty of care spans for more than 1,600 days. Yesterday's winning performance by this bonny blue chaser gives real meaning to our code's statement;" We love our dogs. They love to race."
Sunday's Bouquet (June 13) – Nigel Rugg
Frequent very heavy showers over the past few days made track preparations leading up to yesterday's meeting a real challenge. With Deyne away on a well earnt break, Nigel undertook the final preparations on Friday and pre-race yesterday.
That challenge is to have a track surface that is consistent throughout, providing absorption when a paw strikes the track at great speed and safe traction as it pushes off the surface into the next stride.
Despite the numerous thunderous down pours on Saturday and early yesterday morning the surface prepared was outstanding. Nigel, your commitment and expertise is par excellence and much appreciated by us all.