PERFORMANCE OF THE DAY – JULY 2022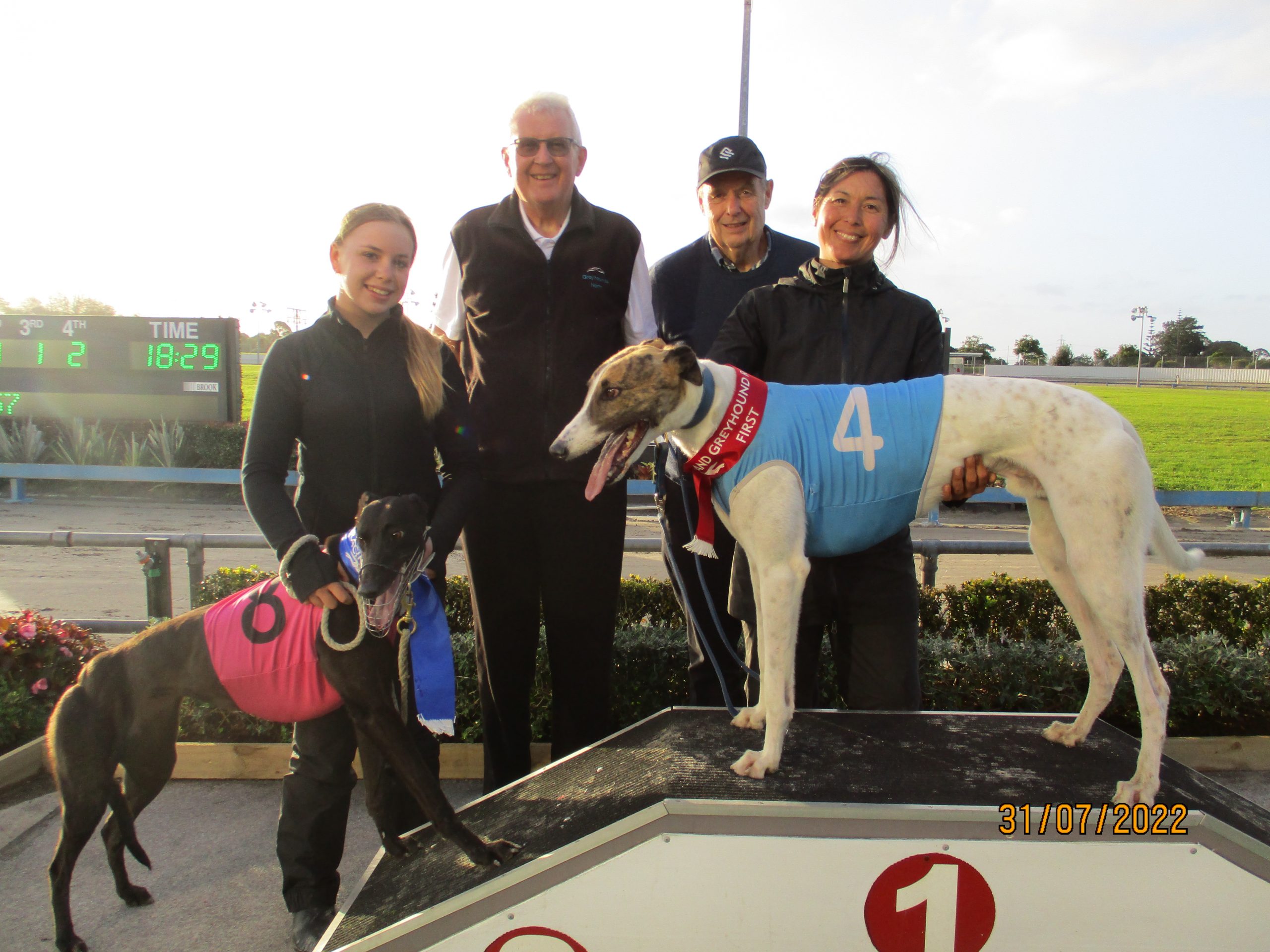 31st  July 2022
Performance of the Day – OTAKI RIVER.
He's big, bold and today he blasted out of the boxes to register a PB of 18.29., in conditions that were not conducive to producing fast times. A white of fawn son of Dyna Double One and Katcha Fire, he has dominated our open grade sprints at recent meetings. Successful in six of his last seven starts, it has been kennelmate and near relative You Ready Boots, who bested him last start. Today, six lengths behind she was the runner up. Congratulations Team Craik.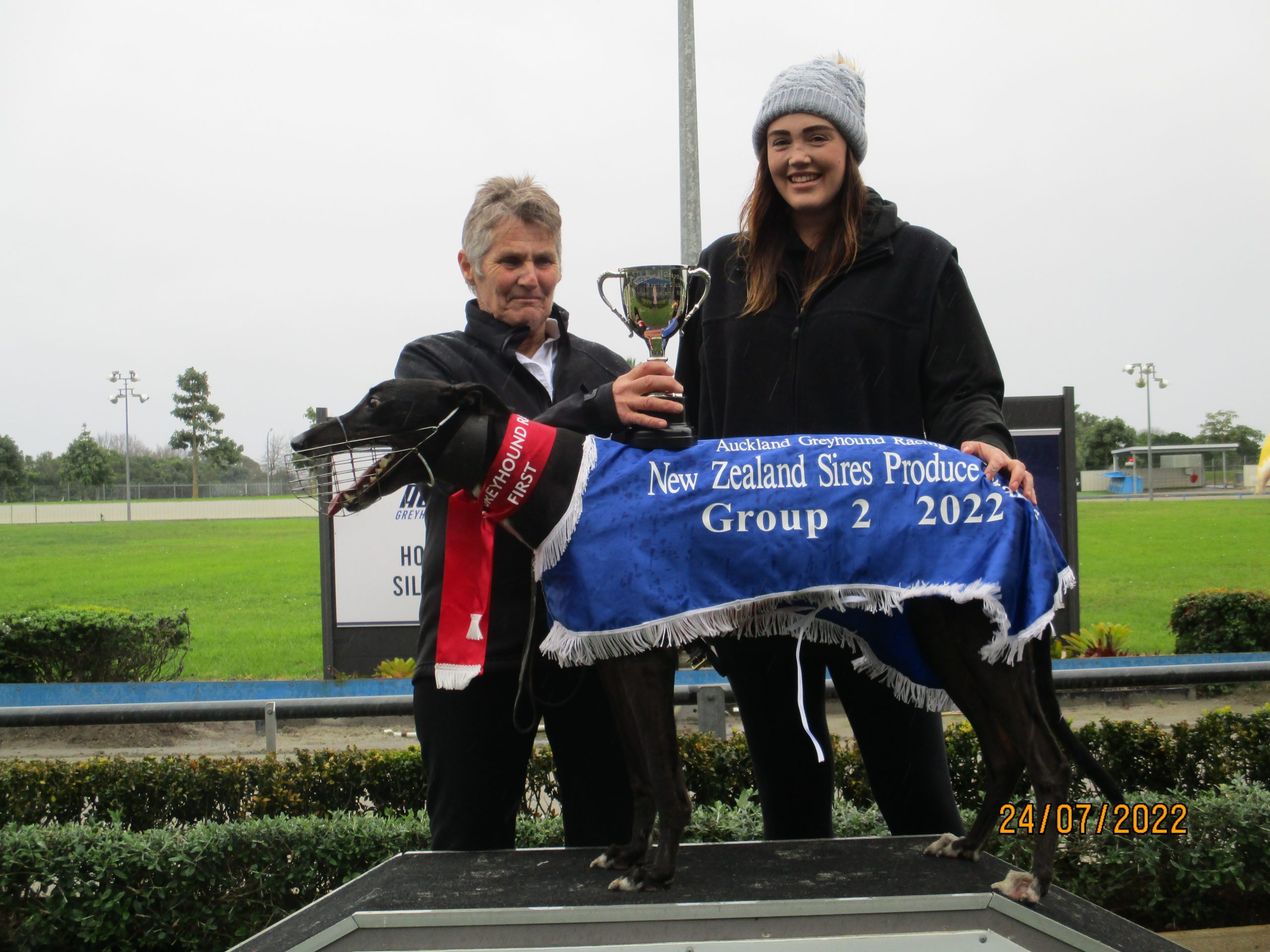 24th  July 2022
Performance of the Day – THRILLING FREDDY.
Thrilling Freddy produced a new PB of 30.54 when adding his name and the name of his sire Thrilling Boris to the NZ Sires Produce Stake honours board. Congratulations to his trainer Marie Prangley, owners the Three Sisters Syndicate and breeder Gary Harding.
Freddy is a versatile chaser with wins over the 318 – 375 – 457 and 527m trips on our northern tracks. Today's victory was his 16th for the season and 20th overall.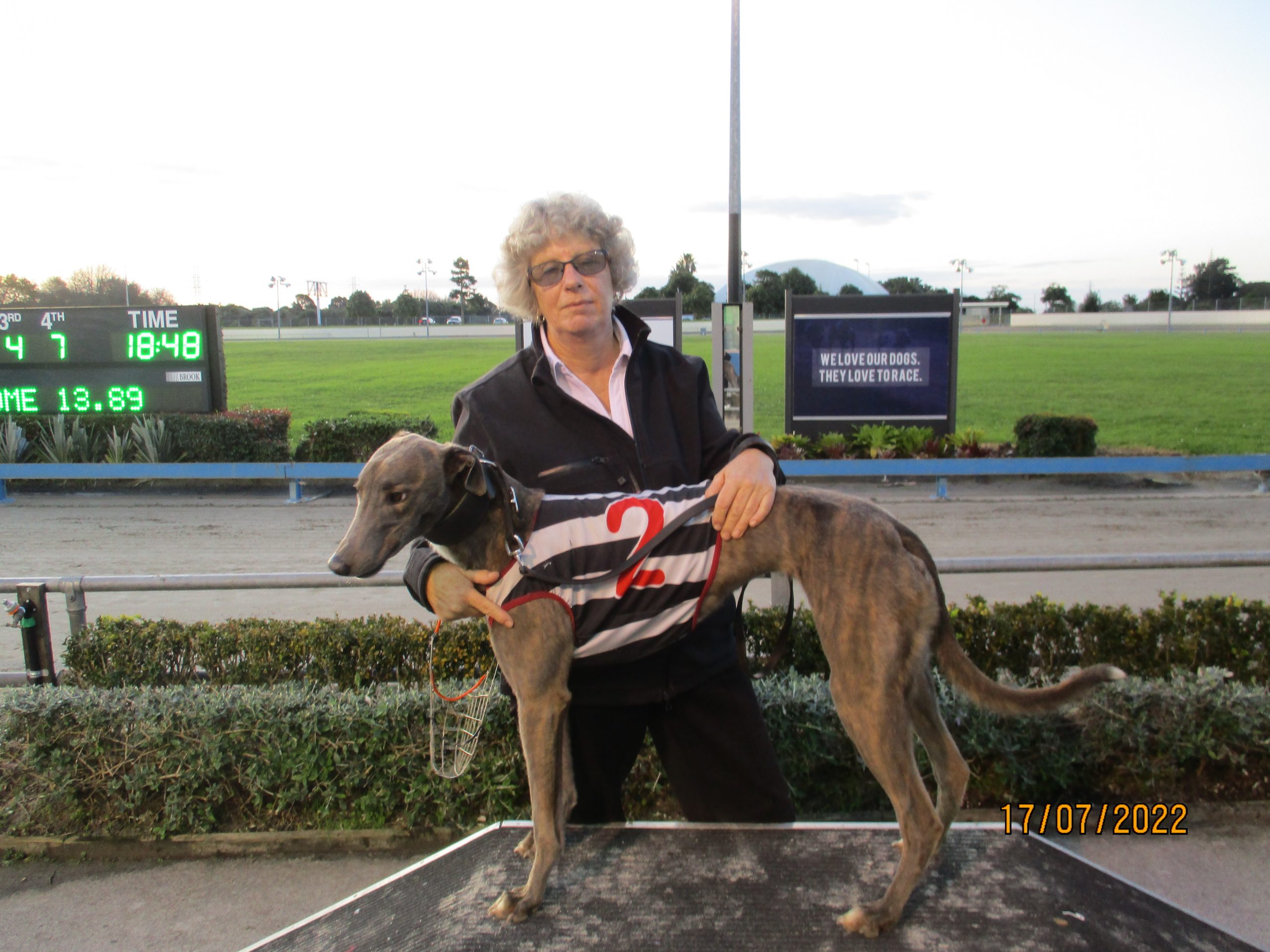 17th  July 2022
Performance of the Day –MINERVA MINK
By producing the BOD time of 18.48, this 24 month old daughter of champion sire Fernando Bale and her Grp. 1 winning dam Thrilling Flo, took out the meeting's, Performance of the Day. The win set a new PB for Minerva Mink and reinforced her preference for a box draw close to the rails.
Congratulations to her trainers Hayley Mullane and Emma Potts and owner Daryl McLachlan.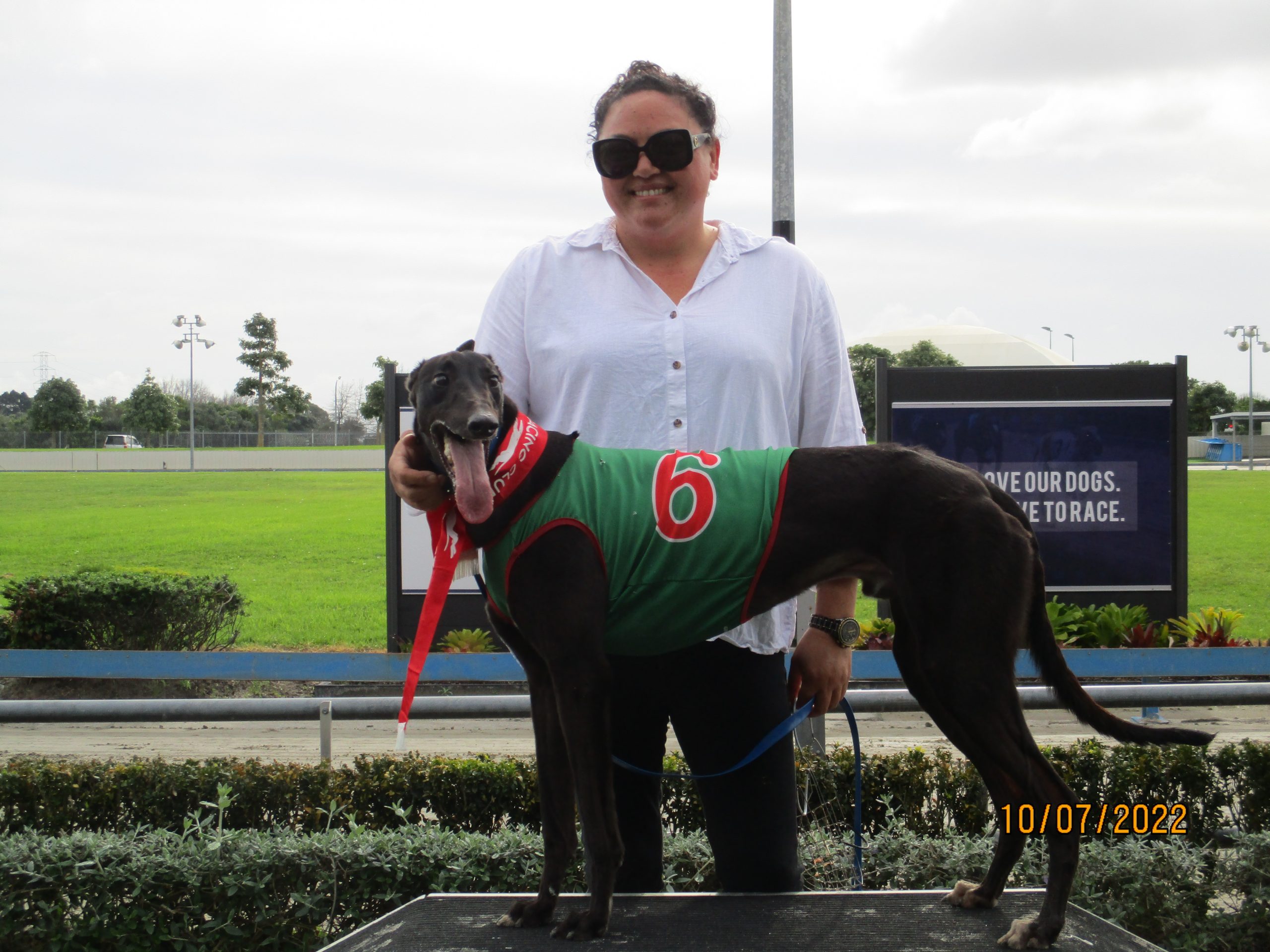 10th  July 2022
Performance of the Day – MINT AS.
Scoring by the widest margin of the day and equally the C1 season's winning time of 18.44secs. set by You Ready Boots in December, Mint As took out today's Performance of the Day.
His trainers, Jared Udy and Neisy Cottam have in recent seasons had some very smart sprinters and this young son of Thrilling Boris and Tres Vite, gives every indication that he perhaps has the potential to reach the performance levels of the likes of; Buddy Boom, Kiwi Boy, Kiwi Gal and Wild Kiwi.
It was somewhat of a family day out. His dam Tres Vite also producing the impressive maiden winner, litter mate Daisy Clipper. His sire Thrilling Boris added a third winner with Thrilling Freddy, again producing a bold front running display when winning the day's C4/5 527m event.
Congratulations, Jared and Neisy.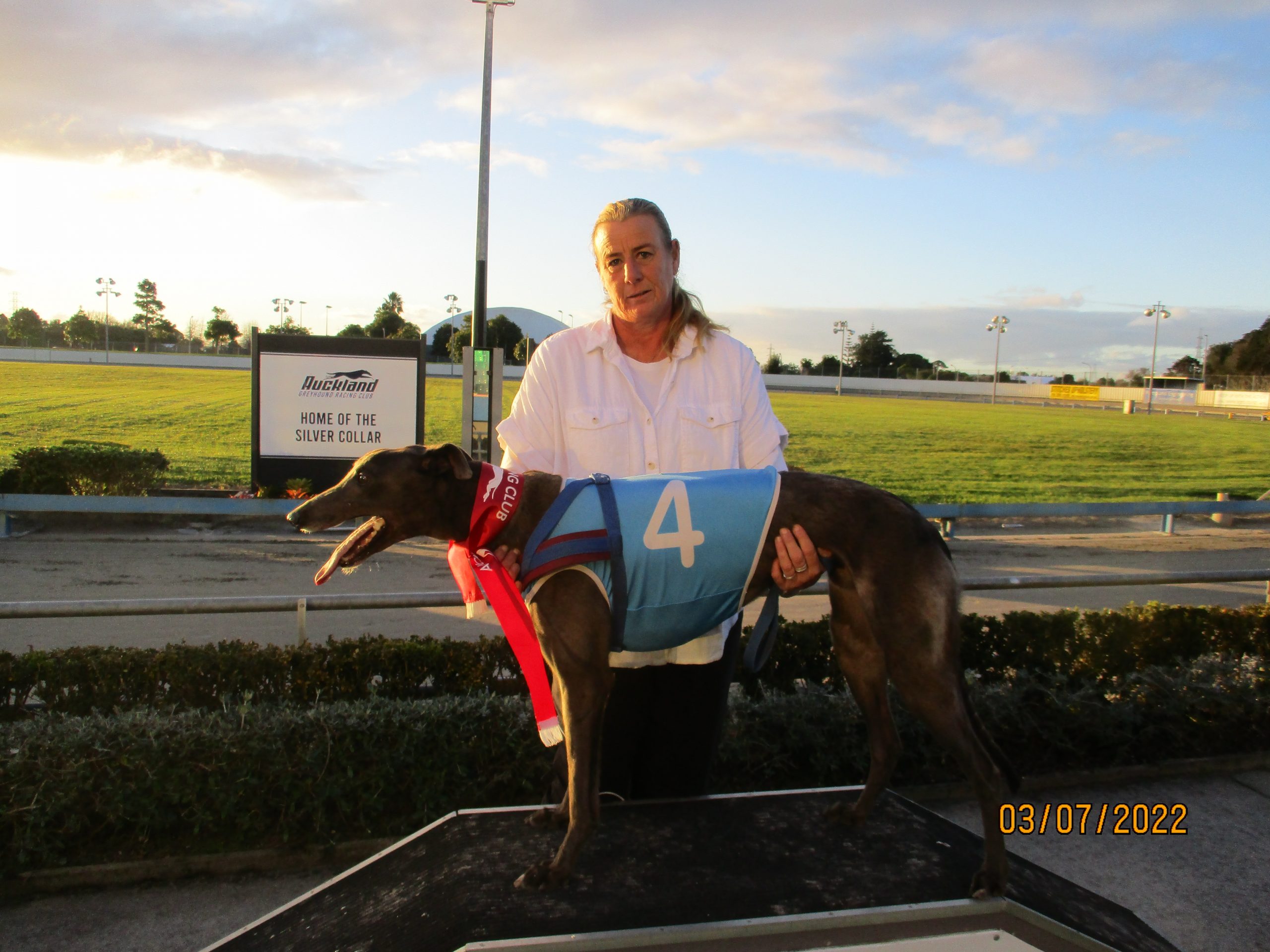 3rd July 2022
Performance of the Day – ROCKED IT
Coming from a litter that includes the talented southerners. Chatty Mavis and It's Better plus fellow northern Georgia's Girl, today it was the turn of the Wayne and Tracy Steele trained Rocked It to live up to the deeds of his litter mates.
Exiting box 4, the son of Barcia Bale and Isavana assumed command off the mat, recording at 4.64 to the first mark before powering home in a 13.74, recording a new overall PB of 18.38. With a winning margin of over 5 lengths, his time was easily the BOD. His win took the litter's winning tally to 49 from just 129 starts.
Congratulation to his owner/breeders Jean and Dave Fahey and his trainers Wayne and Tracy Steele.