Duke of Edinburgh Silver Collar 2022
Auckland Greyhound Club are proud to be the home of Silver Collar
Performance of the Day – KNOW KEEPER.
With a display of superb strength and chase that saw him master the gallant pace making Thrilling Rogue in the home straight, Know Keeper was victorious in the Grp. 1 SENZ Duke of Edinburgh Silver Collar. This home bred chaser took his unbeaten winning sequence over the distance trips to seventeen. Great to see his breeder/trainer Garry Cleeve share the moment with his son Anthony and daughter Sydney as the solid silver collar was placed around their champion's neck on the podium. Their operation is a real family affair. Congratulations Team Cleeve.
The 51st edition of the SENZ Duke of Edinburgh Silver Collar.
The ornate solid Silver Collar was gifted to our club by the late Prince Phillip, a keen sportsman and greyhound enthusiast. For over a half a century the Silver Collar has been hotly contested at the four different venues the AGRC has called home. From the race's inception, it has arguably been one of the most coveted prizes in New Zealand greyhound racing.
A great staying race that recent decades have seen two very memorable contests. 2000, saw Astro Teddy show brilliant early pace, spread eagling the field mid race, only to see three determined chasers nail him close to the finish. The barest of margins separated the winner Aqua Mouse from place getters Sole Edition and Leo the Lion. In 2010 Swift Fantasy, was a lonely last with a lap of the track to go, midway through the back straight she suddenly ignited and began a run that saw her slice through the field and win by an unbelievable 5+ length margin.
The 2022 race in my humble opinion can rightfully be placed beside the contests of 2000 and 2012 as it will remain in the memory of all who watched it live, be it at the stadium or on television. Know Keeper went to the boxes as the hottest of favourites, his nearest rivals in the betting market Thrilling Rogue and Mr Franenheit were at 10/1.
A brilliant beginning saw Thrilling Rogue assume command, Mr Franenheit's jump was faultless, allowing him to position himself in his favoured one out running line in second spot. For Know Keeper, his early passage was not as simple as he was involved in early jostling that effected the chances one way or other of the remainder of the field, finally getting clear racing room approaching the first bend. Thrilling Rogue, freewheeling in front went through the 318m section in a flying 18.38, the long striding Mr Franenheit just 3 to 4 lengths behind, Know Keeper another 2 lengths astern. A determined Thrilling Rogue kept up his fluent galloping stride, never leaving the rail, Mr Franenheit gamely holding his line and position as they entered the back straight. It took the length of the back straight for Know Keeper to rail through to position himself behind the leader. With a display of real grunt and power, he gradually mastered the gallant Thrilling Rogue to reach the lead in the final 50m, securing a hard fought and well-deserved victory.
The three podium finishers were all bred and reared by their racing connections. With their bloodlines, the thoughts in the back of the minds of their breeders as they nurtured the pups through the early years of rearing and education, would have been that possibility they would develop the strength of limb, the heart and lung capacity that could take them to a Silver Collar Final. Well, they did, with ultimately just one winner, however all three did their connections proud. Long may the staying bloodlines we have in this country be maintained and strengthened in the seasons ahead. If that can happen, the quest for the Silver Collar will continue to be one the ultimate prizes in New Zealand greyhound racing.
To Garry, Gaylene, Anthony, Sydney and not forgetting Garry's wingman on so many campaigns throughout the country, Allan Johnson, hearty congratulations. Know Keeper is a champion stayer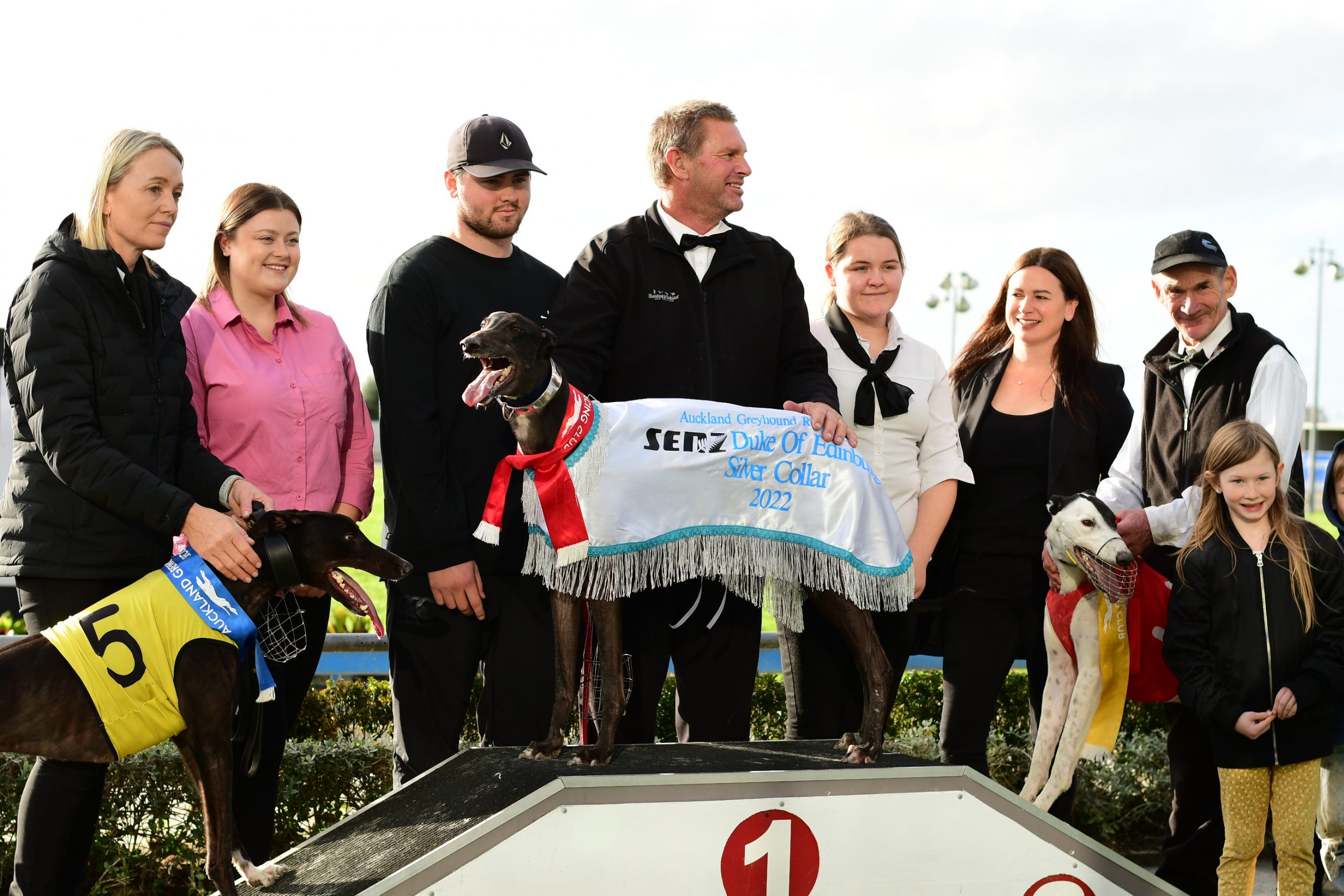 Roll Of Honour Silver Collar 
Special thankyou to Candice and the team at TAB New Zealand for putting together this amazing footage of the Roll of Honours for the Silver Collar.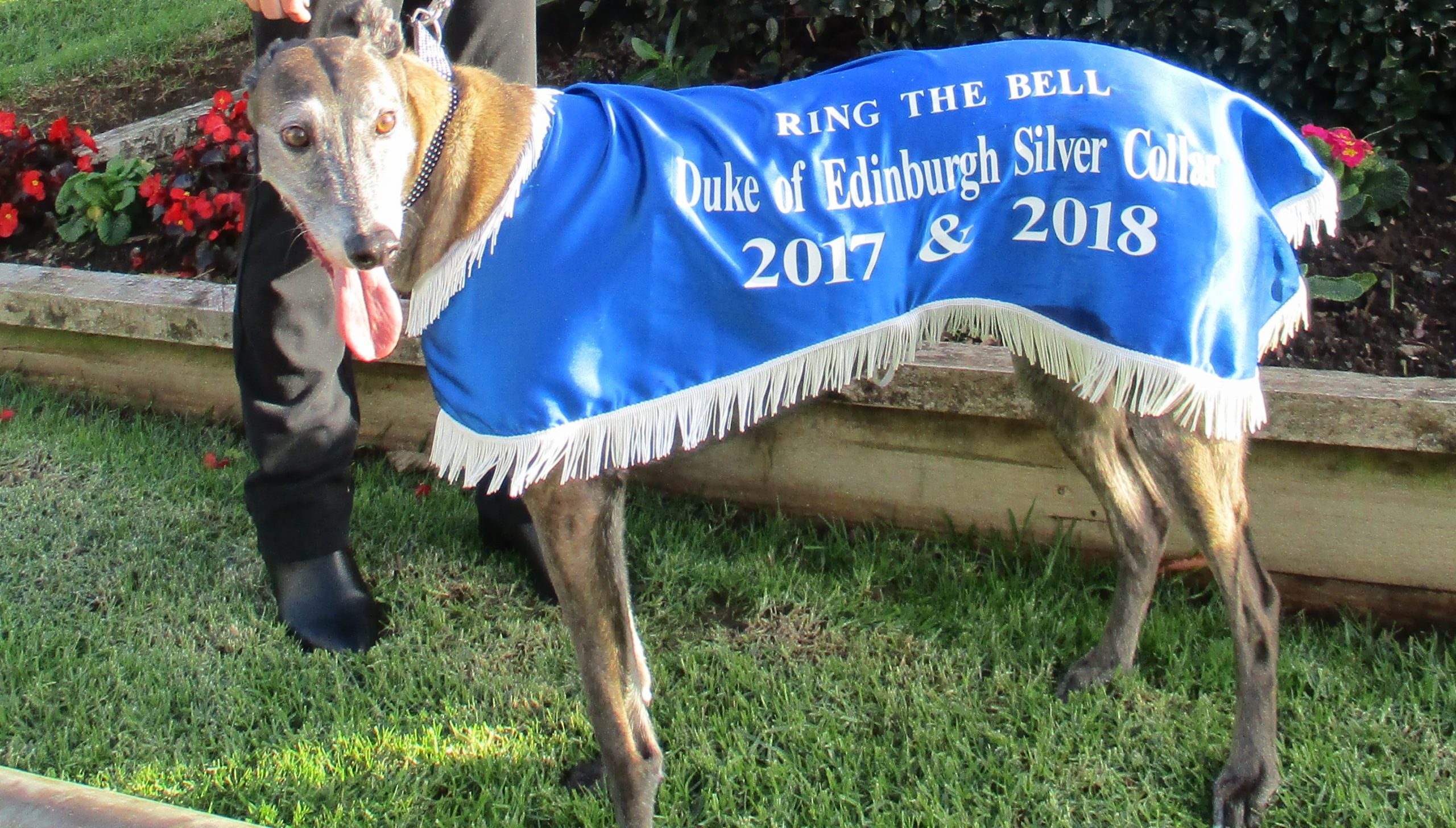 THE CHAMP IS BACK
It is with great pleasure that we welcome back to Manukau the champion stayer Ring the Bell (Disco to his mates, hoomans and hounds). He will have the honour of leading Sunday's contestants on to the track. He is the only back to back winner of the Duke of Edinburgh Silver Collar, victorious in 2017 and 2018, in a career that saw him win 37 races in both Australia and here. His career earnings were a whisker away from $450k.
Our thanks to Jenny Bartlett with whom he enjoys a 'Five Star' retirement.
Here is a link to Ring the Bell's 2017 victory.
It's In the Blood.
WARNING, this is a post for the breeding nerds.
The pedigrees of the fifteen chasers contesting the heats of the 2022 Duke of Edinburgh Silver Collar make the importance of a strong direct female line abundantly clear.
Let's have a look of the dam lines involved.
A. Corinth Bale – Represented by three runners, littermates; Claw's In Leo (last year's runner up) Shelly Pom and younger half brother Thrilling Rogue. She raced just on 5 occasions however was a member of a litter that won nearly $400k that included Avenger Bale, a nine time distance winner. Her mother Langi Bale was a 600m winner and Group race finalist over both the 600-700m in Australia.
B. Little Teegan – Represented by two runners, litter sisters; Shaynee and Little Teegs. She was a super talented stayer, winning the 775m Grp.1 Wanganui Distance, Grp.2 Wanganui Stayers Cup, Grp.2 Teressa McDonald Cup and a second placing in the 2014 Silver Collar.
C. Know Jinx – Represented by the brothers; Know Keeper and Know Account. Winner of three distance races, placed third in the 2017 Silver Collar behind Ring the Bell and Shandell during her sixteen race winning career.
D. Shandell – Represented by Shanmaria. Champion stayer, winner of 27 distance races including; 2015 779m Grp 1 Duke of Edinburgh Silver Collar (2nd in 2016 to sister Teemaria and in 2017 to Ring the Bell), winner of the Grp.1 732m NZ Stayers Cup twice.
E. Tears Siam – Represented by the Aussie visitor Here's Tears. Winner of 5 races over the 700m trips at both Melbourne metropolitan tracks. Super producer, including Here's Tears older brother the champion stayer Tornado Tears, winning stakes $988k.
F. Phantom Way – Represented by Mr. Farenheit. Winner of two distance races including a C2 graded 755m event at Hatrick. A finalist in the Grp.2 Wanganui Stayers Final.
G. Nighthawk Rose – Represented by Nighthawk Style. Winner of four distance races including a 755m NZRS Final, 2nd Grp.2 Wanganui Stayers Final.
H. Born Ali – Represented by He's Ali. She won the Grp.1 715m Galaxy, West Australia's premier staying race, winner of 6 other races over 700m. Placed in group staying races in NSW and Victoria. Has produced some group performing stayers in Australia
I. Little Bit Funny – Represented by Humbling. Winner of two distance races including a heat of the Grp.2 Kingston Cup.
J. Soaring Hawke – Represented by Penny Hawke. Raced once beyond 500m when winning over 603m in her twenty six race winning career both here and in Australia.
K. Andrea – Represented by Centurion. Never raced over a staying trip during her eleven race winning career. Her grand mother Funny Girl won 5 distances races. She produced Nina's Girl, winner of the 2011 Silver Collar Final.
Proof indeed that's all in the blood.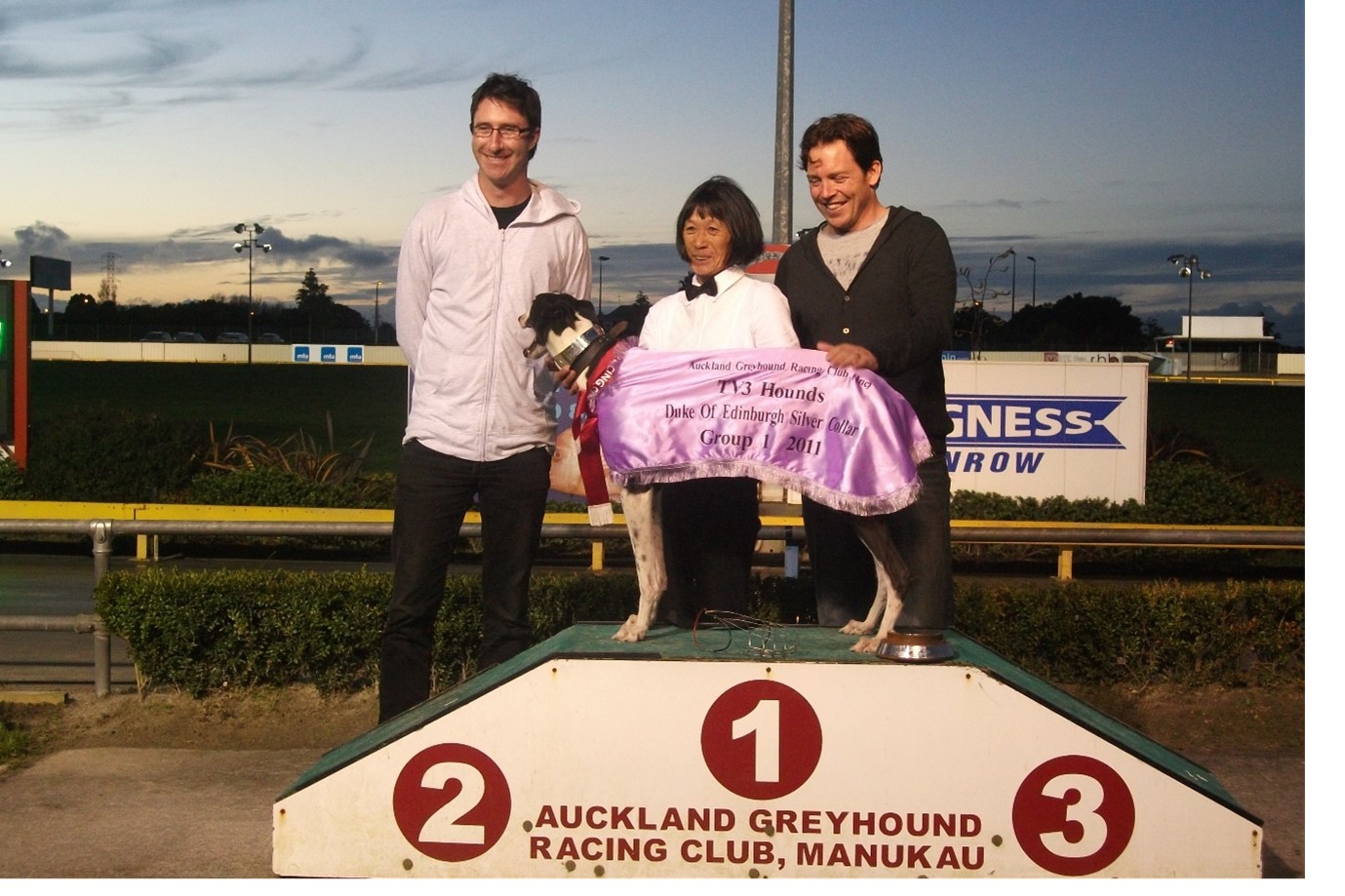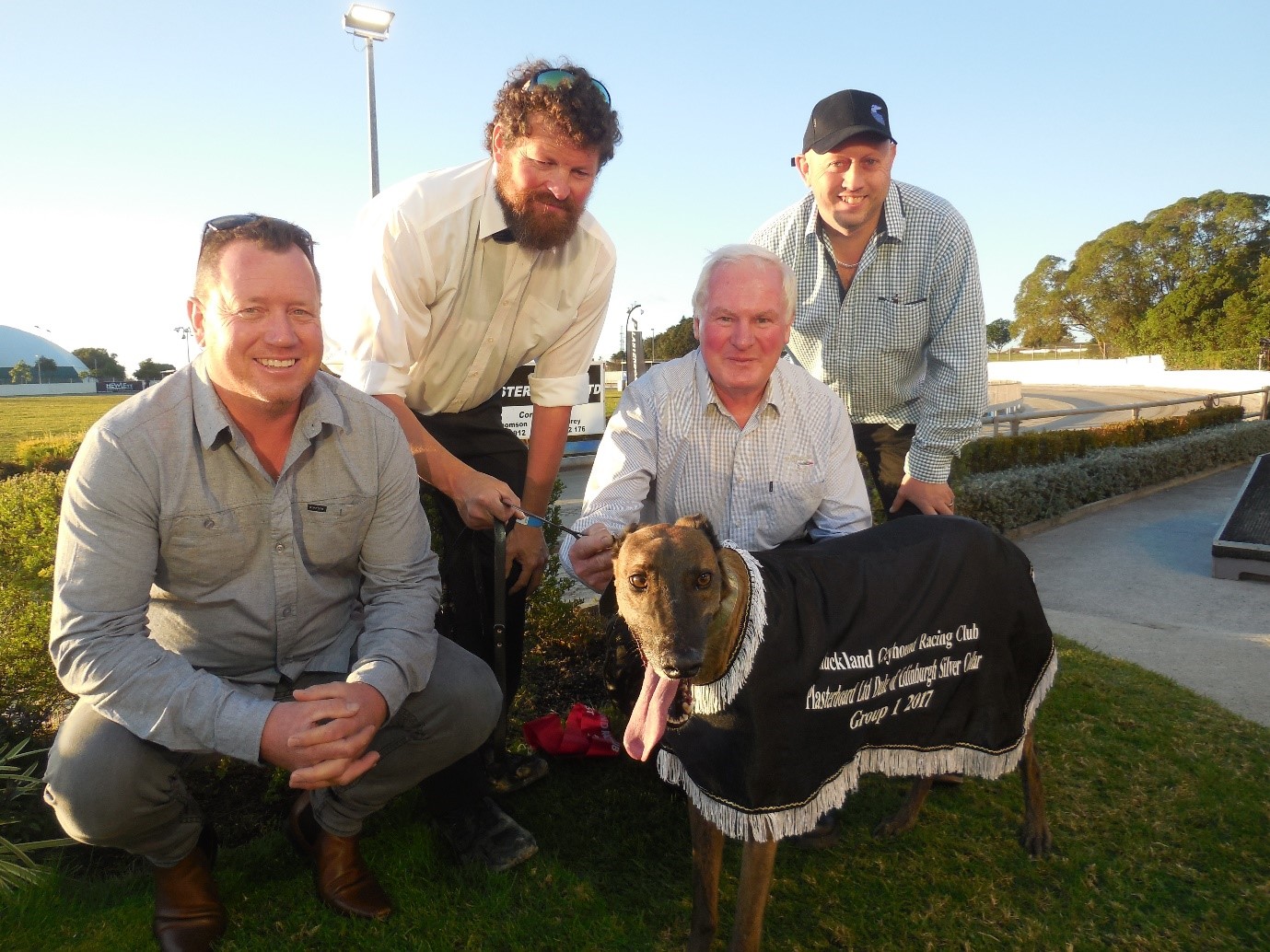 Guess who's arrived in New Zealand?!
Here's Tears and Gerry O'Keeffe are here to take on the
SENZ
Duke Of Edinburgh Silver Collar!
Check out the trial of Here's Tears from Sunday at Manukau (18.59 – 4.71, 13.88), with thanks to TAB Trackside
The Silver Collar – Is it a "Big Boy's"race?
Looking back at the winners over the past twenty finals this is certainly not the case.
The Duke of Edinburgh Silver Collar raced over 779m has seen eleven bitches (55%) victorious.
The Honour Roll is; 2021 – Thrilling Amelia, 2019 – Dyna Wesley, 2016 – Teemaria, 2017 – Shandell, 2011 – Nina's Girl, 2010 – Swift Fantasy, 2007 – Cheeky Bonnie, 2006 – Thrilling May, 2005 – Rivette Reason, 2003 – Groovy Jewel, 2001 – Aqua Mouse.
How does this winning percentage compare in regard to the past twenty finals of the three other Group 1 events raced at Manukau?
The Auckland Cup, raced over 527m, has seen just four bitches (20%) victorious.
The Honour Roll is; 2011 – Little Mother, 2010 – Little Mother, 2008 – Winsome Ashley, 2005 – Idol Appeal.
The Waterloo Cup, raced over 527m, has seen eight bitches (40%) victorious.
The Honour Roll is; 2012 – Have A Yap, 2011 – Little Mother, 2009 – Tricky Shelley, 2006 – Thrilling Lucy, 2006 – Hello Awesome, 2005 – Nitro Bird, 2003 – Daphne Bale, 2002 – Black Echo.
The Railway Sprint, raced over 318m, has seen seven bitches (35%) victorious.
The Honour Roll is; 2019 – Just One Smile, 2018 – Rosa Tee, 2016 – Nangar Gem, 2010 – Hi Fi Allegro, 2009 Hi Fi Allegro, 2008 – Another Gale, 2006 – Delta Belle.
*** The Railway although always being the club's premier sprint race was raced at Group 2 level prior to the elevation to a Group1 in recent seasons.
*** The Waterloo Cup was raced twice in 2006 due to a date change.
It is interesting to note that it has now been 10 years since a bitch has won a Group 1 527m final at Manukau.
Recently in Australia, Charlie Riccio a student of greyhound breeding, researched the race ability of the mothers of all the Australian Group 1 winners over the past decade. His findings were that 95 bitches who won over 565m and further, produced 172 winners of Group 1 races. This 58% of all Group 1 race winners.
Statistics that clearly demonstrate the value of providing racing opportunities beyond 600m and the importance of stronger bitches entering a breeding programme post racing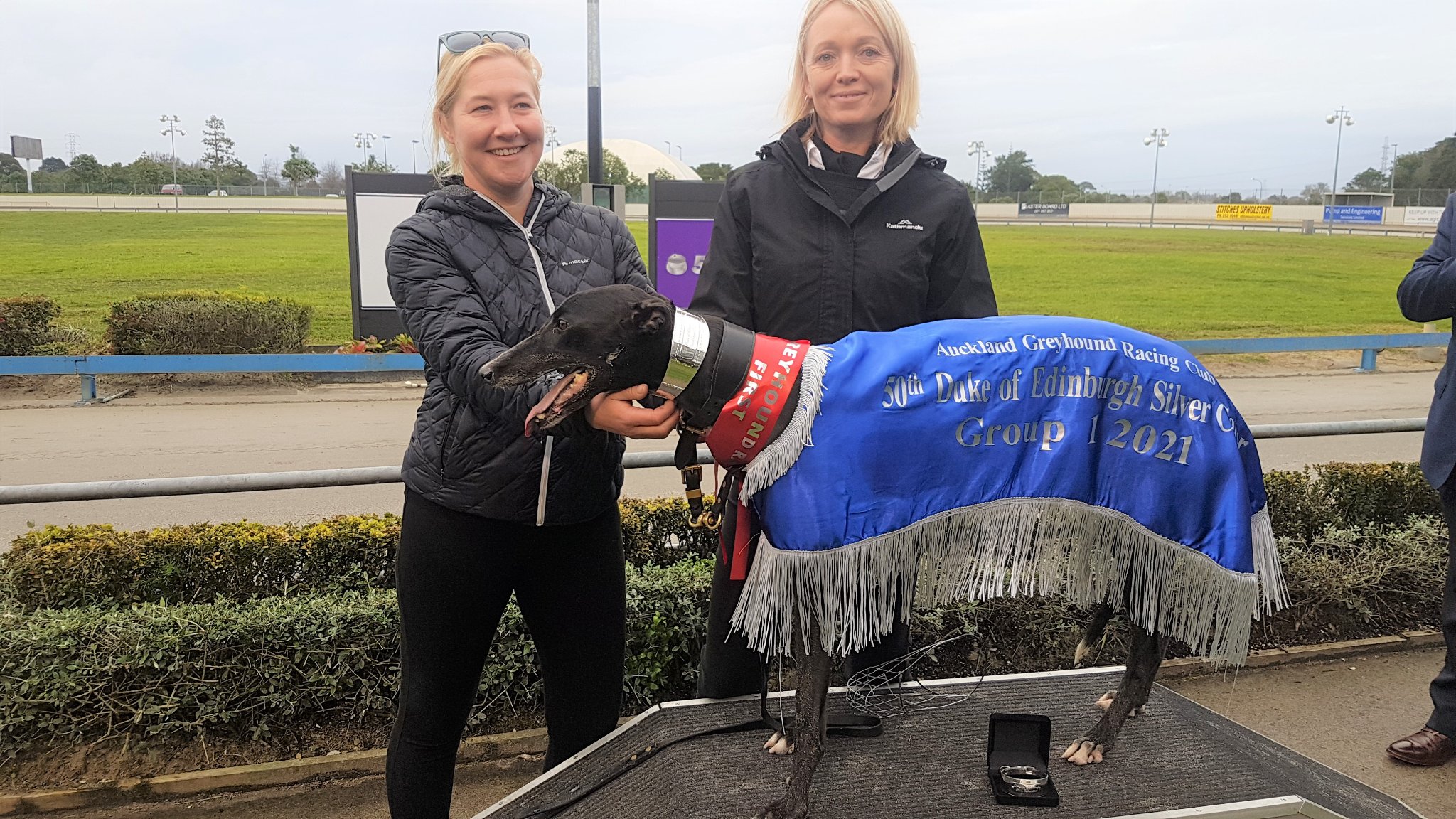 The Quest for "The Silver Collar".
When does it begin? Is it weeks, months, years or decades before?
For many breeders of the staying greyhound, it starts decades before. Their focus is on creating a greyhound that has the soundness of limb, the heart and lung capacity to sustain high performance over the longer race distance. Over years they nurture their bloodline, usually selecting sires who are proven to produce progeny that excel over the longer trip. They often line breed (duplicating a superior male or female that appears on the pedigree page 4 or 5 generations before). Always looking to improving the resulting performances, be it just by one or two percent per generation.
 Be they be based in the South Waikato, the lower regions of the North Island or Canterbury Plains their vision the same, is to compete for one of the greatest prizes of New Zealand greyhound racing, the Duke of Edinburgh Silver Collar.
 In more recent times, like minded breeders/trainers from the Hunter Valley, the Southern Highlands of NSW and the coastal regions of Victoria have crossed the Tasman Sea, they too in the chase for victory in this great race. Their motivation is both the prestige of the win and become part of the unique history that surrounds it.
For those rearing these specially bred pups, it starts around three years before.
As with all greyhound puppies the care and attention to detail in regard to feeding, housing, socializing and exercise is paramount to achieving success on race day. All pups need an environment that allows them to develop their athleticism, by free galloping with their mates therefore building muscle and skeletal strength. For those aimed at a staying career this stage of development and pre-race education it is longer than those preparing to race over shorter distances.
From the moment a young greyhound enters a racing kennel his or her trainer will closely monitor and evaluate their progress. In most cases it will be a year or more before the trainer is fully satisfied that the breeder's selection of bloodlines, the dedication and patience of the rearer, together with the results from the first year of training that the greyhound has the capability to successfully compete in distance racing. 
Then and only then, does the quest for "The Silver Collar" truly begin.