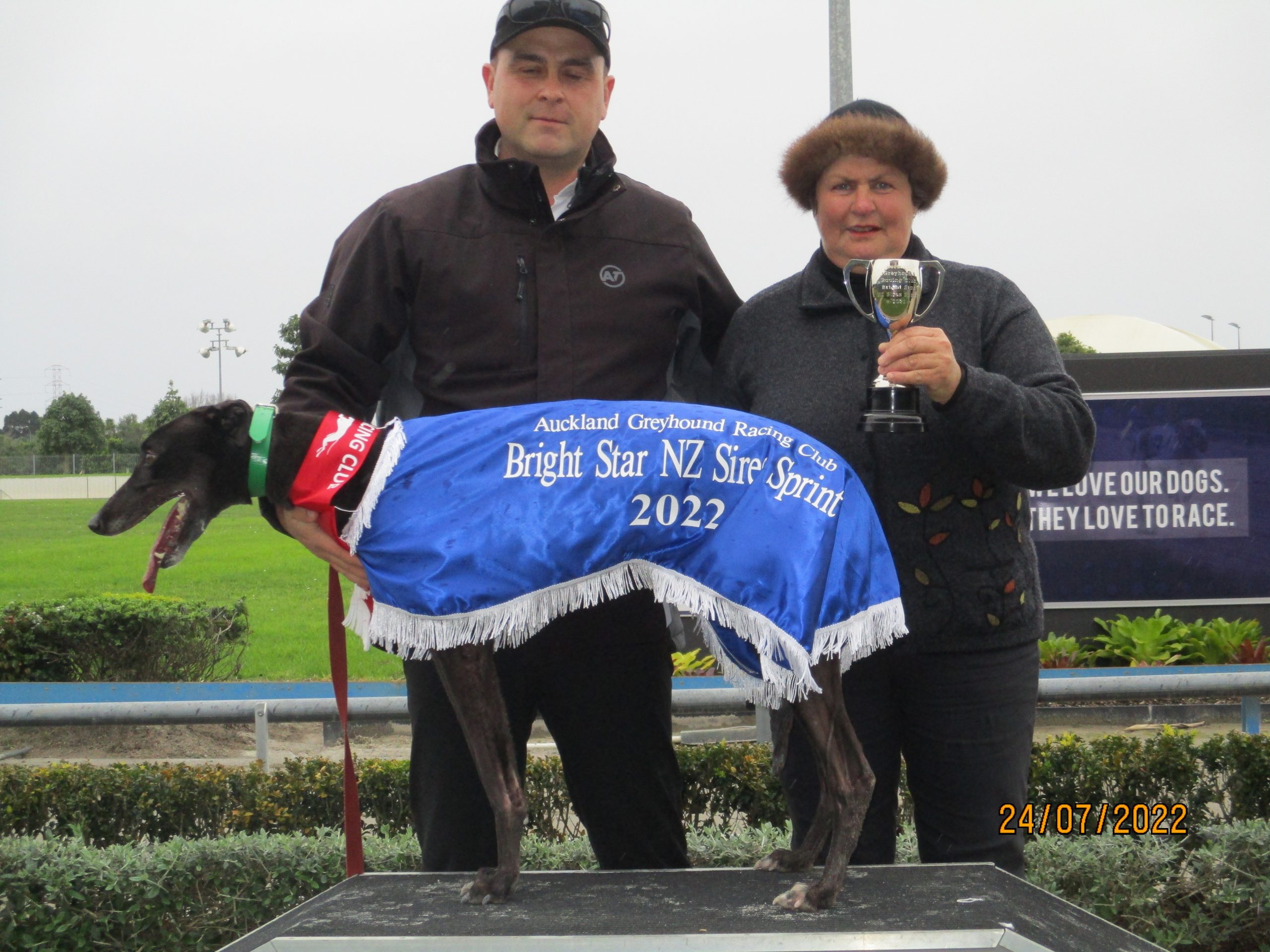 New Zealand Sires Produce Stakes
2022 Thrilling Freddy, trained by M Prangley
Bright Star NZ Sires Sprint
2022 Miss Adobe, trained by M Roberts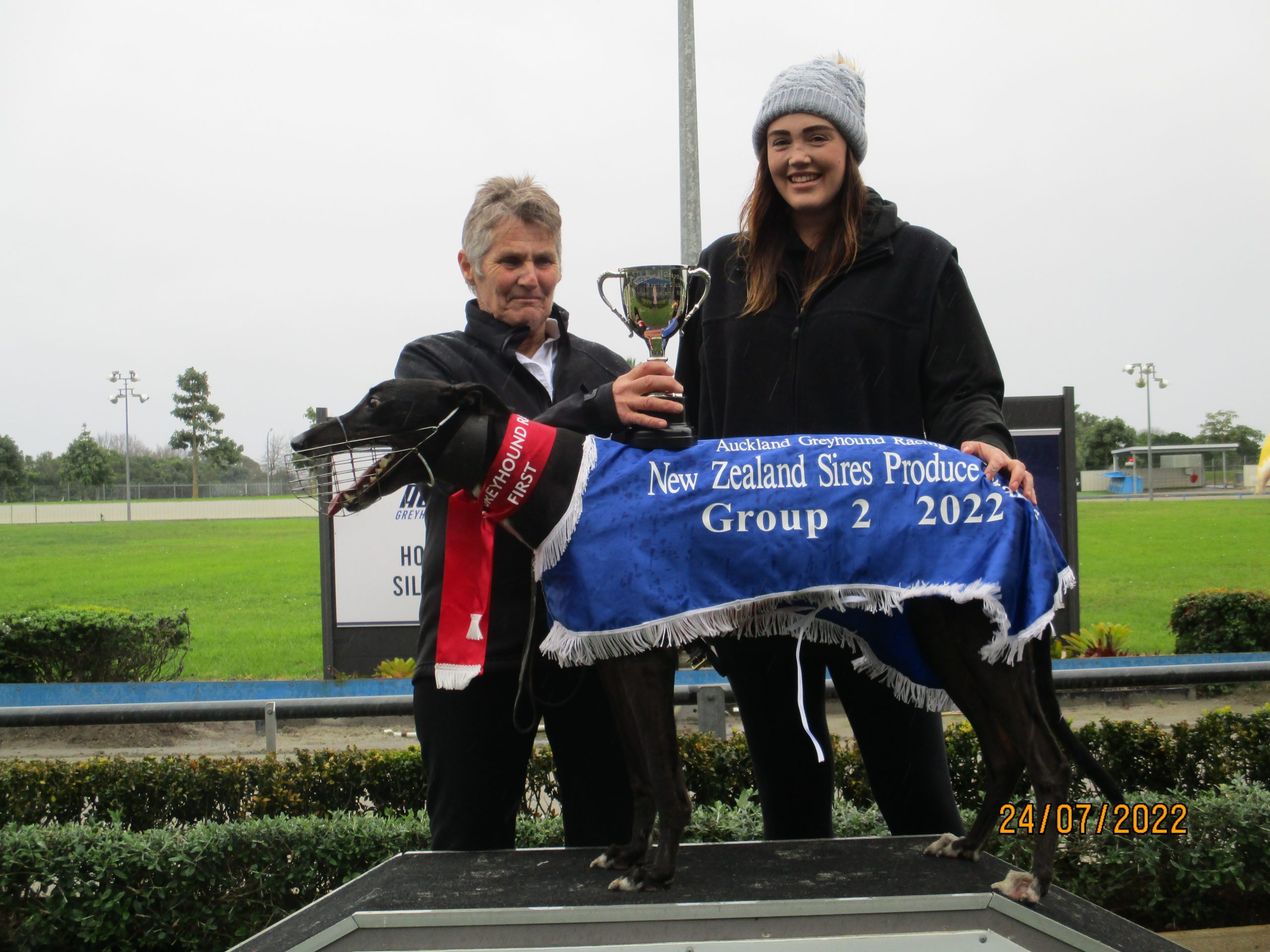 Grp. 2 NZ SIRES PRODUCE STAKES
Listed below is the honour roll of winners of this race restricted to the progeny of New Zealand based sires.
There are some great names there, however the stand out feature is the huge success of Canterbury based owner/trainer/breeder Garry Cleeve has achieved with his homebred chasers. His breeding successful programme with the emphasis on strength has achieved six victories, his first with Crafty Flynn in 2008. Scotexcited, the winning sire on four occasions was imported from Australia and campaigned by Garry. Amongst his 24 career wins was the 2007 NZ Derby Final.
There are two of Garry's winners whose names have been to the fore this season through the deeds of his super stayer Know Keeper. His sire Know Danger was victorious in 2014, whilst his dam Knw Jinx, produced a powerful finish to claim the honours in 2016. It was unfortunate that Covid restrictions denied Know Keeper his chance to add his name to the list as just a few months earlier was finished second to Federal Morgan in the Auckland Cup.
Recent Winners
New Zealand Sires Produce Stakes
Group 2 527metres
Sire Owner Trainer
1994 Inaha Syd Pine Hill Royale A Cobain A Cobain
1995 Ballymena Mac Wendy's Legend A Cobain A Cobain
1996 Tiogas Lady Wendy's Legend B & M Notman S Griffin
1997 Watch My Dust Club Edition P Fenemor A Charters
1998 Ebony Tabu Ebony Sans G Farrell G Farrell
1999 Dismay Mr Janza D Copeland Walsh/Haines
2000 Summer Quick Bold Honcho R Church/M McFarlane M McFarlane
2001 Red Tinge Keen To Run N Hurring N Hurring
2002 My Best Friend Bold Honcho G Calverley/M Taylor/P Cole G Calverley
2003 Majestic Shadow Noble Talent J Allen J Allen
2004 Keen Jackaroo Keen To Run T Steele/K Sewell W Steele
2005 Krackem Overtime B Cole B Cole
2006 Great White Your Awesome 3 Guys & 1 Gal Syndicate J & D Fahey
2007 Tee Shirt Overtime G & G Lawrence G Lawrence
2008 Crafty Flynn Thunder Creek Pub Dog Syndicate G Cleeve
2009 Hear The Cheers Willy What A D Williams A D Williams
2010 Hailey's Agent Romberg Reason BJ Craik & M McMillan B Craik
2011 Beatrix Kiddo Prince Toshack B Craik & Matamata Jokers B Craik
2012 Know Peace Scotexcited Pave The Way Syndicate G Cleeve
2013 Know Attempt Scotexcited G Turnwald & G Cleeve G Cleeve
2014 Know Danger Scotexcited G Turnwald G Cleeve
2015 Know Mention Scotexcited G Turnwald & G Cleeve G Cleeve
2016 Know Jinx Yella Mustard G Turnwald & G Cleeve G Cleeve
2017 Opawa Brad Winsome Opawa Opawa Racing Ltd J & D Fahey
2018 Kapai Bart King Mick T Steele & R Fairbrother W & T Steele
2022 Grp. 2 New Zealand Sires Produce Stakes.
Last run and won by Opawa Brad in 2019 (the 2020 lost to a canine influenza outbreak, the Covid restrictions halted the 2021 running), this restricted age race is the flagship race for the progeny of NZ based sires. Sunday's $20,000.00 NZSPS Final has been supported by a club feature, The Bright Star NZ Sires Sprint, again restricted to the progeny of NZ based stud dogs.
Standing a stud dog locally is in many ways 'a labour of love', due to other breeders having the availability of frozen semen from Australian based sires and for stud masters the fees involved. Stud dog registration fees are considerably higher than both equine codes as their fees are paid annually per stallion service. The policy our code's peak body Greyhounds Australasia, is to charge a 'one off' life time registration fee. With our relatively small number of brood bitches, most local sires only have the opportunity to produce just a handful of litters, therefore the impost per litter is high.
Listed in alphabetical order is a small bio on their race careers and stud statistics to this point in time. (E&OE).
ALLEGRO GUN – 2014 – Spring Gun x Hifi Allegro.
104 starts – 44 – 18 – 14 Stakes $118k. T/Record, Whanganui 305m 17.09.
Career Highlights – 1st NZRS Finals x 2, 2nd G.1 Wanganui Cup, 2nd NZ Breeders Stakes.
Litters whelped 3. Litters raced 3.
Progeny; Zoe Star 7w $15k, Al's Loaded 6w $12k, Rock It Rod 5w $9k.
AMERICAN WARRIOR – 2013 – Nolan x Alotta Mojo.
70 starts – 39 – 12 -2 Stakes $165k.
Career Highlights – 1st G.1 NZ Cup, G.2 Far South Challenge. T/Record Ascot Park 457m.
Litters whelped 4, Litters raced 4.
Progeny; Opawa Conan 7w $19k, Goldstar Warrior 9w $15k, Goldstar Tookie 7w $14k.
BIGTIME PADDY – 2015 – Kilty Lad x Romberg Lass.
81 starts – 44 – 14 – 8 Skates $214k.
Career Highlights – G.1 NZ Derby, G.1 Waterloo Cup, G.1 Wanganui Cup.
Litters whelped 12, Litters raced 5.
Progeny; Allegro Bandit 10w $20k, Big Time Eddie 8w $17k, Big Time Harmony 7w $12k.
CAWBOURNE BRICK – 2013 – Oaks Road x Asterix.
95 starts – 25 – 19 – 8 Stakes $107k.
Career Highlights; 2nd G.1 NZ Cup, 2nd G.1 Wanganui Cup.
Litters whelped 8, Litters raced 8.
Progeny; Miss Adobe 18w $35k, Zamali 14w $34k. Boot Camp Tiara 14w $34k.
DYNA ELWYN – 2016 – Dyna Villa x Julie Bale.
27 starts – 11 – 4 -1 Stakes $26k.
Career Highlights; Addington 520m 29.67. Ascot Park 457m 25.65.
Litters whelped 6. Litters raced 1. ( just 27 months old)
Progeny; Alhambra 9w $15k, Deep Value 5w $10k, Halswell Hustle 4w $7.
EMINENT REALITY – 2015 – Barcia Bale x Zelemar Fever.
26 starts 10 – 3 -2
Career Highlights; 1st G.3 West Aust Young Star Classic, 2ND G.1 Australia Cup.
Litters whelped 9. Litters raced 5.
Progeny; Mitcham Magic 31w $72k, Hilton Headache 17w $38k, Hilton Hope 17w $35k.
THRILLING BORIS – 2014 – Collision x Thrilling Angel.
35 starts – 22 – 2 – 2. Stakes $90k.
Career Highlights; G.1 Waterloo Cup, G.1 Hatrick Classic, G.2 Waikato Classic.
Litters whelped 17. Litters raced 8.
Progeny; Thrilling Freddy 19w $53k, Thrilling Norman 22w $49k, Thrilling Watson 10w $31k.
WINSOME OPAWA – 2008 – Spiral Nikita x Winsome Gem.
Career Highlights; 1ST G.2 Angus Wright Memorial, 2nd G.1 NZ Cup, 2nd G.1 Auckland Cup.
Litters whelped 31. Litters raced 27.
Progeny; Opawa Brad 22w $81k, Opawa Racer 16w $57k, Opawa Waihemo 22w 49k.
Wishing all the best to connections with starters in both of Sunday's races.
Bright Star NZ Sires Sprint
With the running of the Bright Star feature race on Sunday's programme, I take the opportunity to share her story that was first posted on our FB page in September 2019.
A Salute to a Star; Bright Star.
Part 1.
With the recent passing of this wonderful little sprinter, it is timely to reflect on her great deeds on our Manukau track.
All but 3 of her superb 142 start career were over the 318m Manukau trip.
More on that in Part B.
The Bright Star story began back around 1995 with the purchase of her 3rd dam, Go Pepper, from her NSW owner Darren Willis, a former rugby league winger who played 164 first grade games for the Western Suburbs Magpies and Penrith Panthers. Unlike the 100kg wingers of the modern game, wingers back then were the lighter speedy members of the side. Some termed them the greyhounds the team. She was a 25kg, black bitch by a leading sire Pretty Short out of Faithful Lady.
She entered the kennels of Peter Henley however her initial performances were below expectation and she changed hands to join Wayne and Tracy Steele's small Te Awamutu team. She raised her game, winning through to open grade racing, with sprint wins on our northern tracks and at Hutt Park.
Her kennel name was Hayley and she became a family favourite especially with the Steele children, Alysha, Corey and Melissa. Wayne bred two litters from her, the first by Fabian and in 2001 a litter by Keen to Run, an open class sprinter from the Lyn Earley kennels whose wins included a Galaxy at Addington.
Included in the Keen to Run litter was a 25kg black bitch later named Tracey's Gem, who disappointed Wayne with her break in times. This resulted in her being given to Bob Bond to race. After a modest 25 starts, 4 wins and 1 placing (all at Manukau) a breeding syndicate named the Jack's Syndicate was formed with the members sharing the resulting pups Hot Agent an Auckland Cup winner for Wayne was chosen for her. So back to the kennels where she spent her early days for her date with Hot Agent.
The resulting litter produced 5 winners of 46 races spearheaded by Lyn Udy's, Agent Vicki, a winner of 15 of her 99 starts over the sprint trips at Manukau, Wanganui and a win at Hawera's popular Easter Meeting, a Udy favourite destination.
Her breeding career commenced with a litter to the Schofield trained Big Sam Junior, whose 20 win career included multiple group wins including a NZ Cup.
Her second litter was to a sprinter with blinding early speed who won 9 races on various Australian tracks before crossing the Tasman to join the Schofield Rangiriri kennels named Star Conquest. This chaser, who raced at a weight of 27.5 to 28kgs, won another 23 races on North Island tracks. Late in his racing career he moved a few kilometers north to the Te Kauwhata kennels of Ross Udy where he later he commenced a successful stud career.
The longstanding puppy sharing agreement between Bob and Lynne, as was the case with several litters bred over the years remained in place, however the pups from this litter were quickly snapped up so when Bob was ready to receive his pup a little later there were only two left. Lynne's husband Ross had really taken a shine to one of the pups and suggested to Lyn that the other one, Lynne's pick, should go to Bob.
On Bob receiving the little black bitch, Lynne forthrightly told him her kennel name was Star and that had to remain. Amongst the names later put forward for registration was the name Bright Star. From there as they say,' the rest was history' and this little bitch whose love of racing was life changing for Bob and his partner Audrey.
Bright Star also won the hearts of race goers and the thousands of others who followed her spectacular career on TV.
Salute to a Star – Bright Star.
Part 2.
Her stellar career began at Hatrick on the 7th March 2012 and closed 1,649 days later at Manukau on the 11th September 2016. Her 4 and a half year career a true testimony of her courage and soundness. The latter given to her from both her sire and dam who had 112 and 89 starts respectively, and the care of her owner/trainer Bob Bond.
Her overall career statistics were;
Starts 142, Wins 73, Seconds 21 and Thirds 14.
Career Earnings – $125,983.00.
Individual season winning statistics;
2011 – 2012; 16 starts, 8 wins. season's PB;18.42 secs.
2012 – 2013; 35 starts, 22 wins. season's PB;18.05 secs
2013 – 2014; 37 starts, 23 wins. season's PB; 18.17 secs
2014 – 2015; 33 starts, 15 wins. season's PB; 18.23 secs
2015 – 2016; 17 starts, 5 wins. season's PB; 18.43 secs.
During career she achieved sequences of; 14 wins, 10 wins and 6 wins, the later beginning from her C1 win through to her winning C5 debut, defeating the bonny Kissin Kate, a member of Keith and Penny Sutch-Jones great Zac Attack – Gentle Lee litter.
Early in her open class career only Snicko, a Railway winner and Captain Coutts a swooping style sprinter were to defeat her twice, both were sons of Big Daddy Cool. Later in her career she met the brilliant Yeboah, a 35kg son of Elite State, he defeated her on 4 occasions however she was able to square the ledger. They were a great sight racing together, a contrast in confirmation and size as Bright Star always raced under 25kgs.
The classy bitch Cosmic Pearl beat her just once however had to settle for no less than 6 times for second. The bonny bitch Botany Downs defeated her 3 times however overall Bright Star had the edge.
Other classy sprinters she met throughout her long career were; Harvey Nichols, Double Magic, Life's a Dream, Little Rascal and Ludakh, who ended her longest winning sequence.
During the 2015 season she whelped a litter to her old adversary Captain Coutts, a litter that to has 38 wins to date, headed by her daughter Audrette's 15 wins.
On retirement she had a second litter of just 2 pups a dog and a bitch for Danny Laing. By the Golden Easter Egg winner and hugely successful sire Cosmic Rumble, who is already proving to be a great dam sire. The aptly named black bitch, Last Star along with Audrette may keep the name Bright Star in many successful pedigrees in the future.
Will there be another Bright Star? A home bred star bred by Lyn Udy.
Personally. I think not, so much have the regulations changed since her whelping. The fee to register a stud dog in NZ has risen by 850%. Why I ask.? To register yourself as a breeder, litter master and other fees have also risen steeply and are exactly the same if you breed one or ten litters a year. Standing a stud dog in NZ is a labour of love. A sire here is lucky to serve five bitches a year, even less whilst he is unproven.
The success of Bright Star has bought a joy and a sense of pride that money can not buy. In saluting Bright Star we are saluting all those involved in her story since the arrival of Go Pepper to the Waikato all those years ago.
When Bob, Audrey and Star came over the top of the Bombay Hills, Star became, "The Queen of Manukau" however such is her story she was equally as much, "Waikato's Warrior Princess".